Our Vacation out West – Part Three
We woke up nice and early to beat the crowds and headed about an hour down and over to Old Faithful. There were a lot of sights and views to take in along the way, but we figured we'd visit the other attractions on our way back to the lodge so that we could take our time on the south west loop of the park. The morning drive was spectacular! It's not every day you can just drive around and see waterfalls and fumaroles!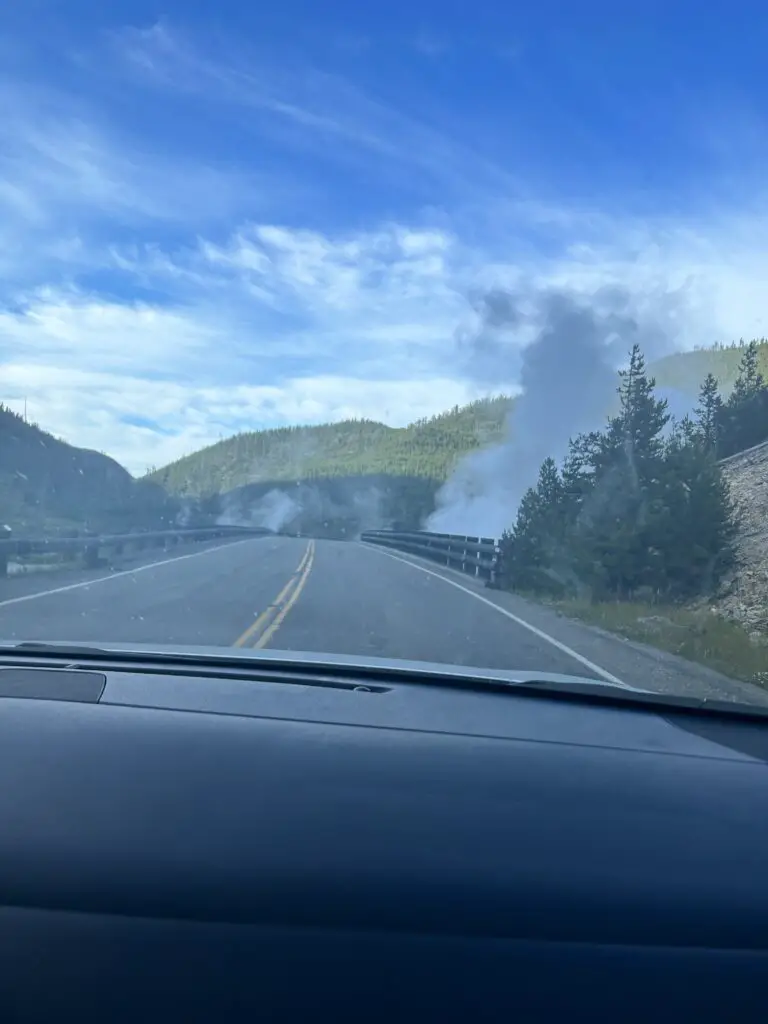 At one point I saw lots of cars pulled over and, once again, I remembered that if there are cars, there are animals. We almost didn't stop because we were REALLY trying to get to Old Faithful, but as I looked out my window I swore I saw moose!!! Jon attempted to park and, to be honest, I'm not even certain the car was parked as I lunged out of the car to get a closer look! This was a highlight for me! Who knew I'd be so excited!?
We had made it to Old Faithful and lucky for us, we didn't have to wait long for her to erupt! There are predictions online of when the eruptions can occur, but we decided to just go with the flow and whenever it worked best for us. Old Faithful was starting to stir upon our arrival and it was such a thrill!
Loads of people were gathered around and it was really quiet. People were actually whispering. In hindsight, it's funny to think about. Also, we had heard/read to sit upwind to really get in the height of this feature!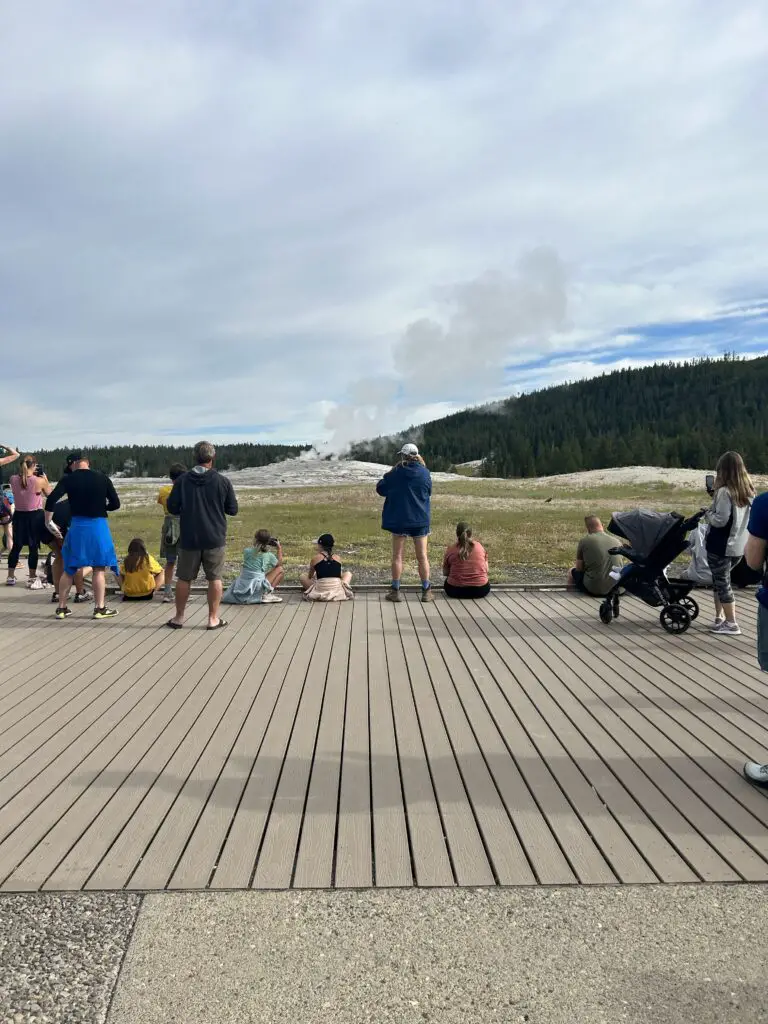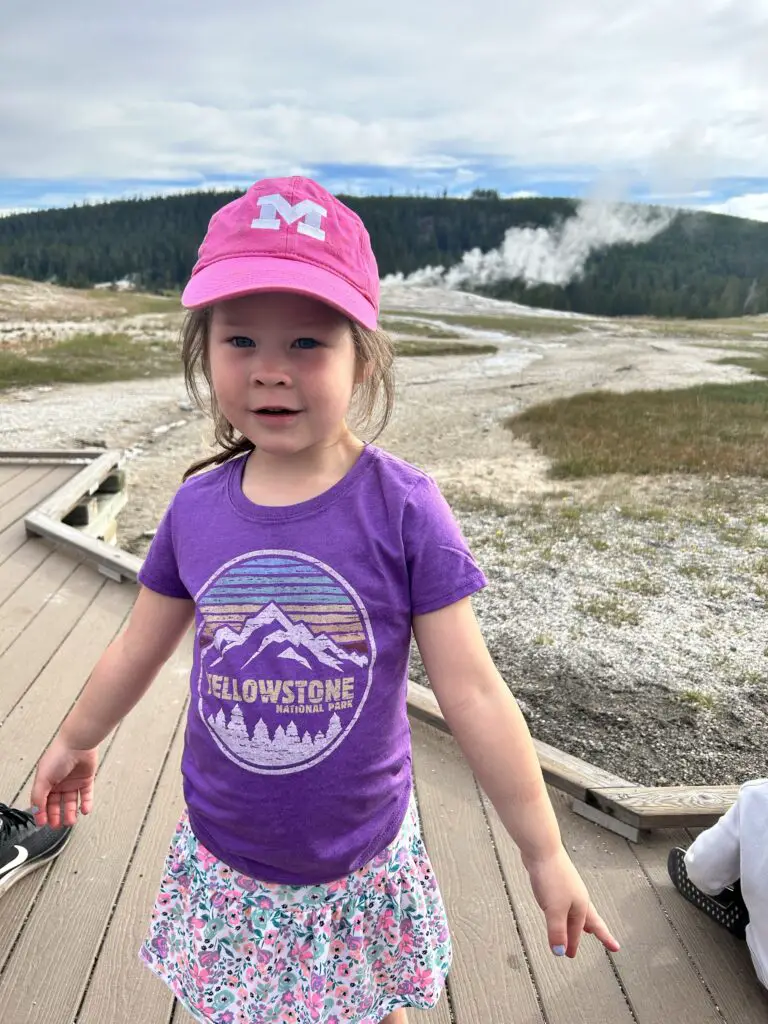 There she blows!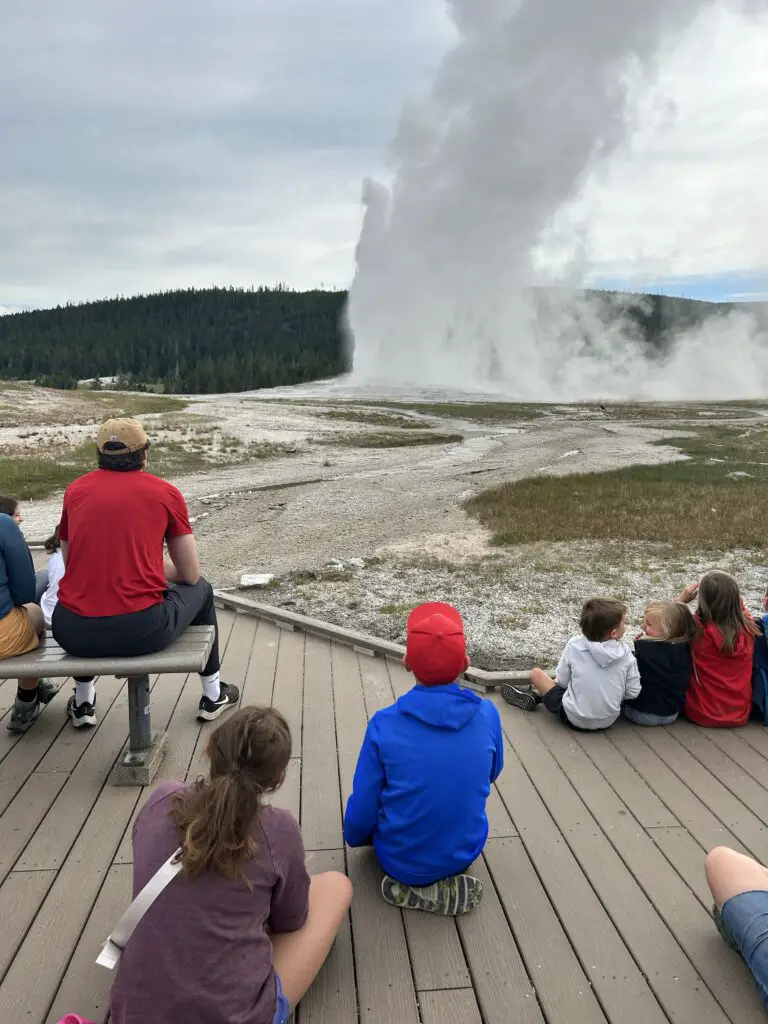 We walked over to Old Faithful Inn, which sits yards away from actual Old Faithful itself, and took in the history of this fantastic facility!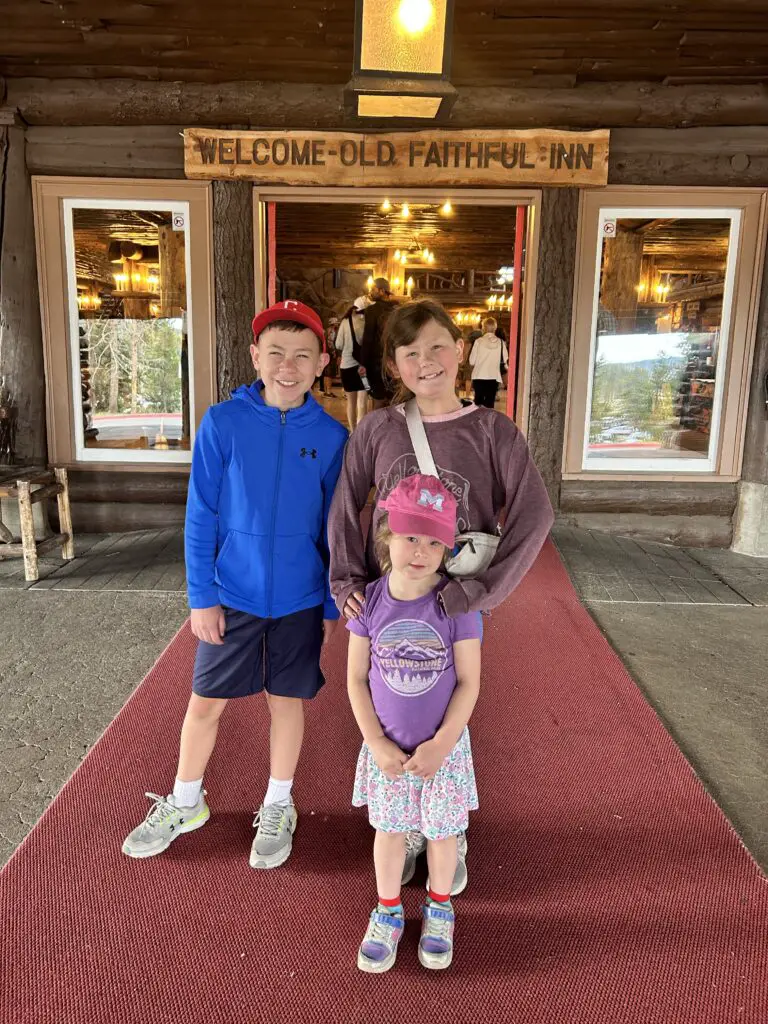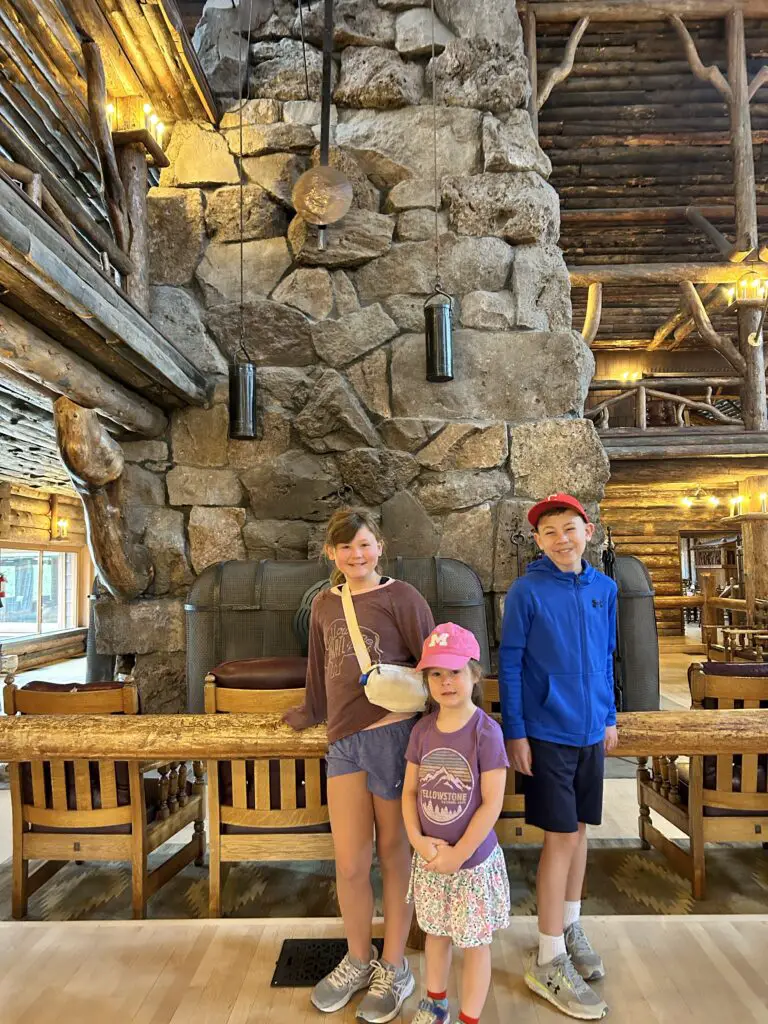 We decided to take a few more pictures before people started to arrive for the next eruption.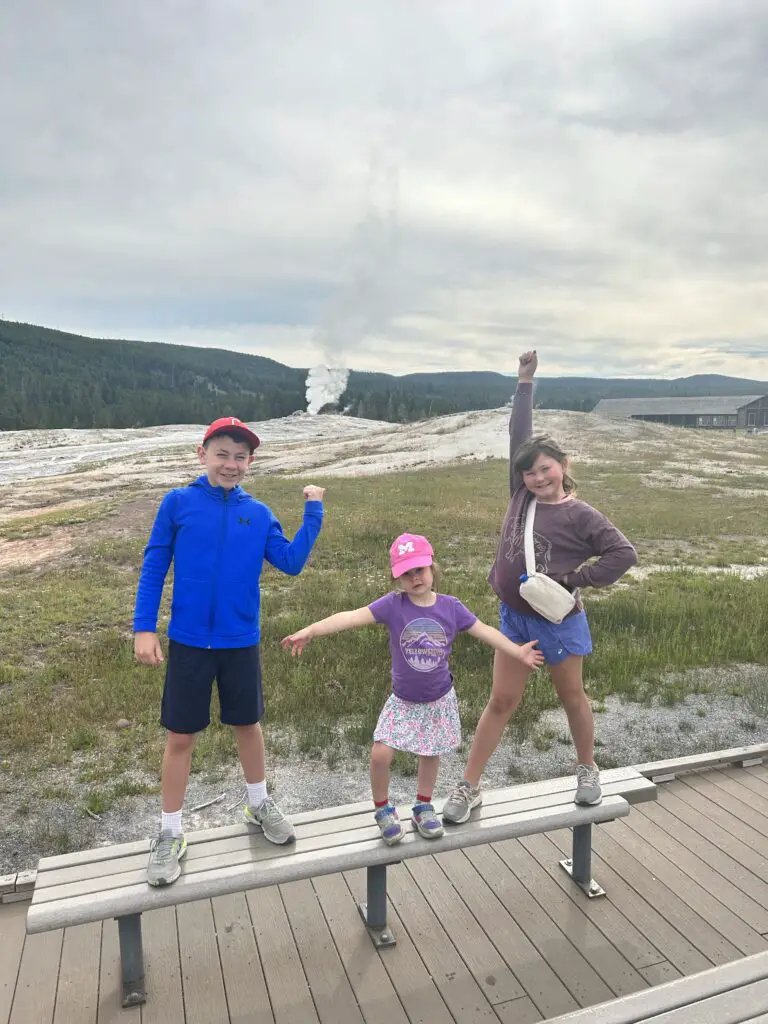 Jon did another flexing picture. LOL! I don't know if I've mentioned this here yet or not, but Jon made a calendar of him flexing as a White Elephant Gift for last year's Christmas with friends! The calendar was made up of him flexing on our adventures the year prior – one being with Optimus Prime at Universal Studios. LOL!!! So flexing has become his "thing." Bahahaha!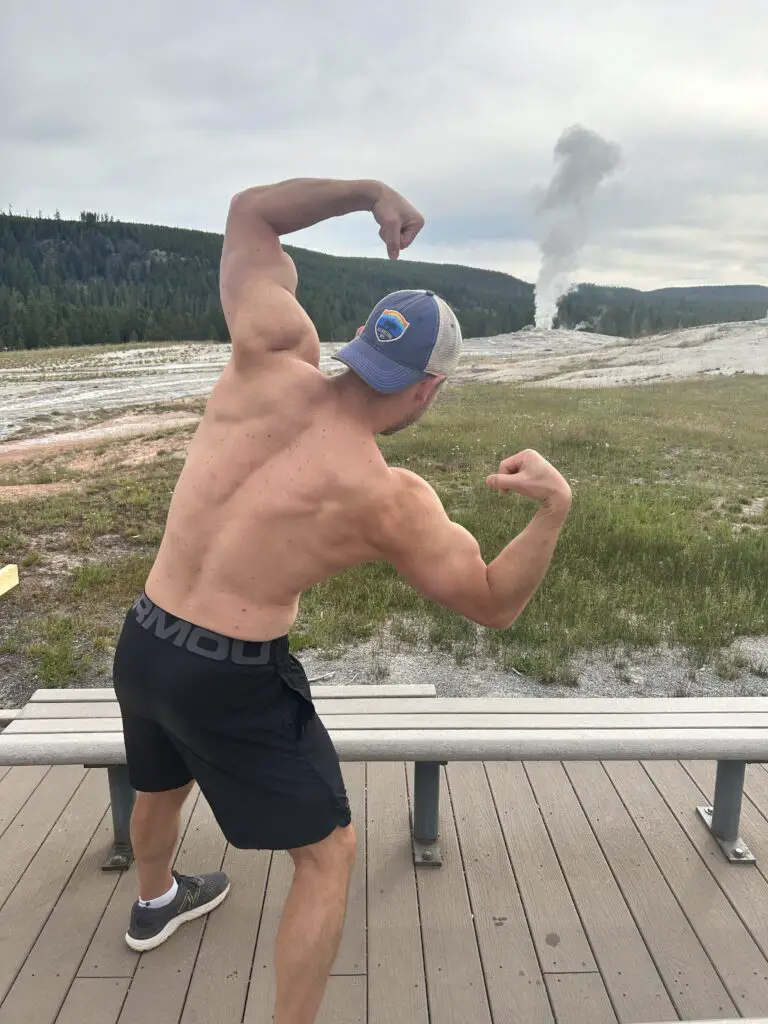 This picture is one of my favorites! I love the tennis shoes, the hats, the socks and shorts – all of it!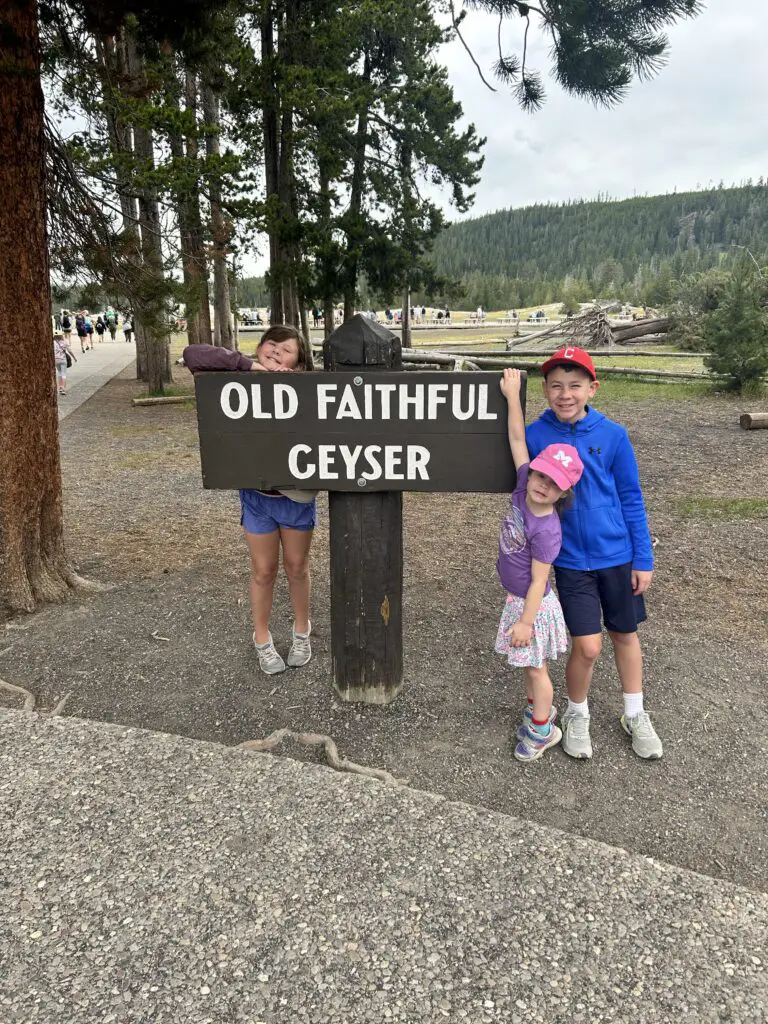 These photos/warnings are all across the park of what not to do while visiting and the kids were wanting to reenact it……………..so here ya go… Haha!
In all seriousness, we warned the kids and reminded them every single time we visited somewhere new to stay on the trails and boardwalks, because it really can be quite dangerous.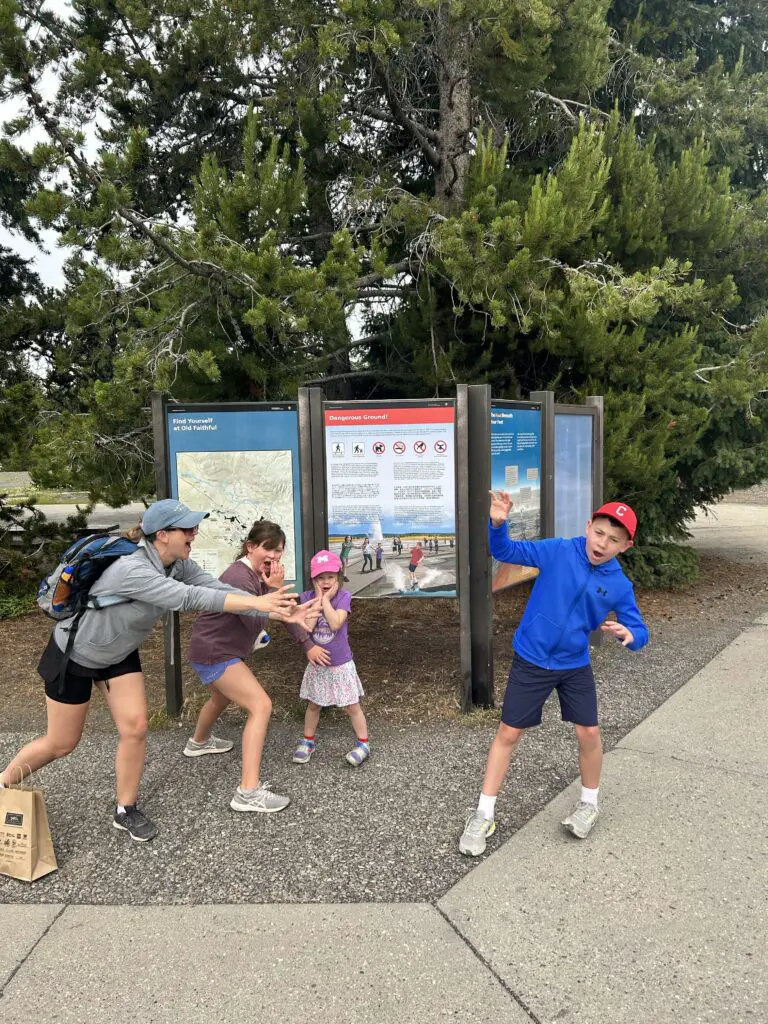 We left Old Faithful and headed back north and checked out Grand Prismatic – a must see! Grand Prismatic is the largest hot spring in the United States and the third largest in the world!
We walked the boardwalk first and then drove over to make the 1.8 mile roundtrip hike to take it all in from the overlook. It was pretty steep at the top of the hike AND I was carrying Jane.
Talk. About. A. Workout.
Here are some pictures from the boardwalk…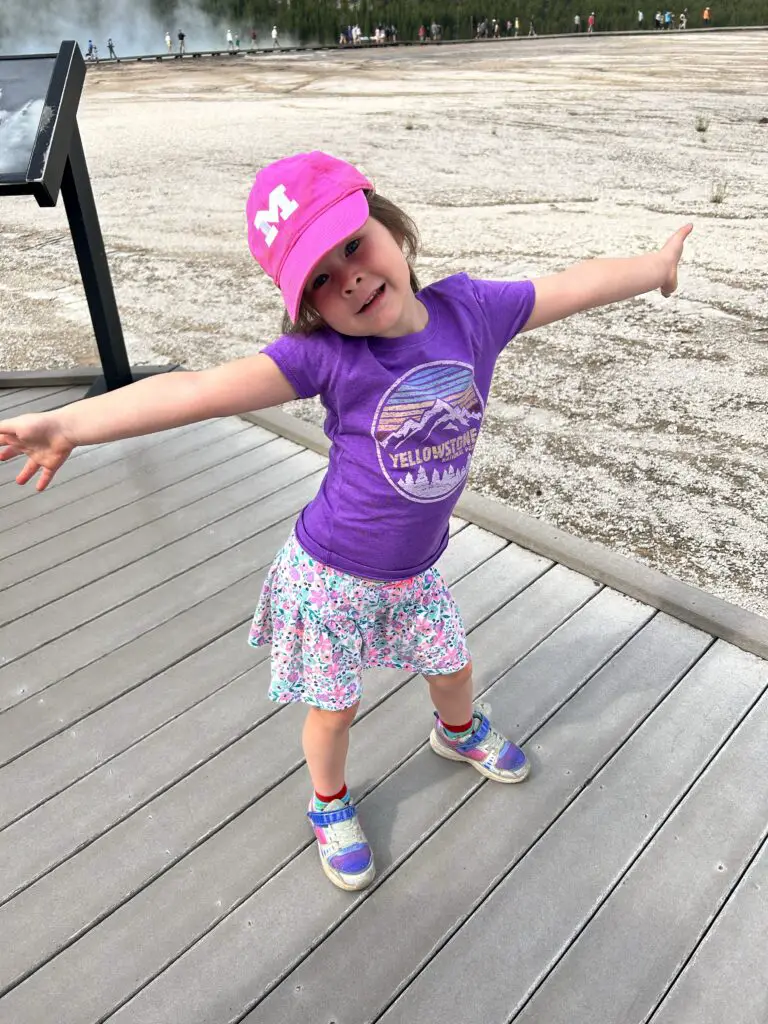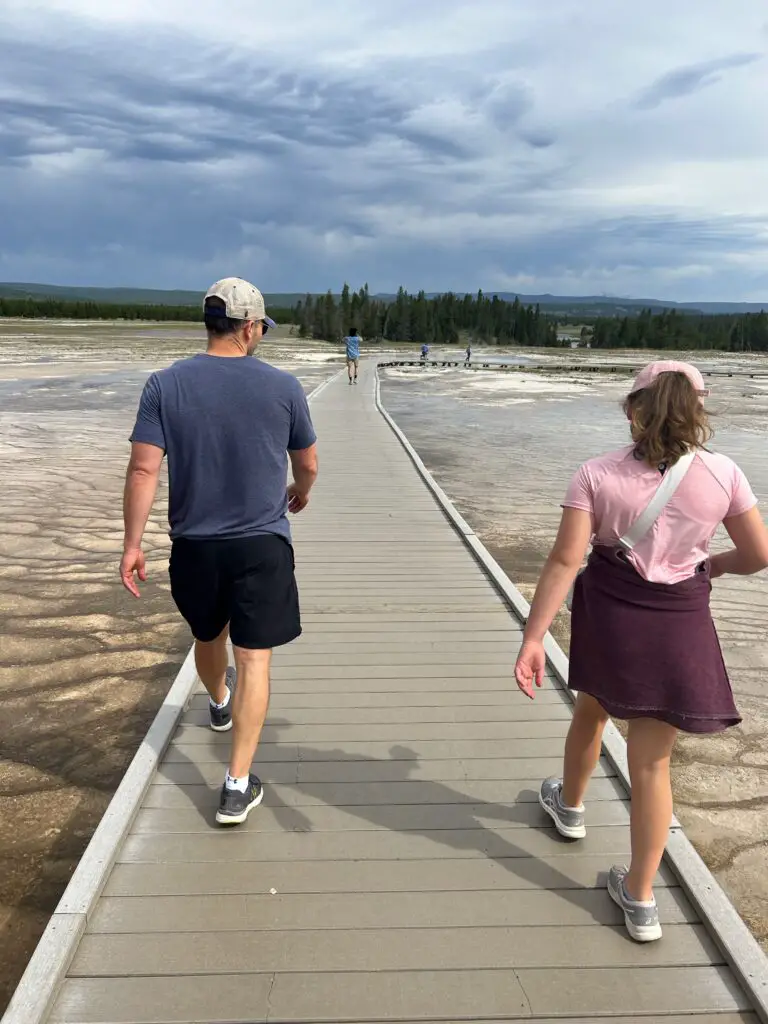 The boardwalk allows visitors to get up close and personal to the spring. It was so interesting.
Another popular way to see the spring is from the overlook – the colors really pop and it's almost easier to see it as a whole rather than being so close to it… So hiking we went.
Here's a picture from the boardwalk…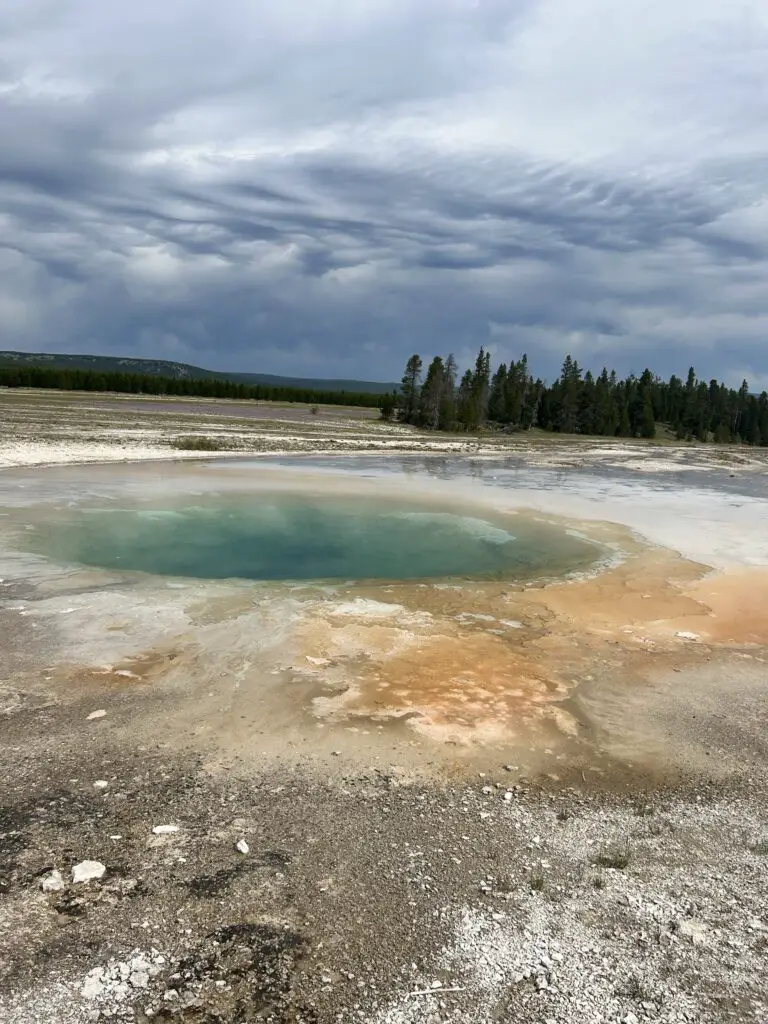 …and here's the picture from the overlook! Those colors were brilliant from up above!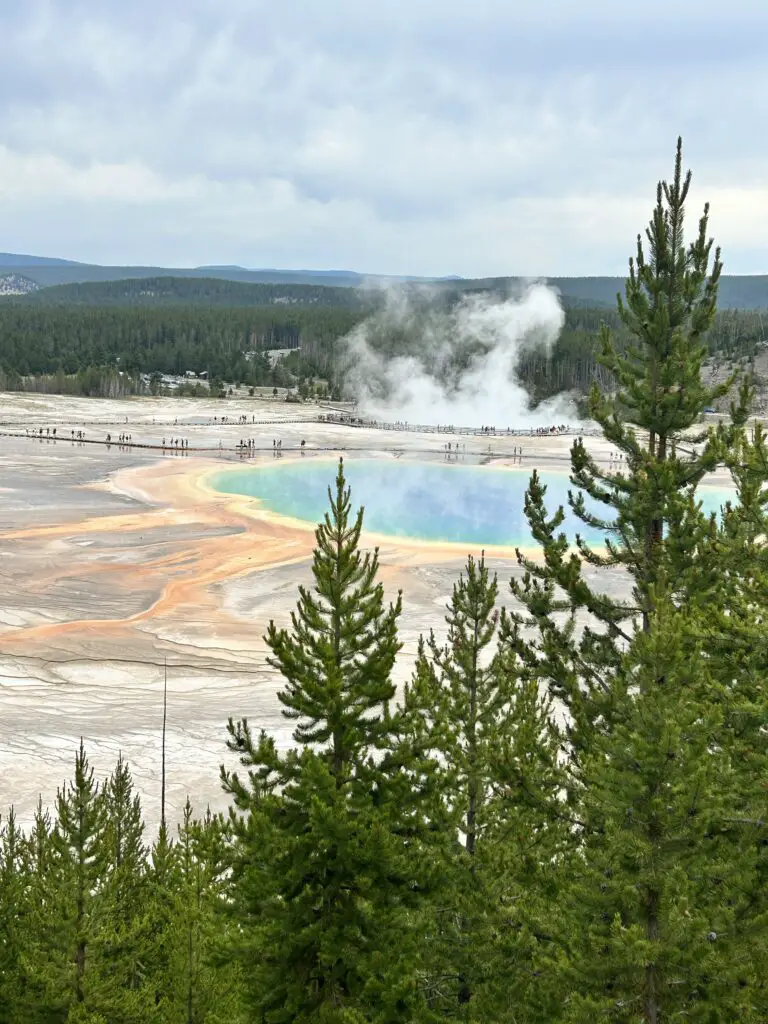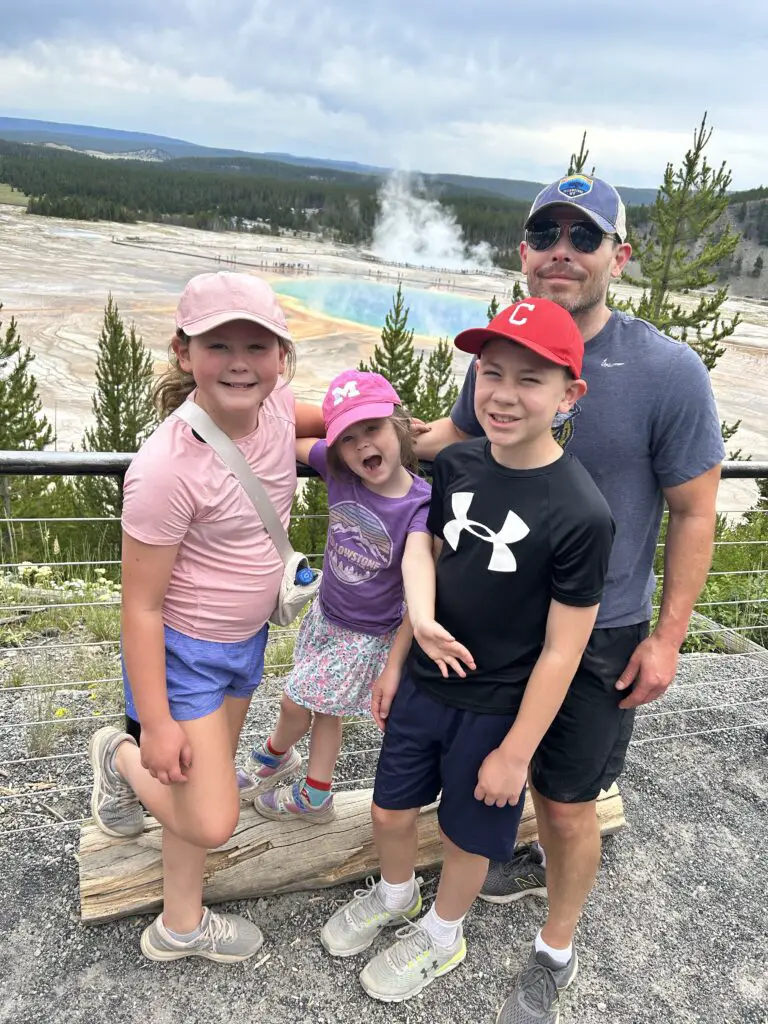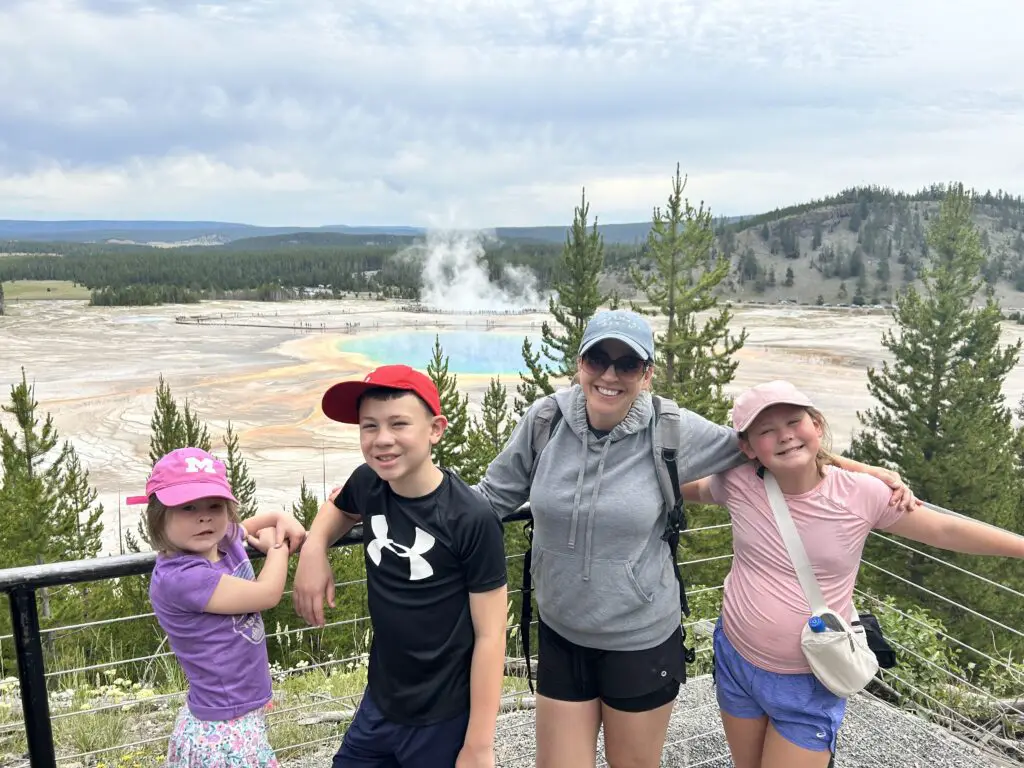 We hiked back down. There were some massive mosquitoes on the way – all of my mosquito bites came from this walk back to the car! Wowza! Jane also had to go potty and there were no bathrooms to be found, so since I prepared for either a sick kid or a moment like someone needing to go potty in public, I had brought along a coffee can and Jane did her business next to the car sitting on her new little potty-on-the-go! LOL! I'm assuming people did the same because there really weren't bathrooms at every location in the park – so when natured called, well, we became one with nature. LOL!
After the beauty of Grand Prismatic, we stropped at an easy location located just off the main loop called Fountain Paint Pots.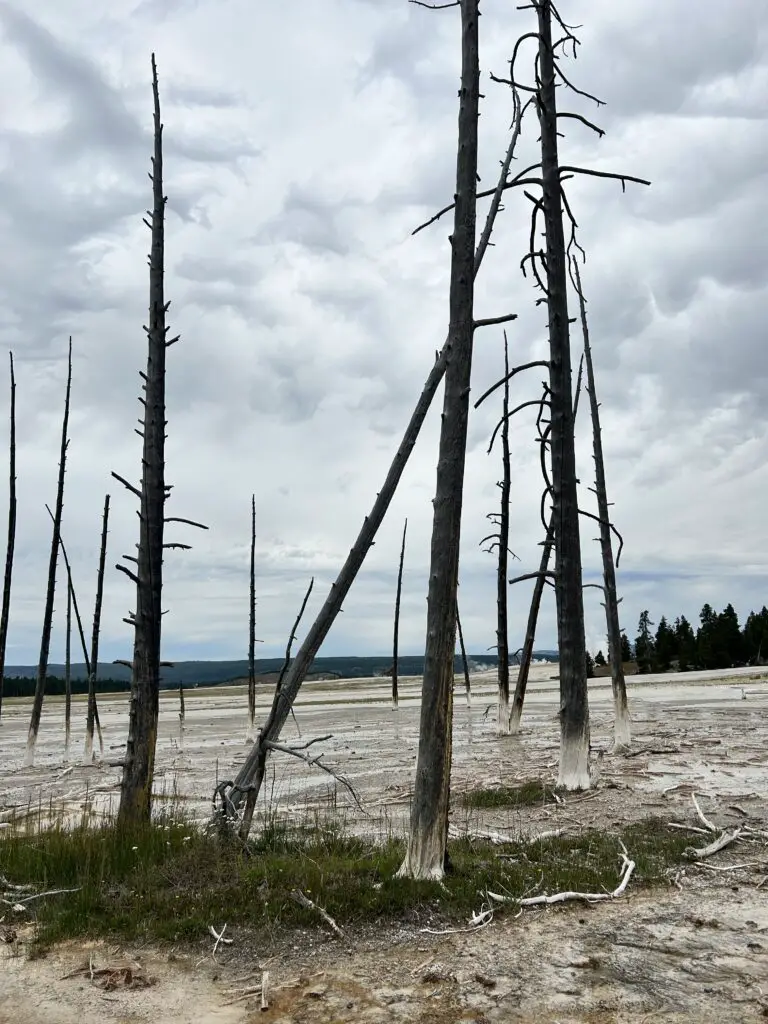 There was unusual activity all along this easy boardwalk trail.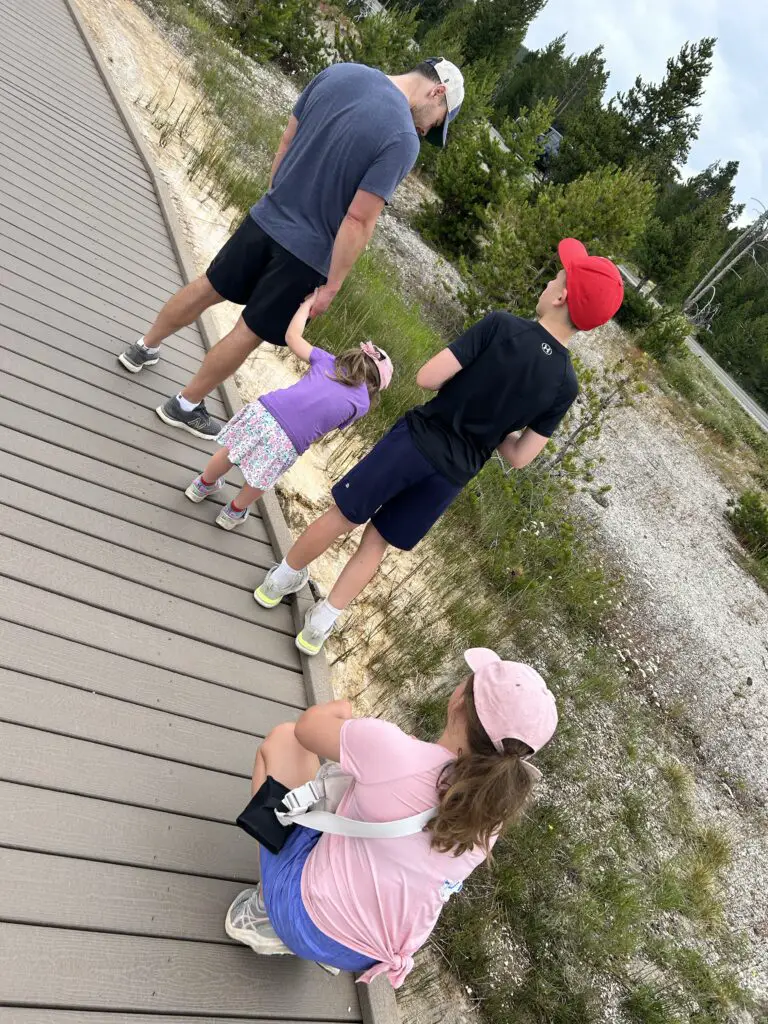 The earth bubbling in the mud was a favorite…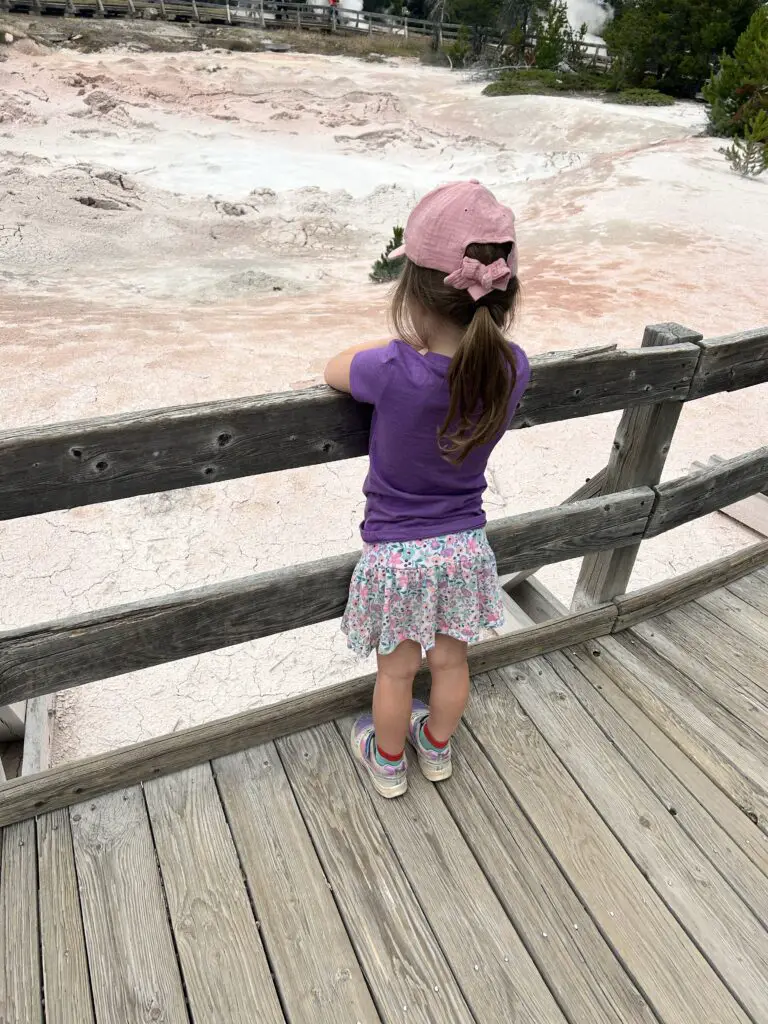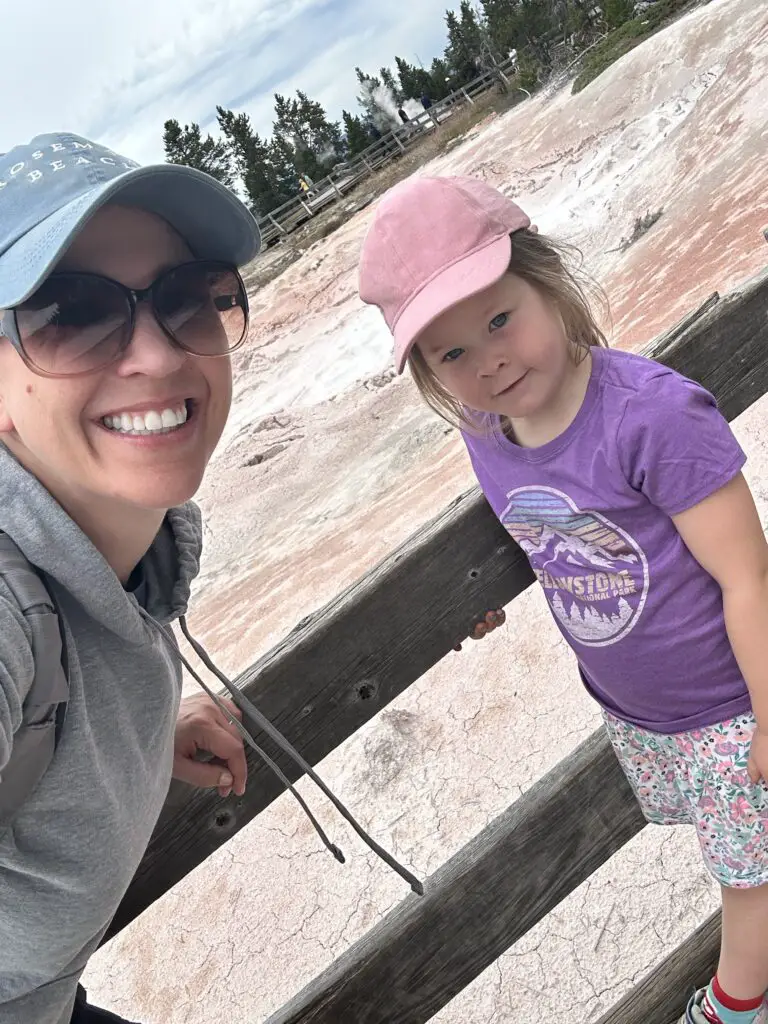 A walk around Red Spouter was another favorite. It only began to spout out mud in 1959 after an earthquake 25 miles from this location! So weird and sooooo cool!!!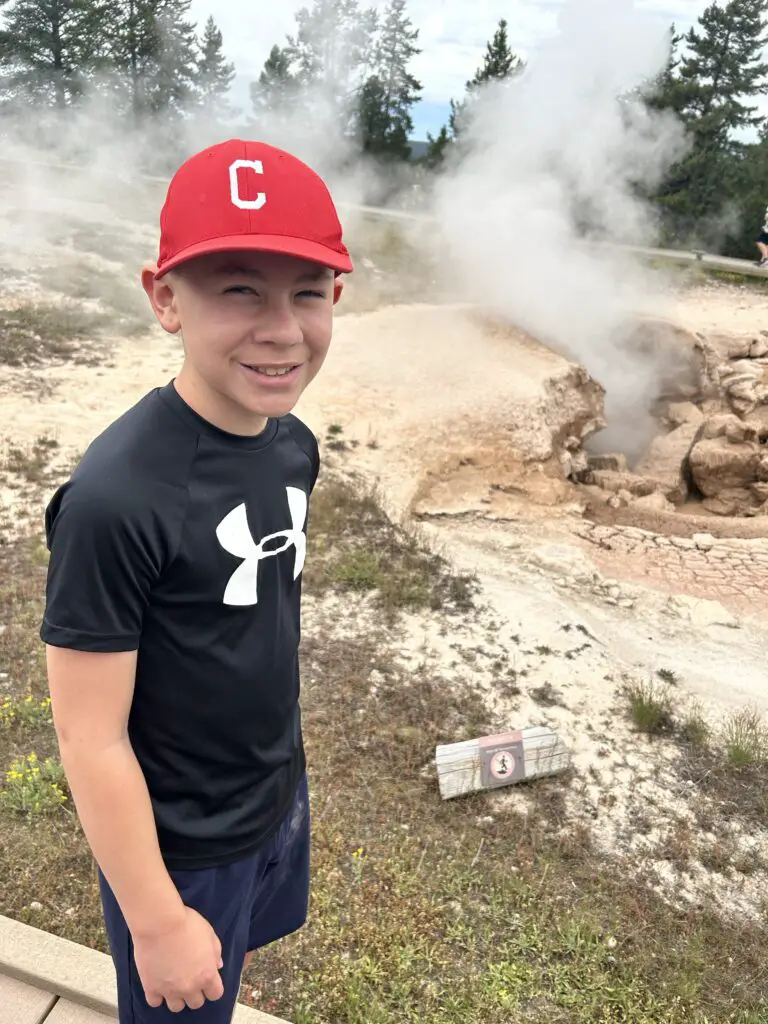 After finishing up our walk around Fountain Paint Pot, we drove over to Artist Paint Pots Trail! This was a lovely walk/hike through the woods and up to an overlook to take in the colorful views!
The earth was moving and making all sorts of noises in this area!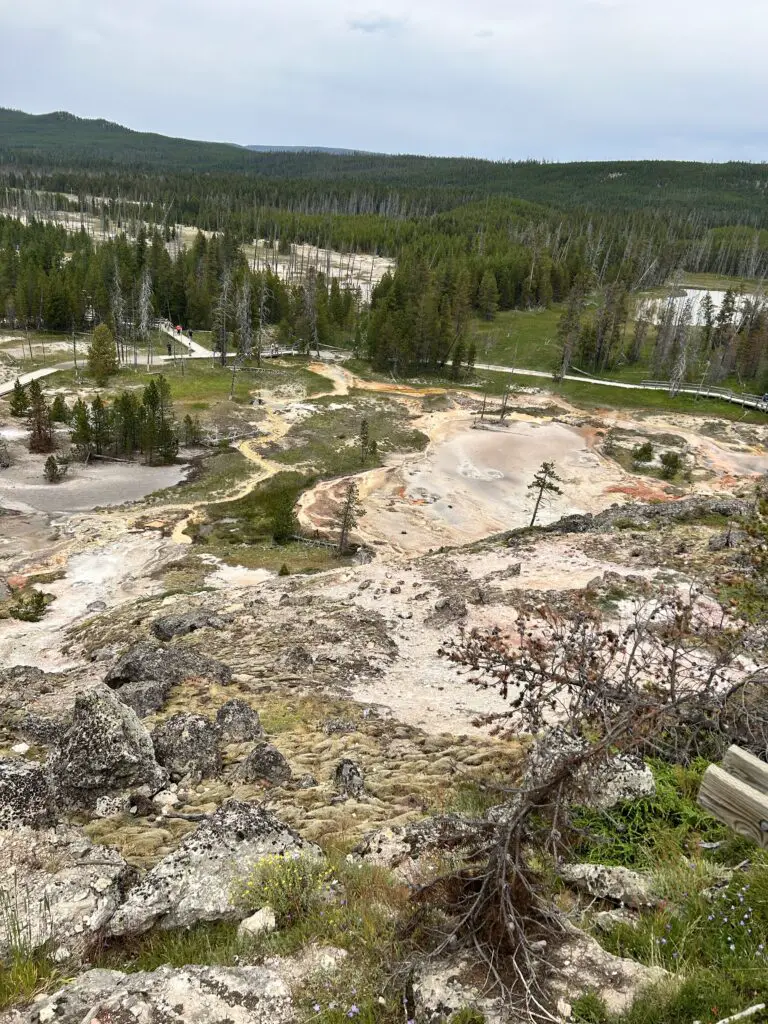 The mud bubbled all sorts of bubbles in this location!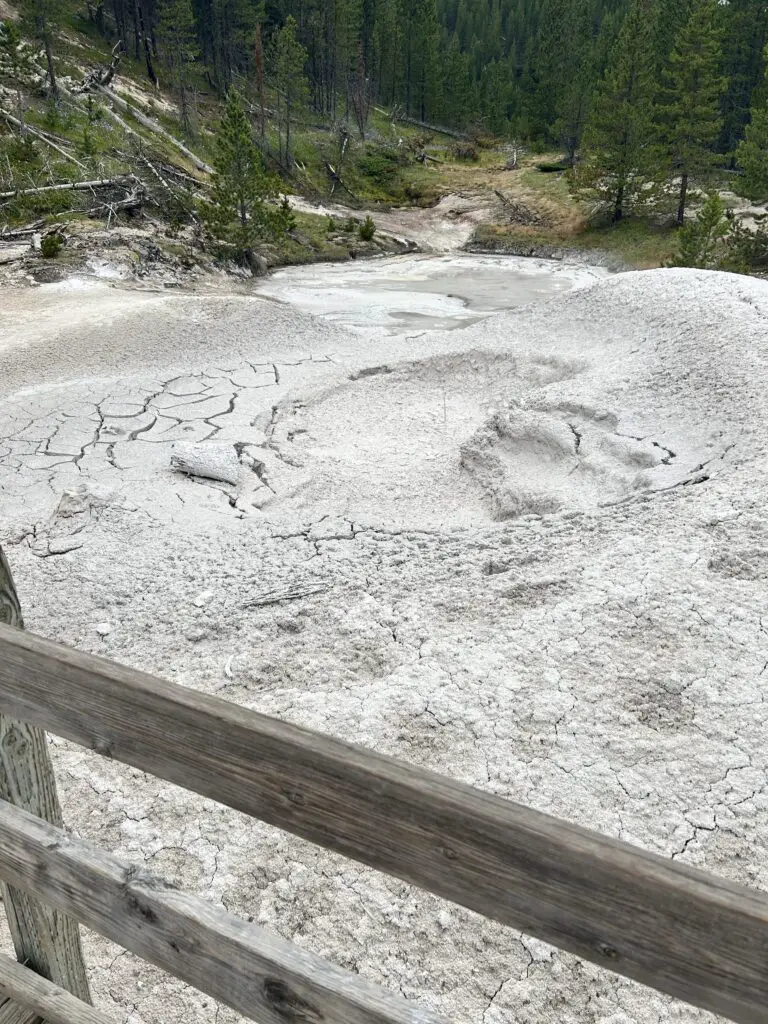 After an easy hike down, we headed back to Canyon Village for dinner and rest!
We were able to easily walk from our room on a trail to dinner and gift shops! Jane spotted this wild creature along the way. Hahaha!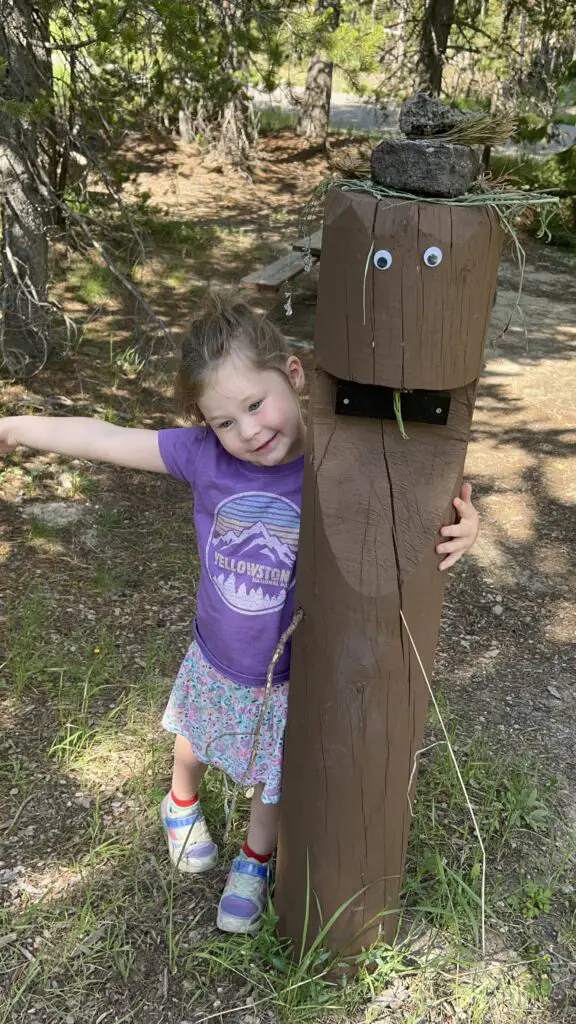 Besties. 🙂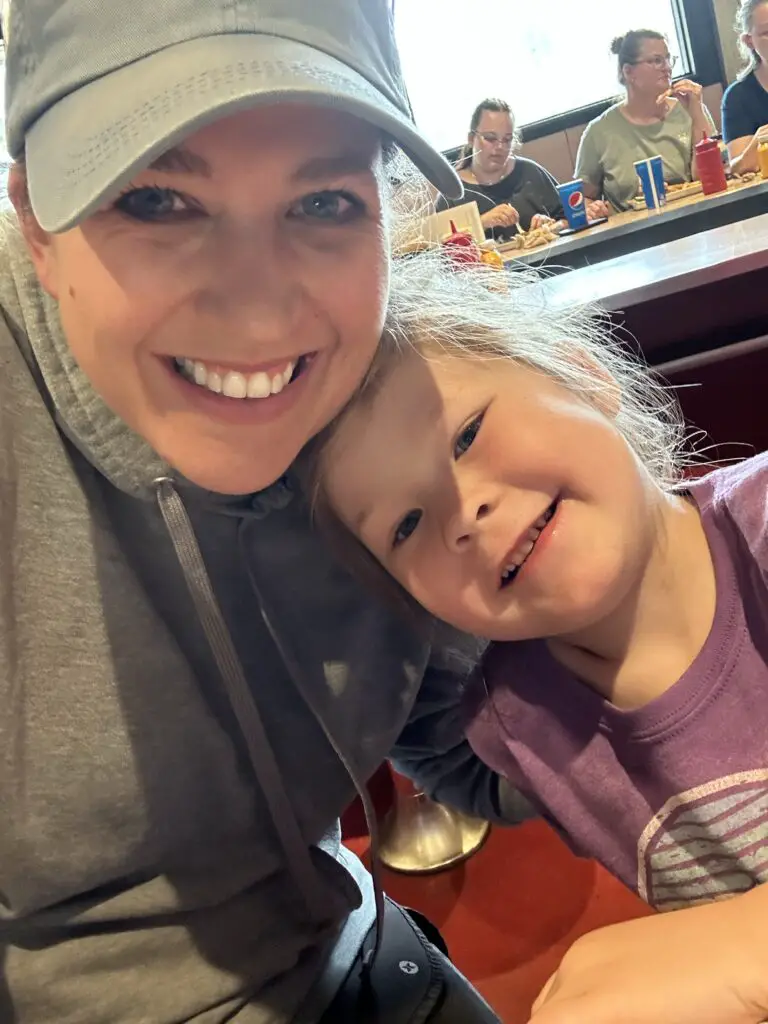 We packed up all of our items, did some laundry and headed out nice and early the next morning to see the lower eastern loop of Yellowstone and to head to Grand Teton National Park. We still had a lot on our agenda, but we were ready to get after the day!
Henry came prepared with the travel sickness glasses and we were sure to give Henry and Eliza Dramamine with their breakfast.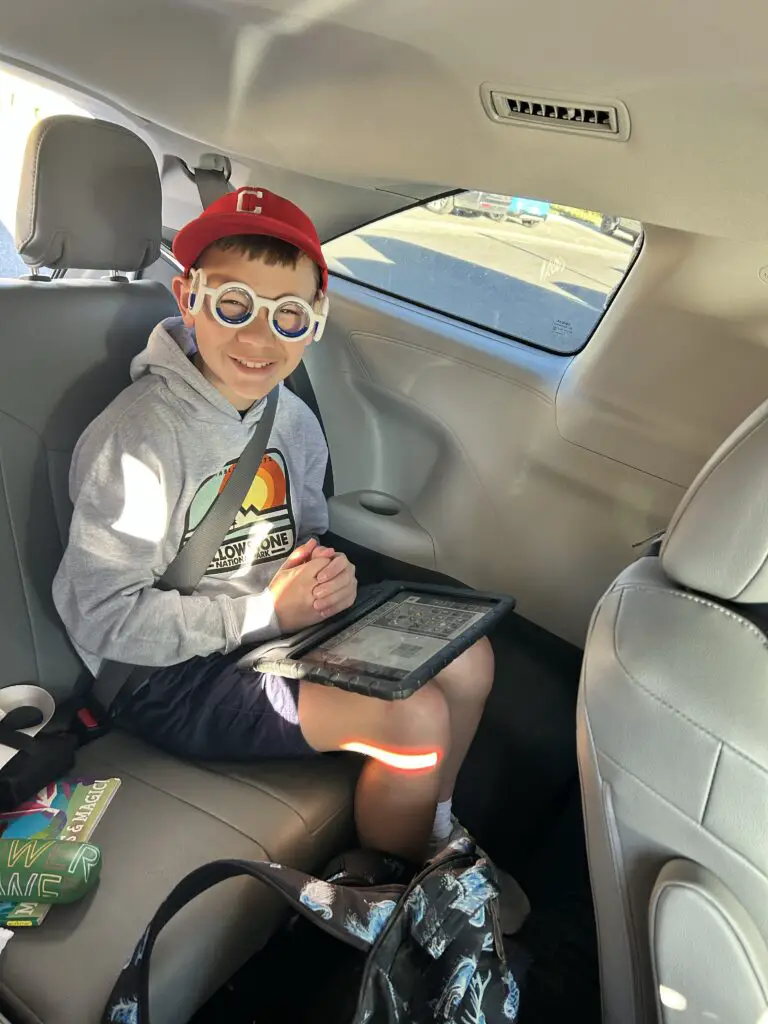 We ran into lots of bison along the way and were basically at a standstill upon seeing them. They're so dang big!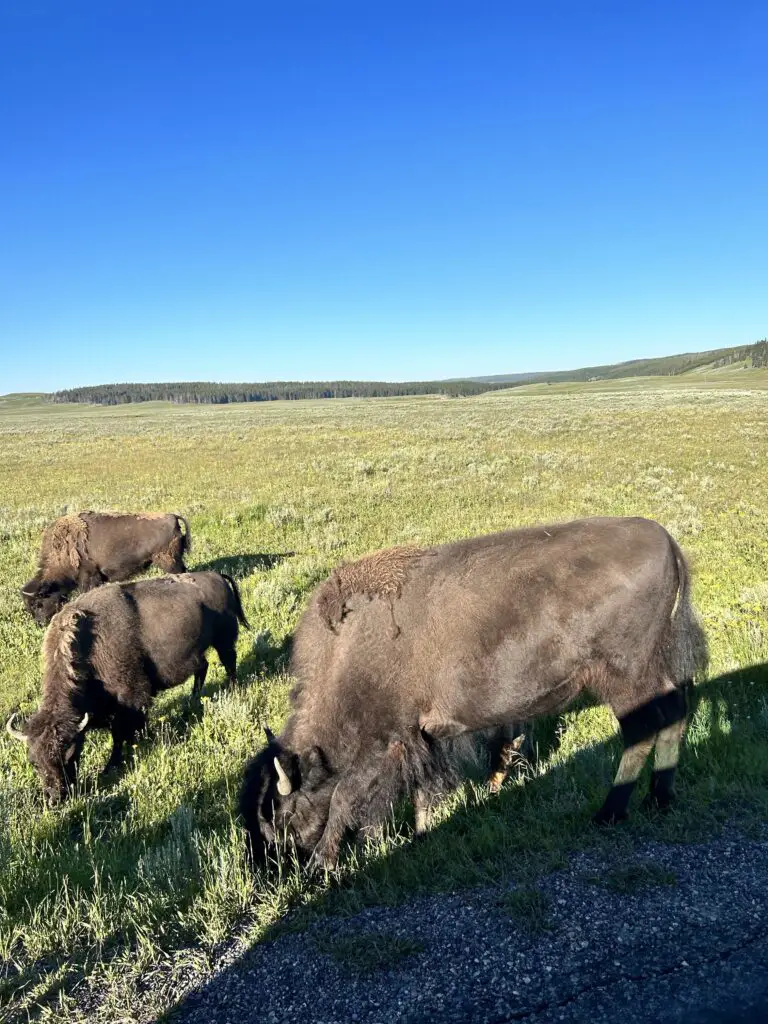 We stopped at Mud Volcano…an easy stop. We couldn't hike around the loop…I'm guessing because of this?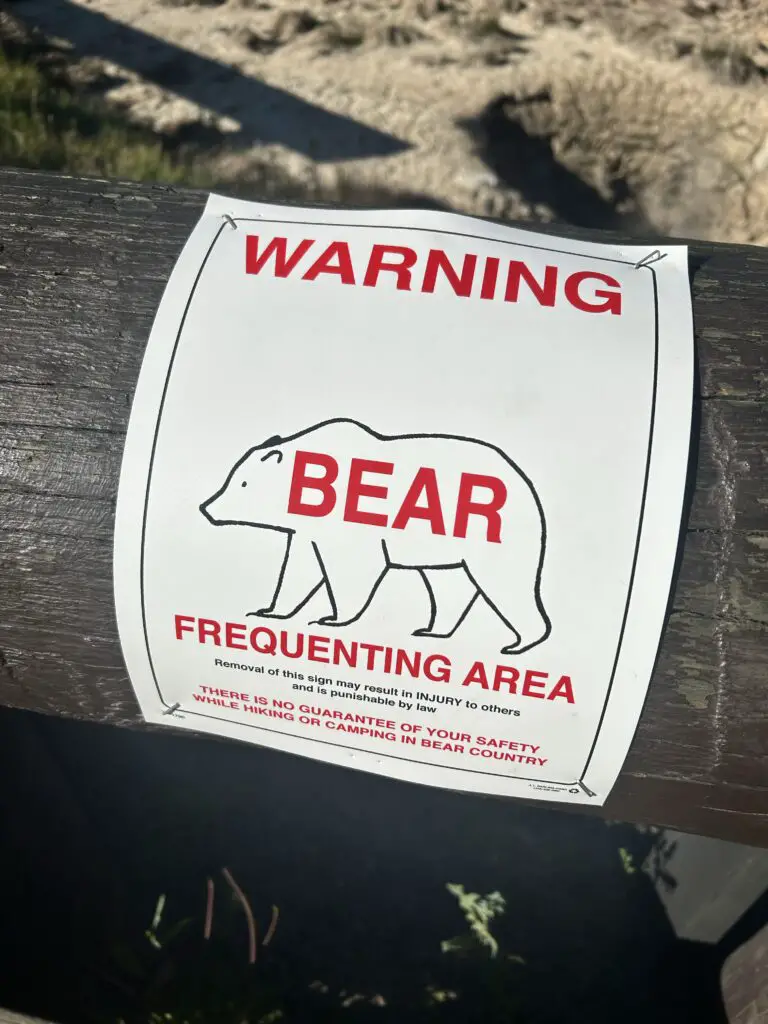 However, we were able to really see a lot. I'm thrilled that we stopped because the Dragon's Mouth Spring was so weird and different! We loved it!
Water came out of the cave in waves!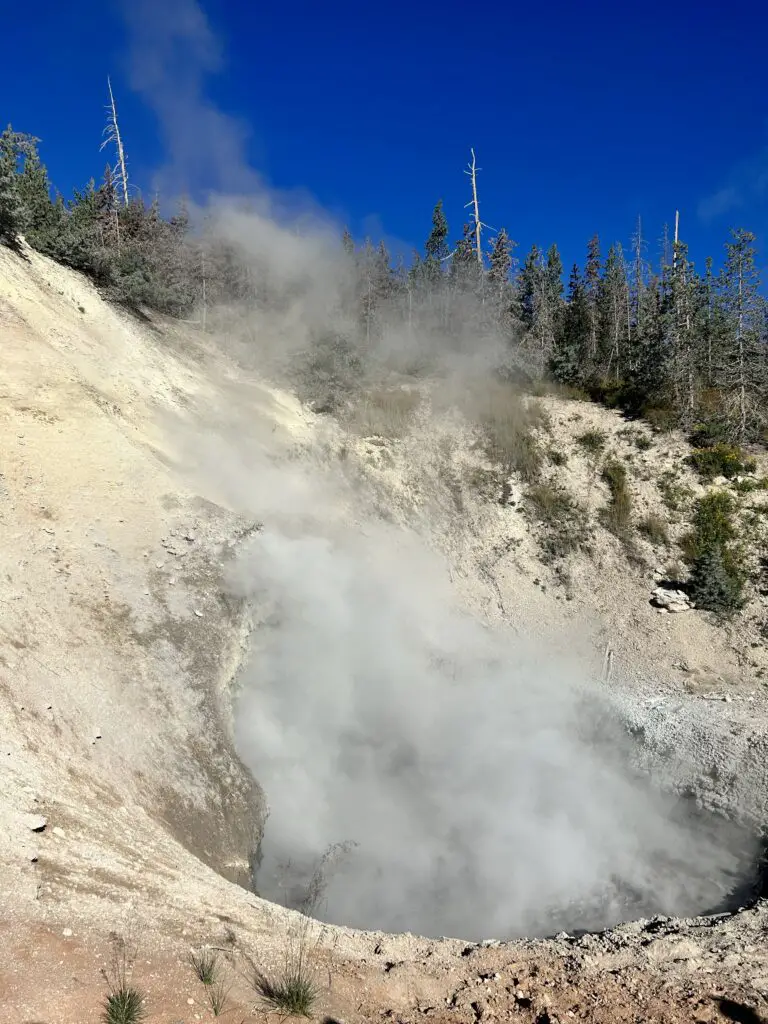 We waited a bit in the parking lot for the Dramamine to kick in for the big kids, they weren't feeling their best. After some water, lying down and some sugar we were on our way.
We headed to Lake Yellowstone Hotel. We wanted to just see what it looked like, since seeing the hotels within the park was equally as fun to explore! I had bars on my phone and our neighbors had just messaged me about a woman who had been hurt by a bison in this exact area. As I sent a response to them, I turned around from getting out of the car and saw this…YIKES!
At the same time, a man was walking with his coffee and I later learned, after a small chit chat, that he was taking in the beauty of the flowers and came within FEET of the bison so he sloooooowly backed up and walked away. We watched it happen and I swear I held my breath for him, even though we were super close, too. EEK!
We took the long way around and after visiting the hotel, Jon drove the car around to pick us up at the entrance! Those things are HUGE and FAST and we weren't about to risk it!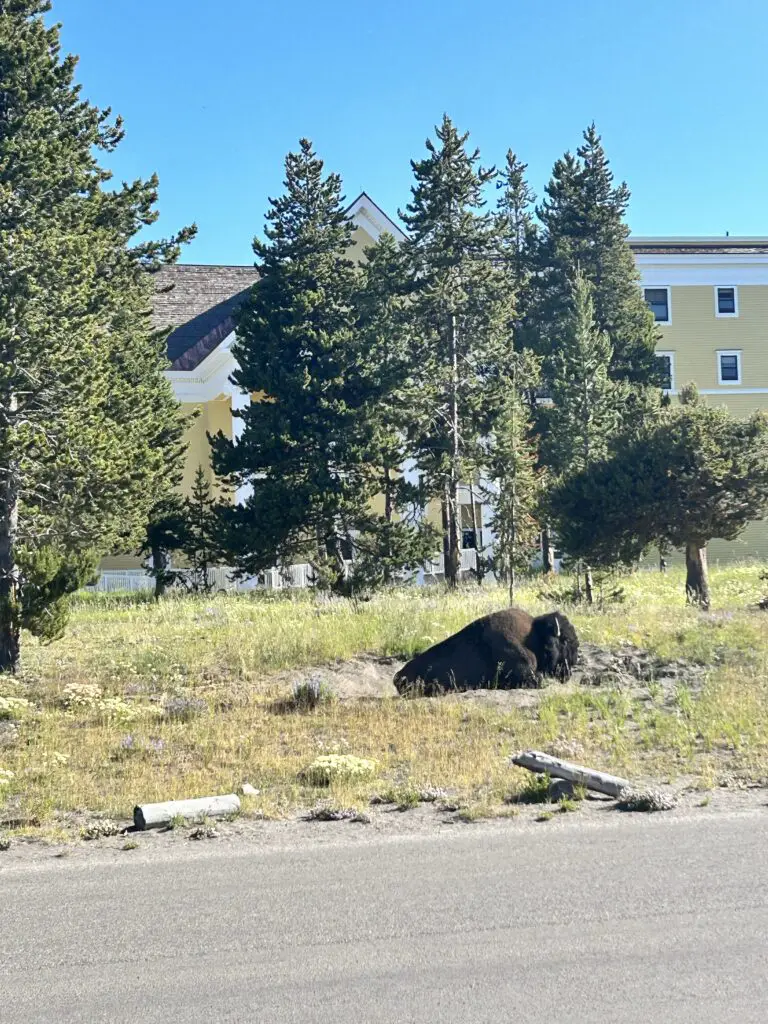 The Lake Yellowstone Hotel was lovely and very fancy!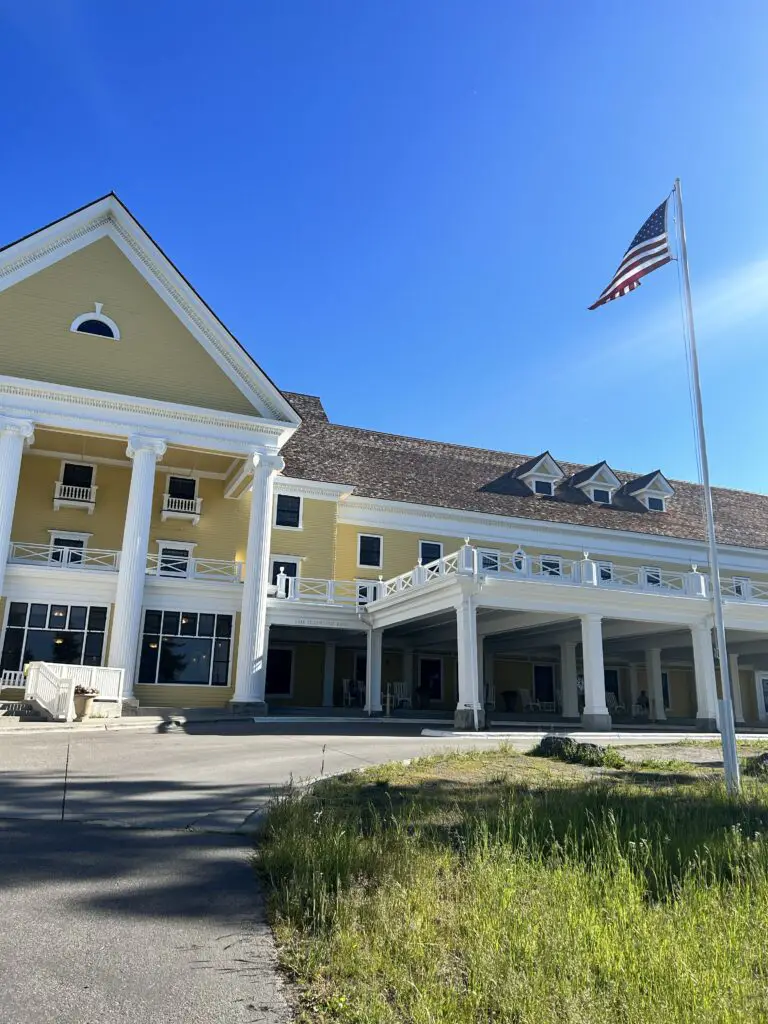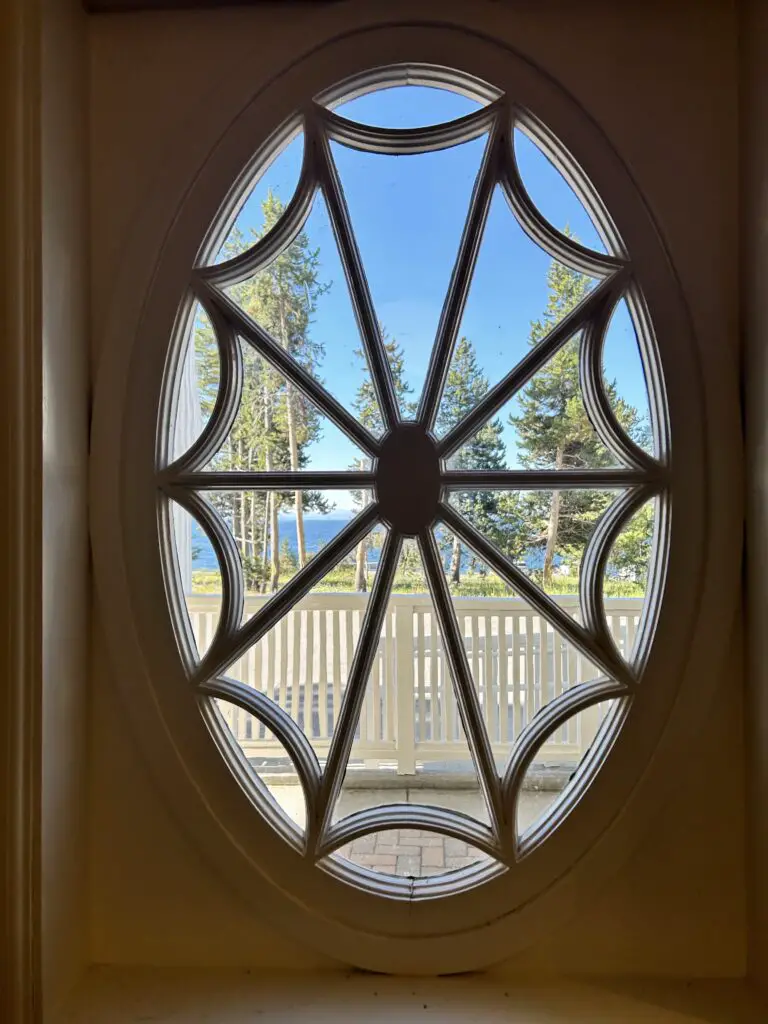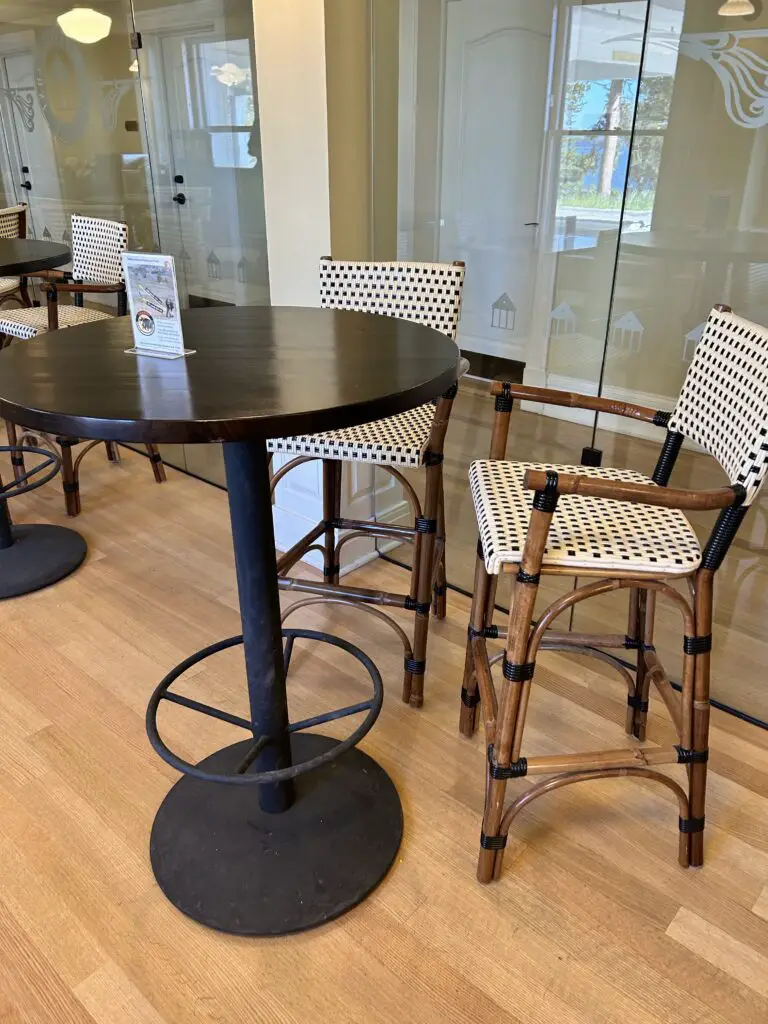 Jane took this of me while sitting in the cafe…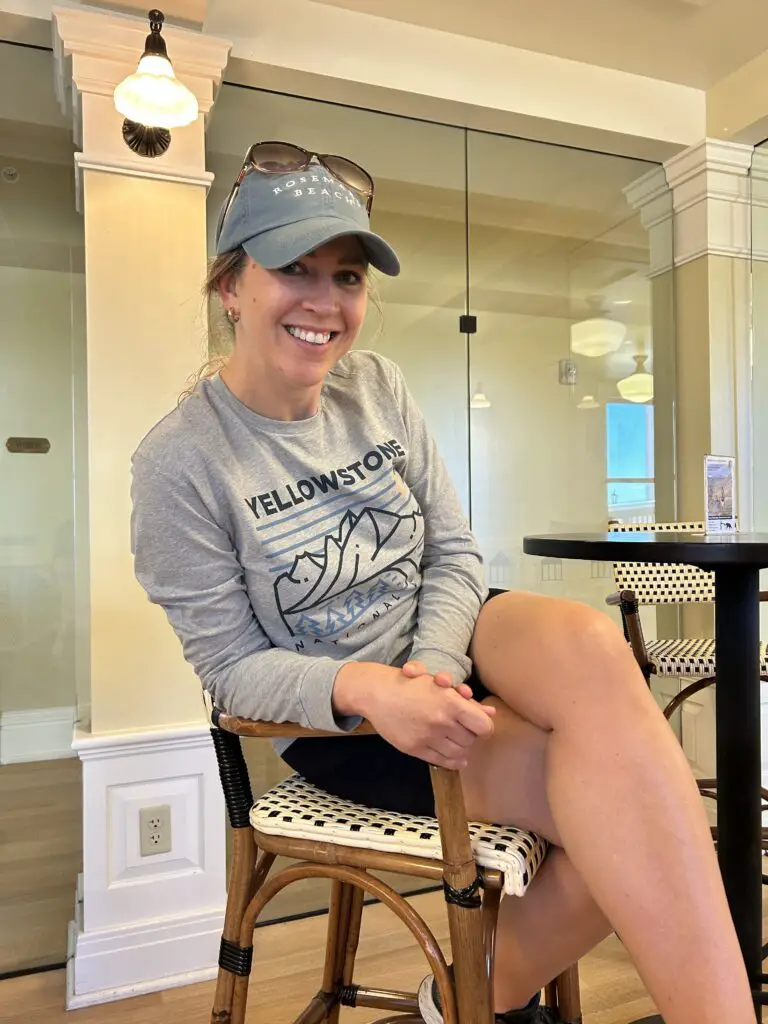 …and I took this of Jane. She looks so grown up here.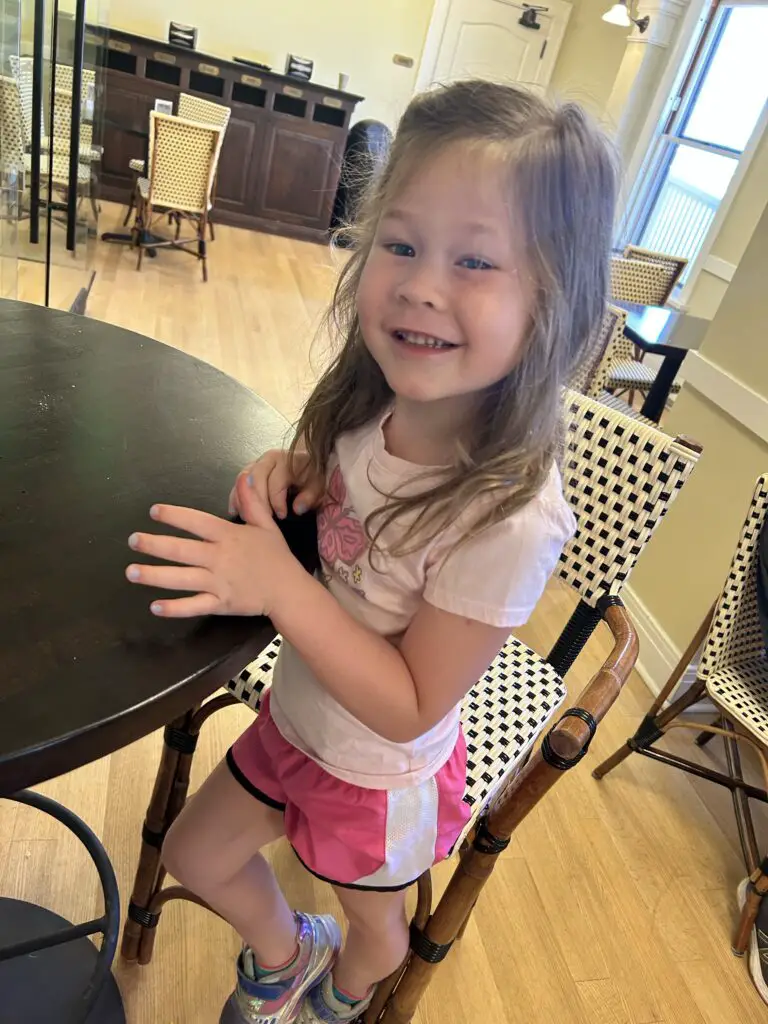 The views of the lake from inside the hotel were gorgeous and the hotel itself was a delight.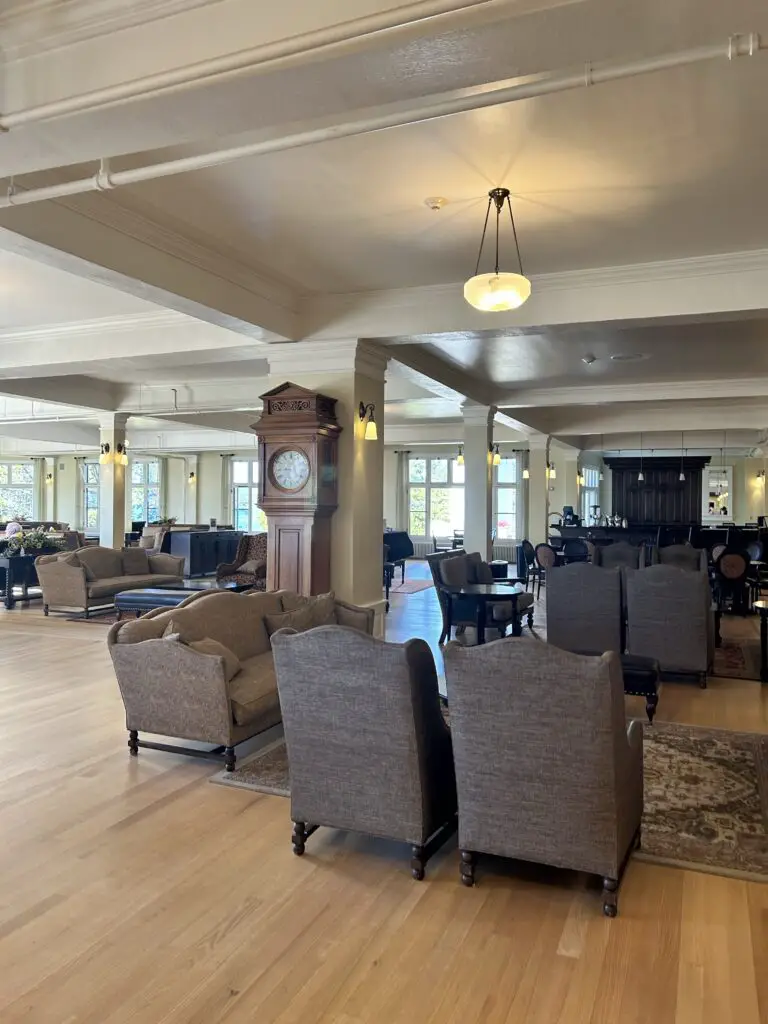 After Jon saved us from the bison, we visited one more scenic location within Yellowstone called, West Thumb Geyser Basin! This included an easy boardwalk loop, filled with activity!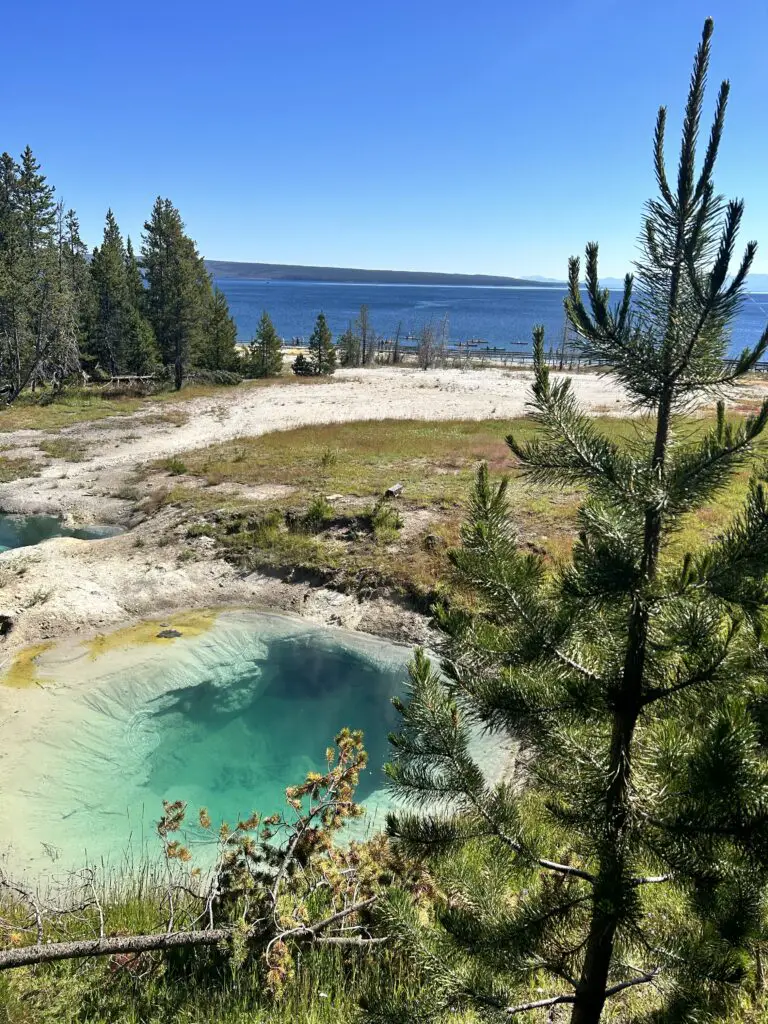 Kayakers were out taking in the views, too!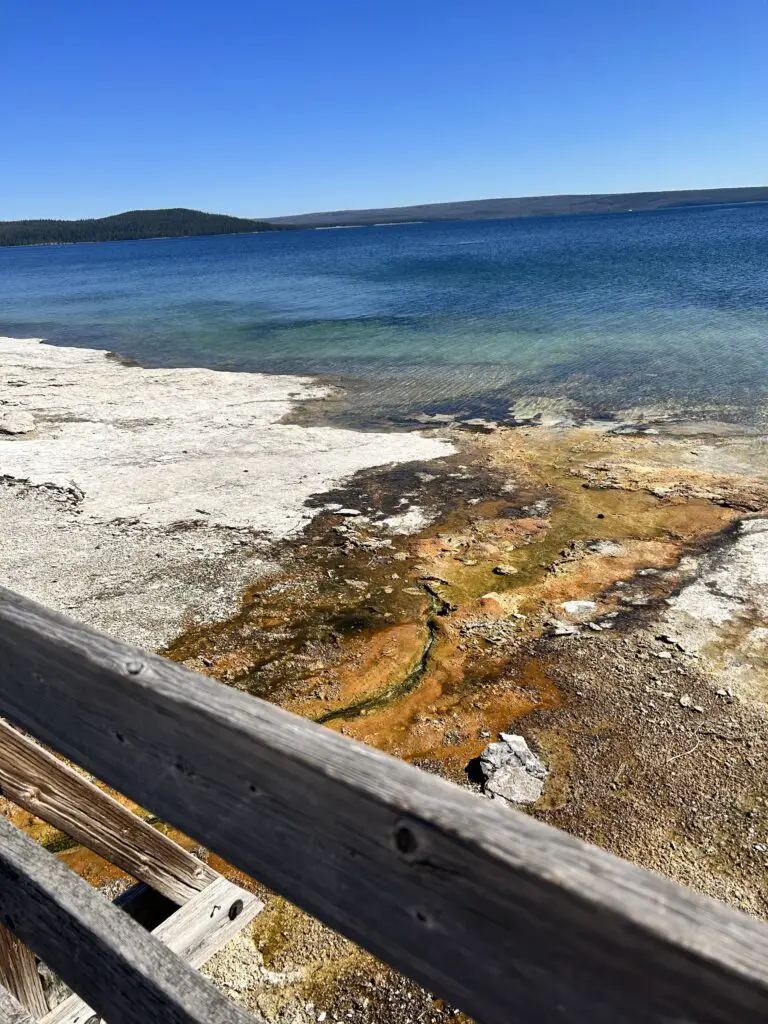 The lake itself hosted lots of unusual formations…
The colors were beautiful along the boardwalk…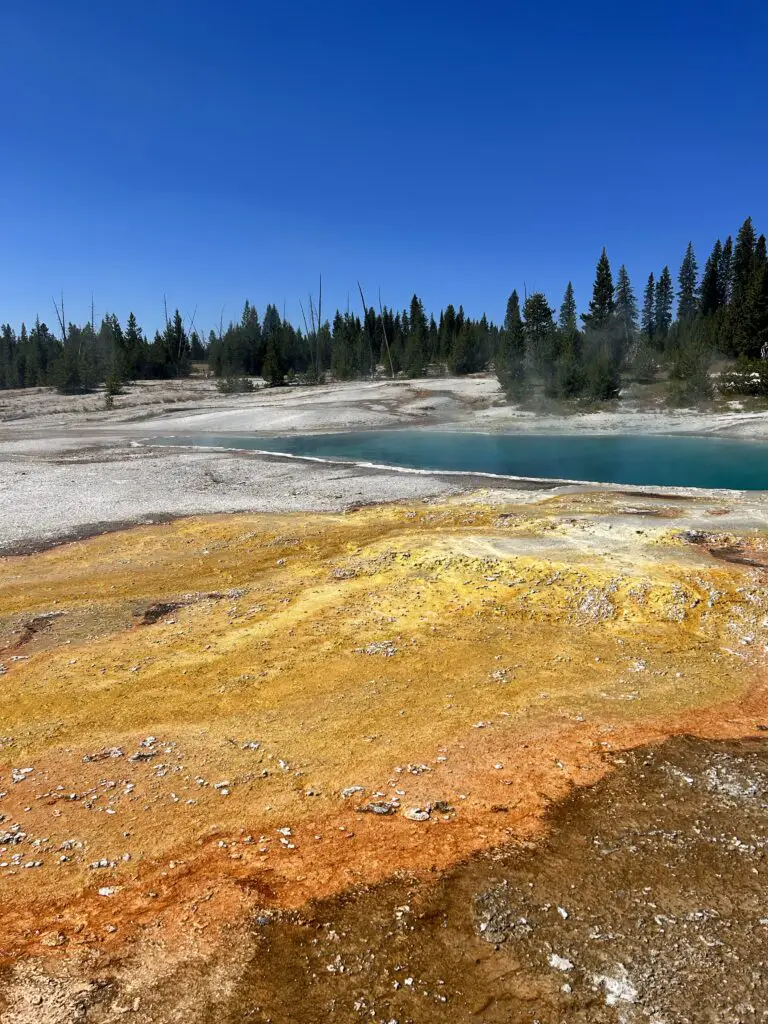 Some of these hot springs can reach 200 degrees! A man fell in to one in this area last year and, unfortunately, it didn't end well.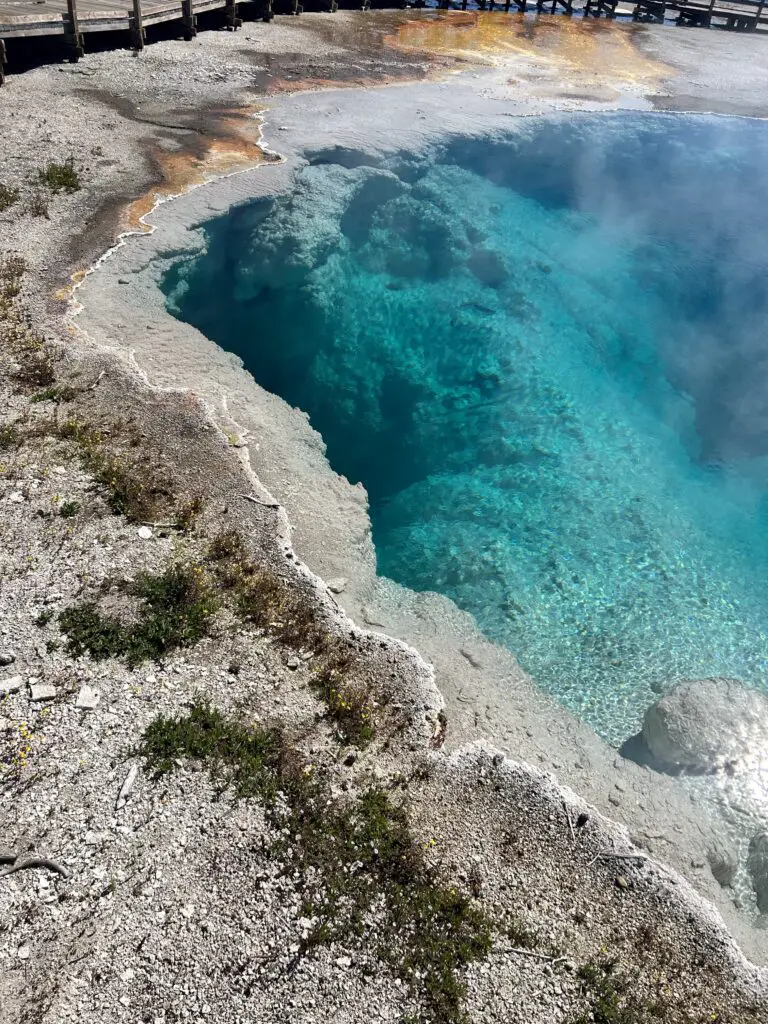 Jane flexing like Jon! LOL!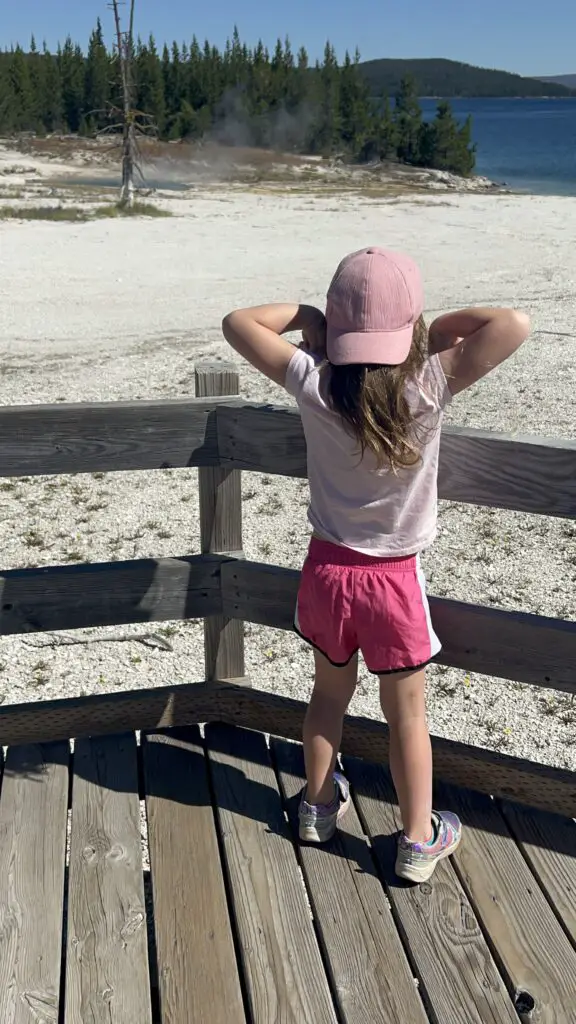 The kids wanted pictures in front of this amazing hot spring!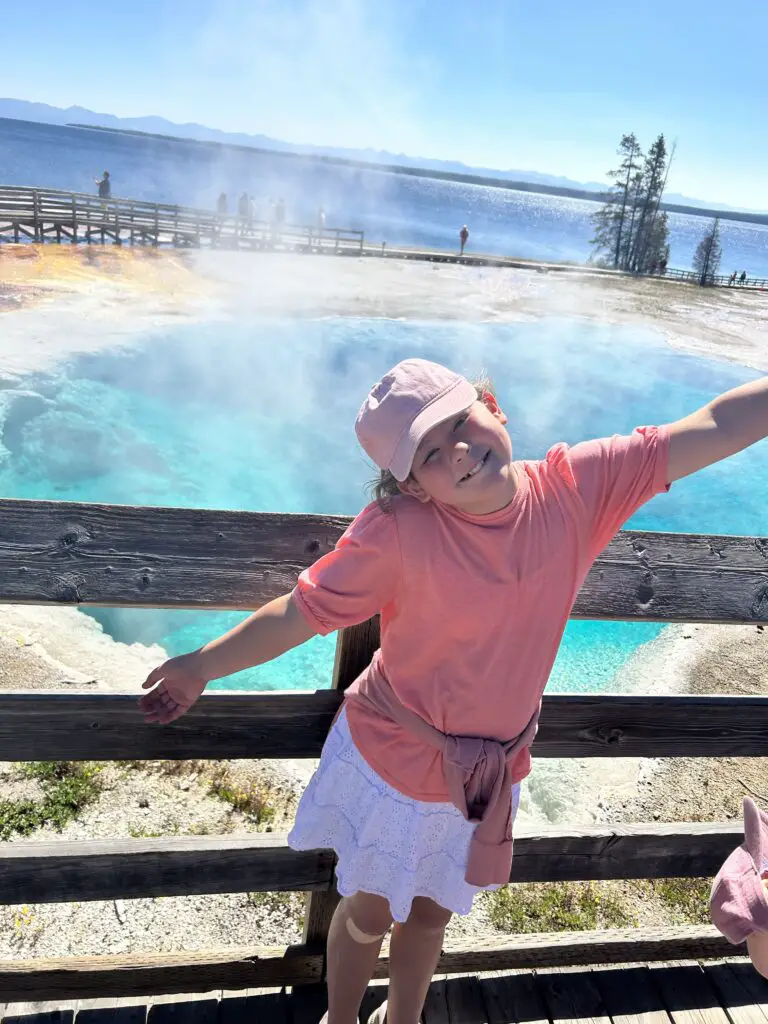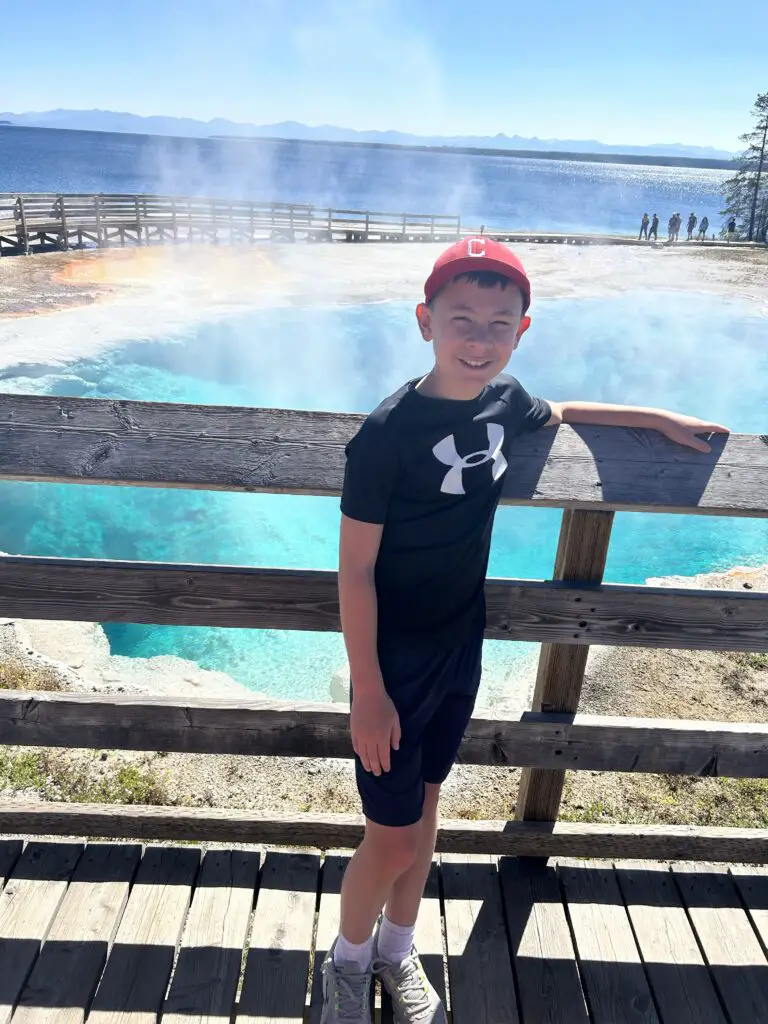 The Abyss Pool…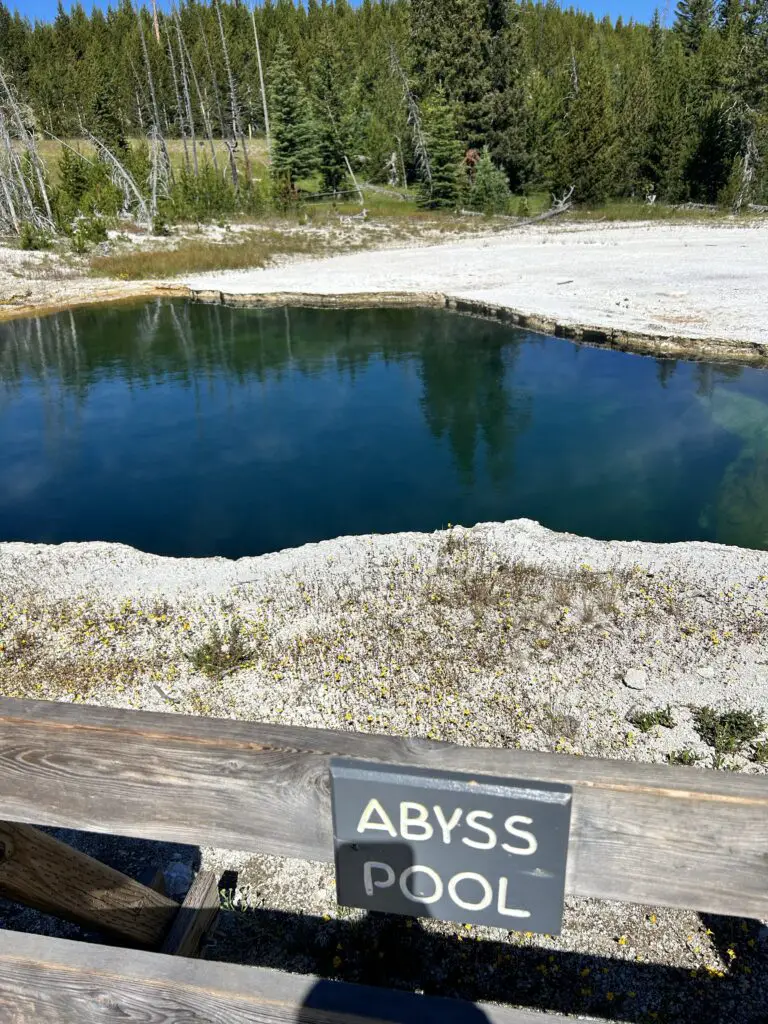 Holding hands with my sweet girl, Jane. I wanted to really take in this moment!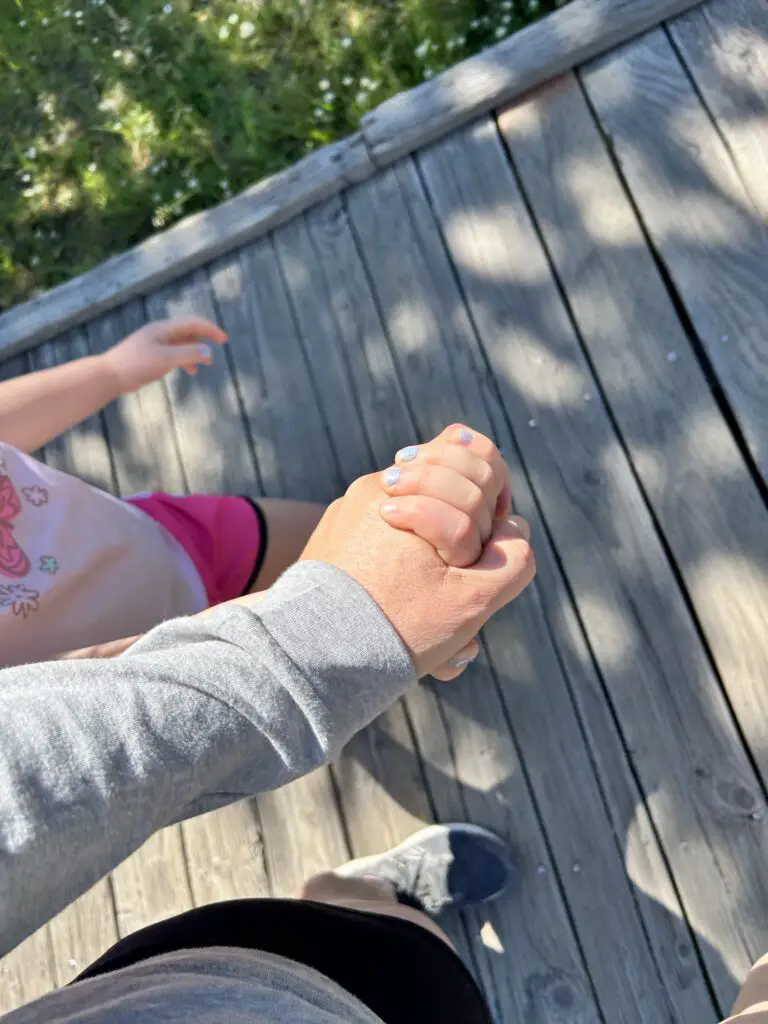 As we left we approached this sign and I just thought it was so fun with all the locations! We were headed out of Yellowstone and into Grand Teton, which wasn't far at all, and then we'd be driving through Grand Teton National Park and heading toward Jackson, Wyoming. We kept our app going the entire time and learned quite a bit between the two parks!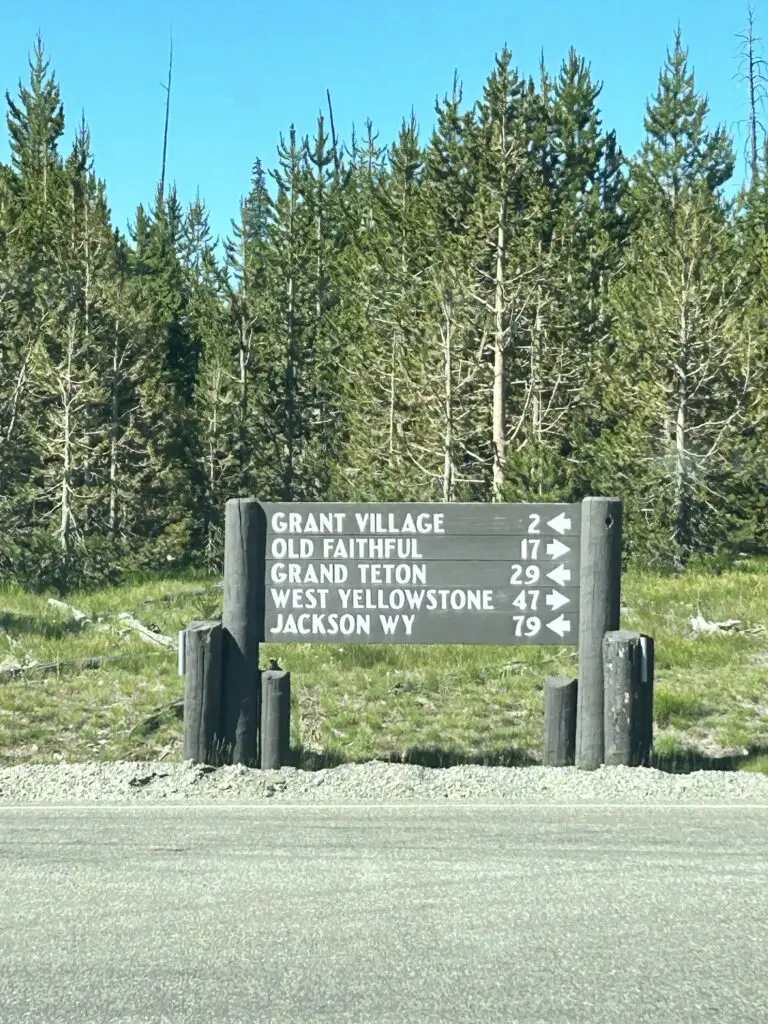 As we headed out, Eliza had a very random nose bleed. It was absolutely nuts. We were, for a bit, stuck in traffic during construction, but as soon as the traffic started to move, the nose bleed began. I had gloves, and paper towel and gauze and wipes everywhere. Luckily, we were given a First Aid Kit when we purchased our minivan and it came in handy, along with the surplus of wipes, paper trash bags and hand sanitizer I had packed! It was definitely a moment to remember that was chaotic, BUT, we moved on and forward and continued toward Grand Teton! Jane, and I, drew a picture of what had happened and it provided all of us with bit-o-comedic relief!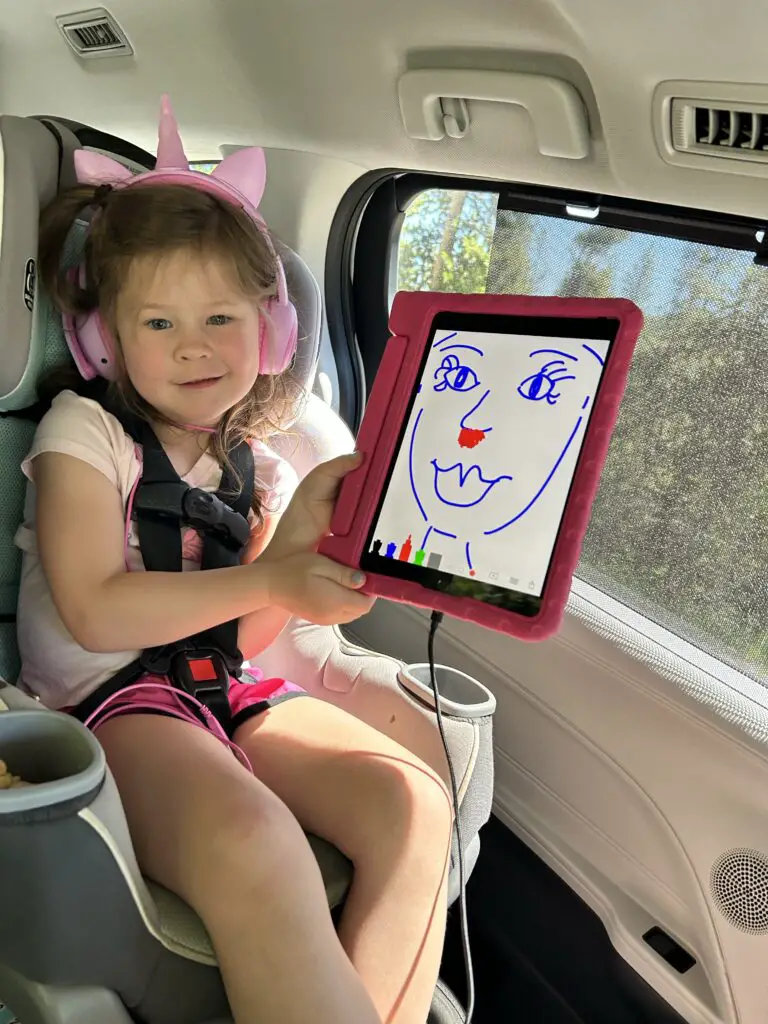 We happened upon a fantastic location halfway between the two parks called Headwaters Campground at Flagg Ranch! We used the restrooms and stopped for an unplanned, but much needed reprieve from the events of the morning, and we grabbed some food and relaxed for a bit. We didn't take pictures as we truly needed a break, but it was a lovely stop!
We continued on our journey and then, Henry needed to use the restroom! Of course he did! So, we stopped with the Teton mountains in front of us on a pull off off a hill, with cars passing by, and, we once again thanked nature for its usage. Haha! Other people must've been doing the same on their trips, because I honestly don't know what the alternative would be…well, I guess I do, but nobody wants that! Bahahaha! Anyhoo, it was another unpredictable and funny moment to remember!
I'll be back with our last recap as we explore Grand Teton National Park and Jackson, Wyoming!
Thanks so much for stopping by!
Marie 🙂
I'm linking up with Hello Monday.