Our Vacation out West – Part Two
Now that the kids are in school and summer is coming to an end, I'm finally able to blog again! Woo to the Hoo!!! I'm back with another recap to our trip out West to Yellowstone and Grand Teton National Parks. It's my goal to finish up these recaps this week! I'm linking up for Hello Monday to share all the fun!
We woke up in Billings, Montana nice and early and prepared to head into the little town of Red Lodge to head through the Beartooth Highway and into the northeast entrance of Yellowstone. The summit of the Beartooth Highway is 10,947 feet. The drives consists of switchbacks and steep zigzags but it provides some of the prettiest of views I've ever seen…even if I was holding my breath and clenching onto the door handles while taking it all in! LOL!
Before heading out, I took a picture of the back of the minivan! It was doing it's job of storing most of our items in the back so that we'd be as comfortable as possible. Also, I spy with my little eye a little arm in that top right hand corner…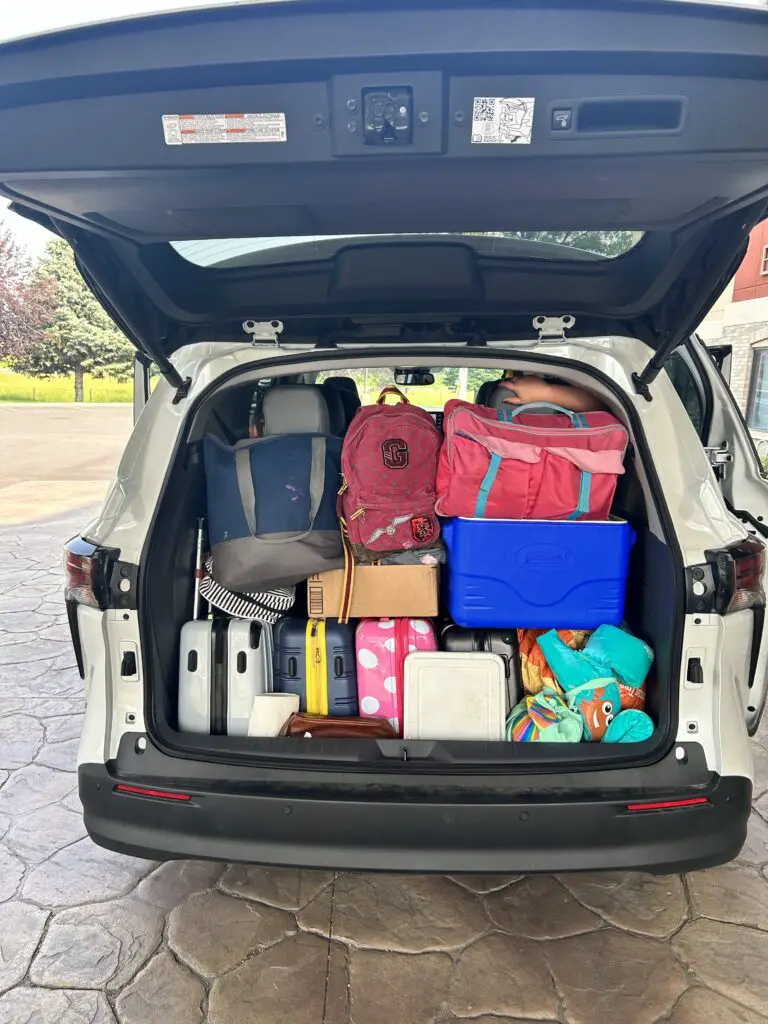 We decided to grab some coffee at this fun coffee shop in Red Lodge before heading up the mountain. The last thing my anxiety needed was caffeine and I later found out Jon probably didn't need it either as he had been secretly pumping himself up to drive through Beartooth!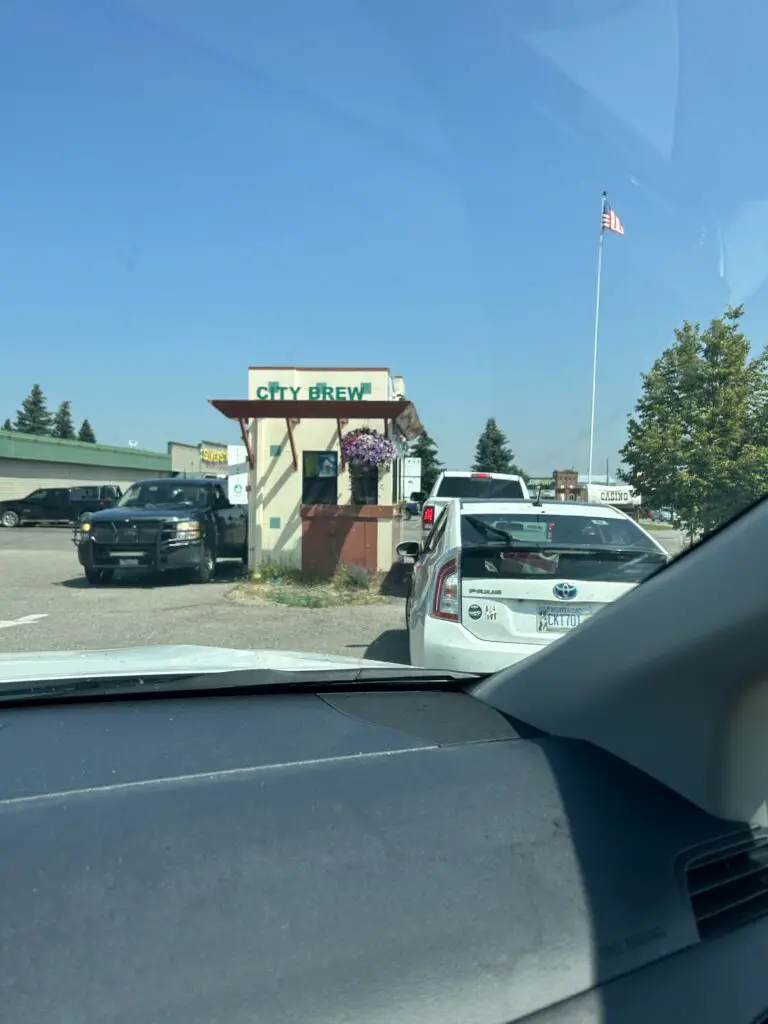 The views heading into the mountains were stunning!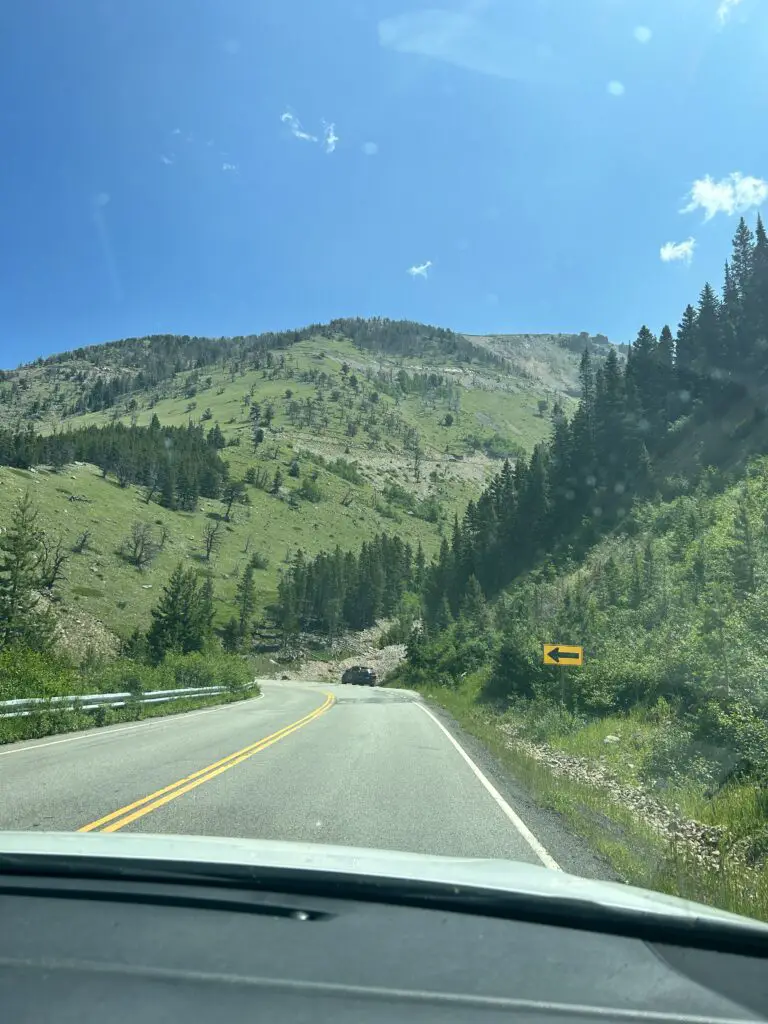 Here I am halfway to the summit…I was a tad scared. At one point we had to stop on the side of the mountain because there had been a terrible motorcycle accident. It wasn't my idea of a good time at the moment, but the motorcyclists definitely had it much worse, so I tried to relax as much as I could…and not look out my window. Hahaha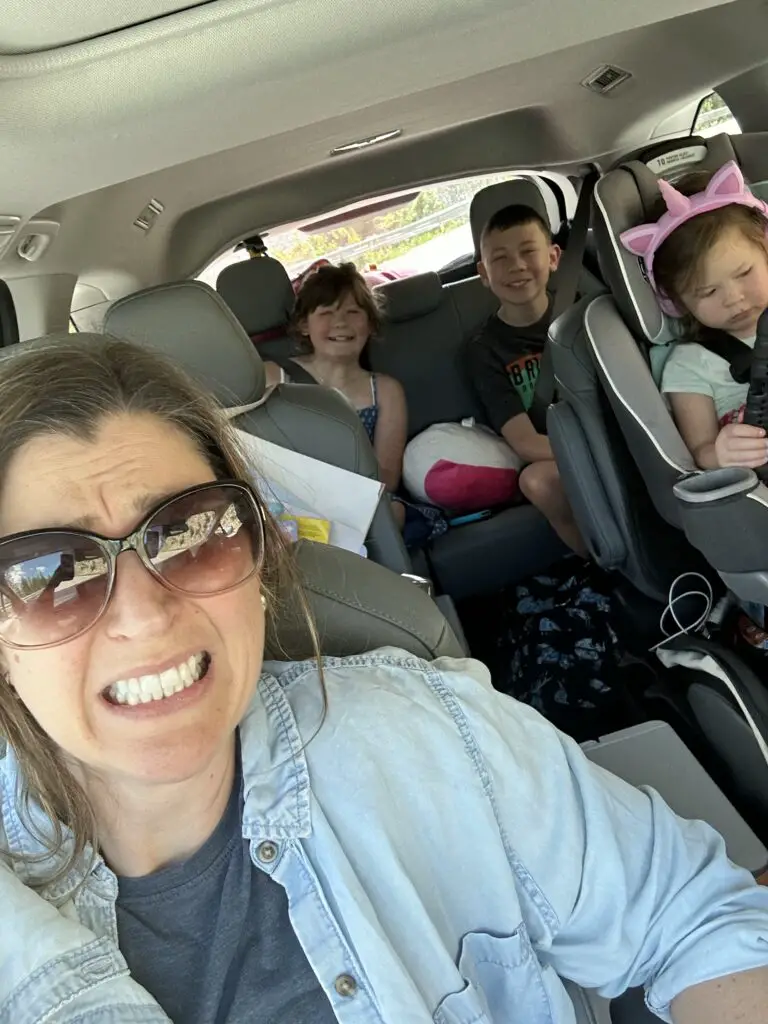 Some places had guardrails, some did not. This spot did…thank goodness.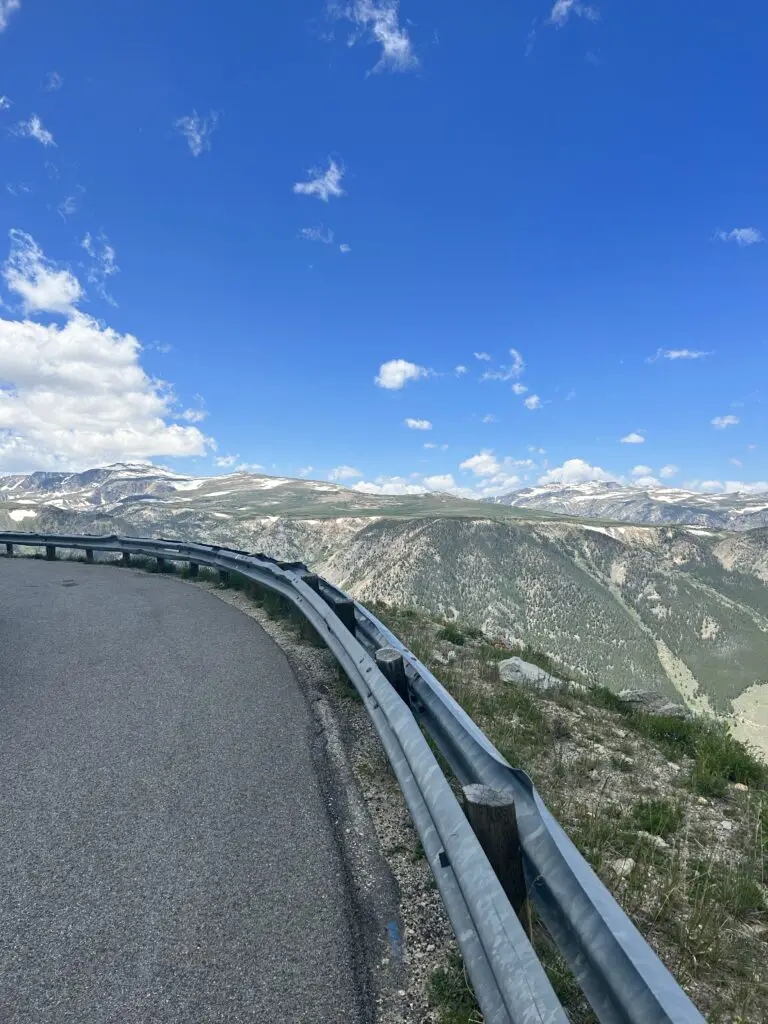 On our way to the summit, the landscape changed. More valleys and gradual declines consumed us, so we stopped to take a quick picture. It was much cooler and very windy, but also gorgeous!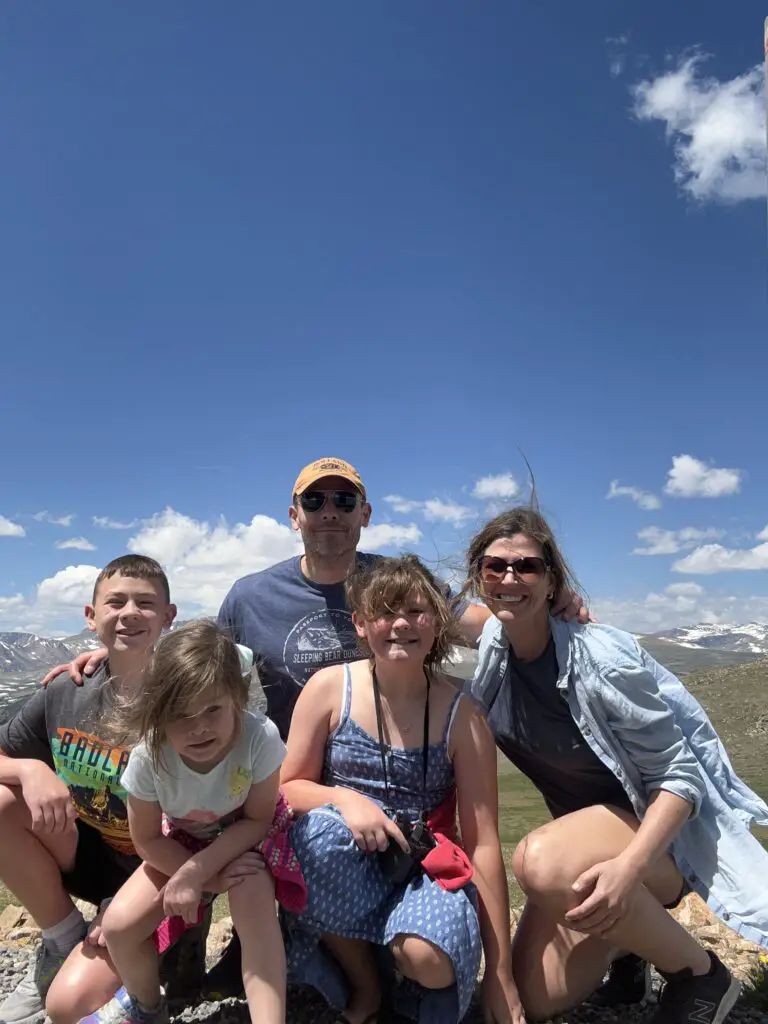 Finally! We had made it! We jumped out and took a picture! Unfortunately, my bladder was at max capacity, buuuut there weren't any bathrooms around…like, not until we reached the bottom of the mountain…soooo, well, I became one with nature. I was about to BURST! Bahaha!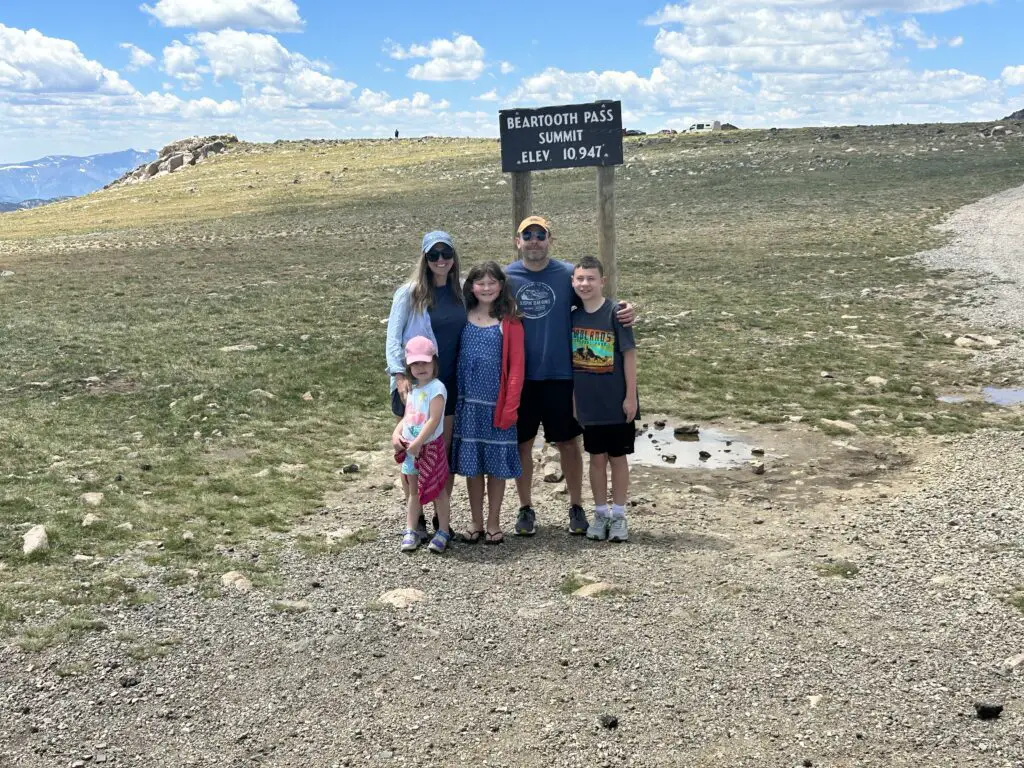 This side of Beartooth was peaceful – it was full of easy switchbacks and mountainous and panoramic views for days!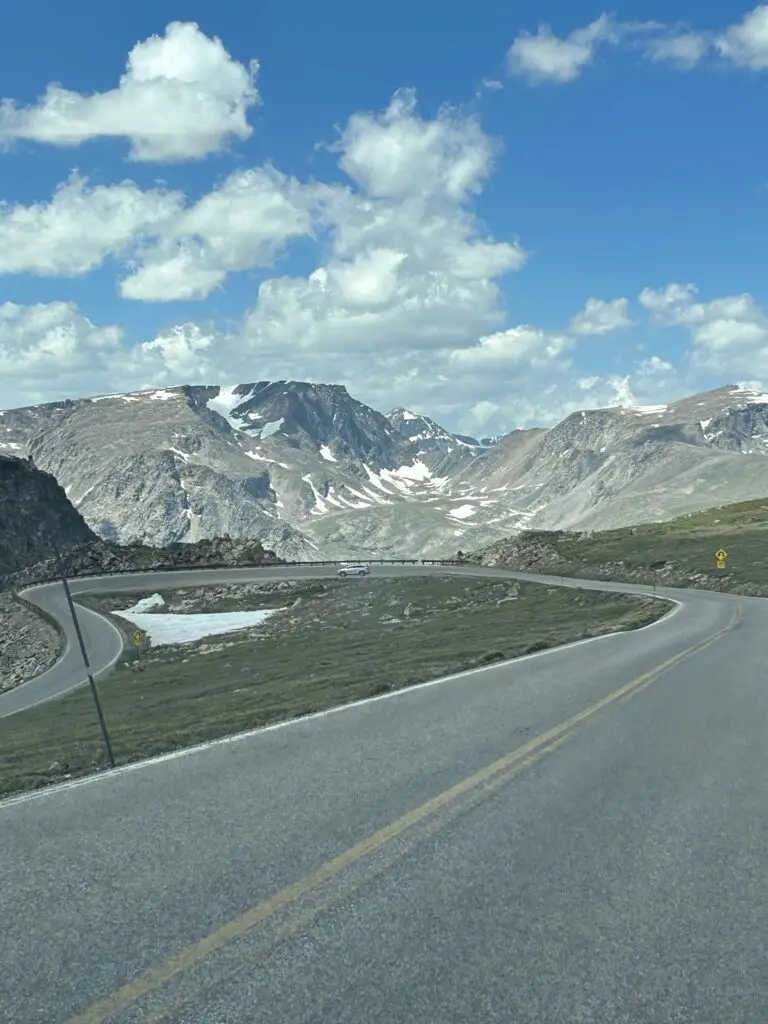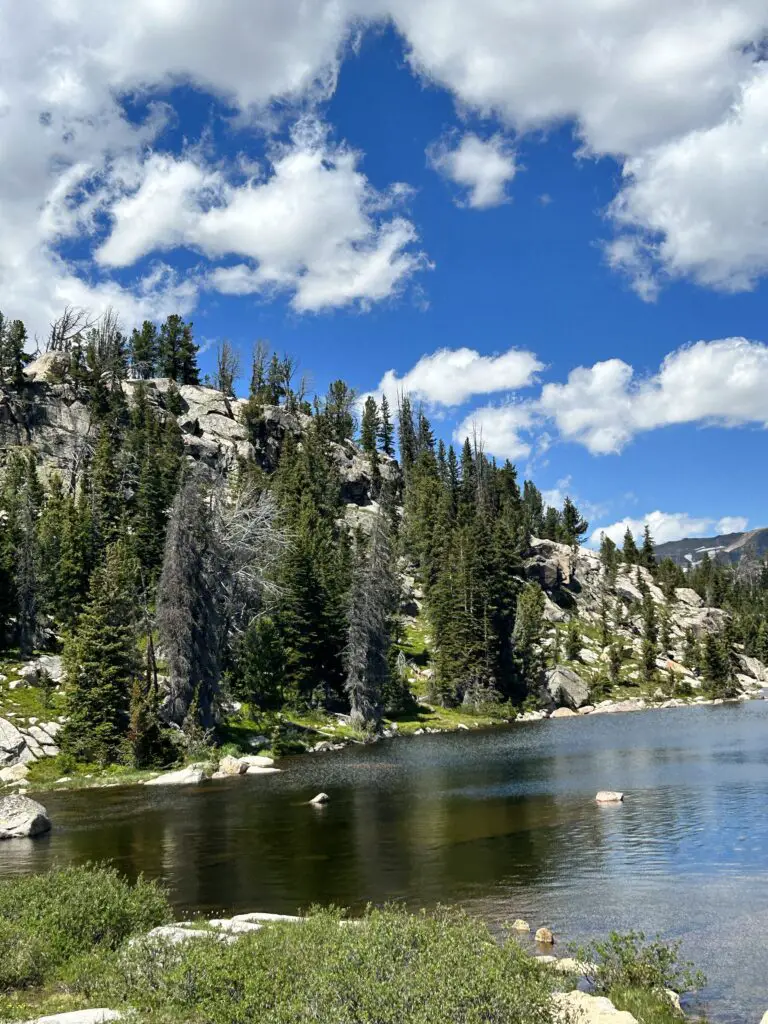 We reached Cooke City and ate a packed lunch, used the restrooms…again…and walked around for a few minutes. It was really busy with lots of motorcyclists!
Not far up the road was the entrance to Yellowstone. To my surprise, I actually didn't know we'd be heading into the park that day. I just didn't know what to expect and Jon had mentioned it to me, but apparently I hadn't been listening and I just don't think I understood how big the park was. I just thought he meant we'd swoop in really fast and swoop back out of the park and be on our way to Gardiner, Montana… My nerves must've been set on having to go through Beartooth Pass, so my ears and brain just didn't hear him. LOL!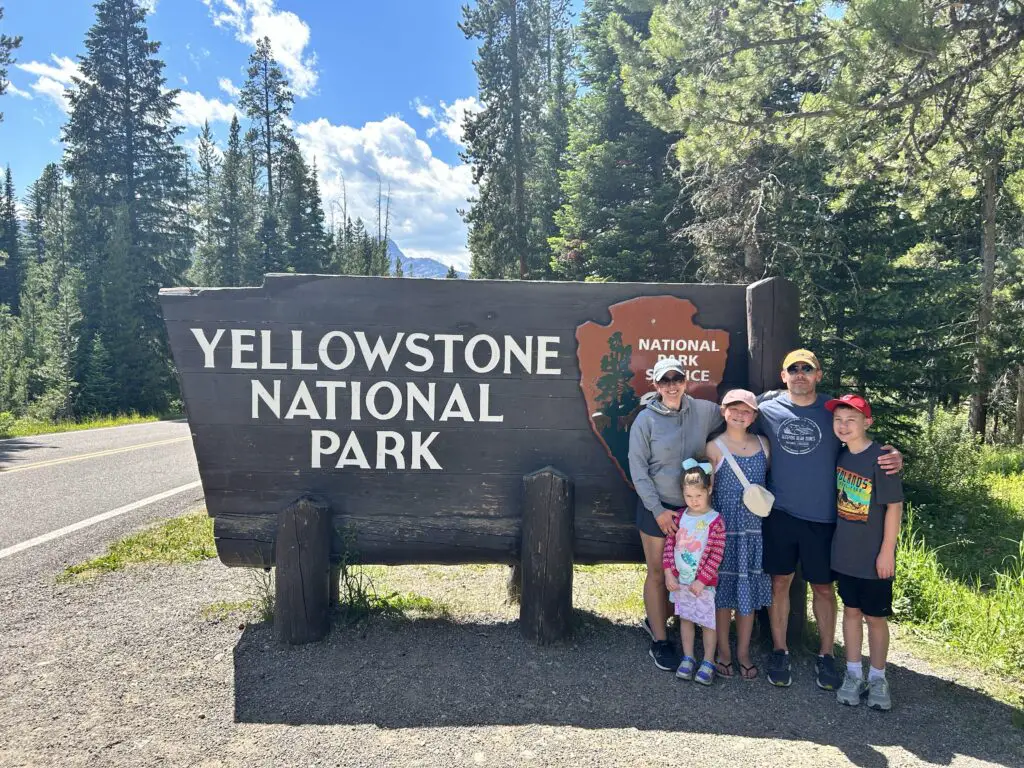 Jon had purchased an app called, GuideAlong. Being within the park leaves visitors without internet service. He purchased the GPS GuideAlong for Yellowstone National Park, as well as for Grand Teton National Park and it cost us a total of $20. The app turned on as soon as we entered the park and made it so we truly didn't need a map. The guide on the app told us all about our travels and pointed out features we wouldn't have normally read about. It also allowed us to learn about the area we were about to visit BEFORE visiting it! I CANNOT recommend this app enough!
Upon entering Yellowstone we headed into Lamar Valley and WOW – We saw animals almost immediately – a black bear was off in the distance in the picture below and we made sure to get out the binoculars we had brought for the kids!
It's definitely difficult to see in this picture, but the bear was there just roaming around. SO. COOL!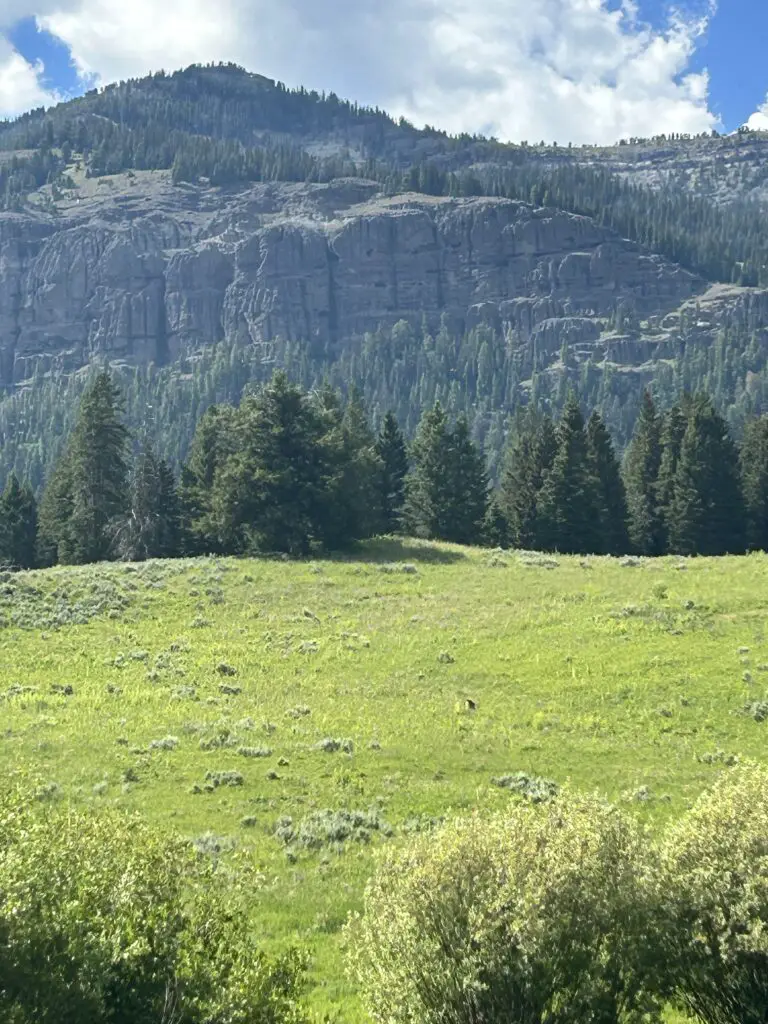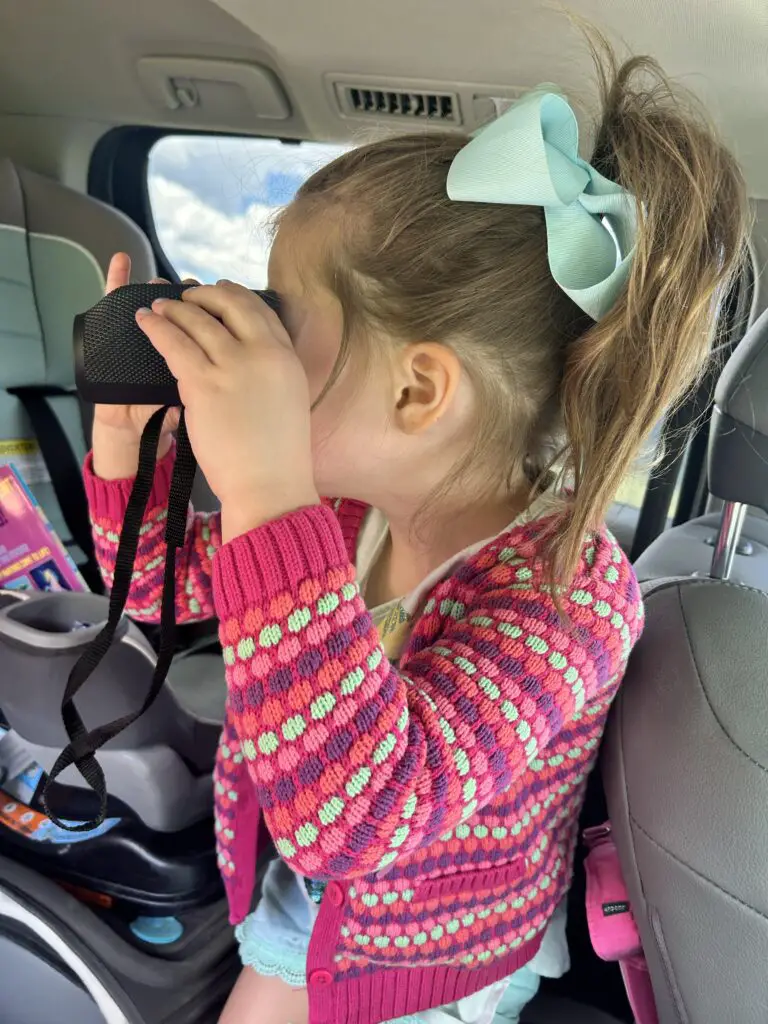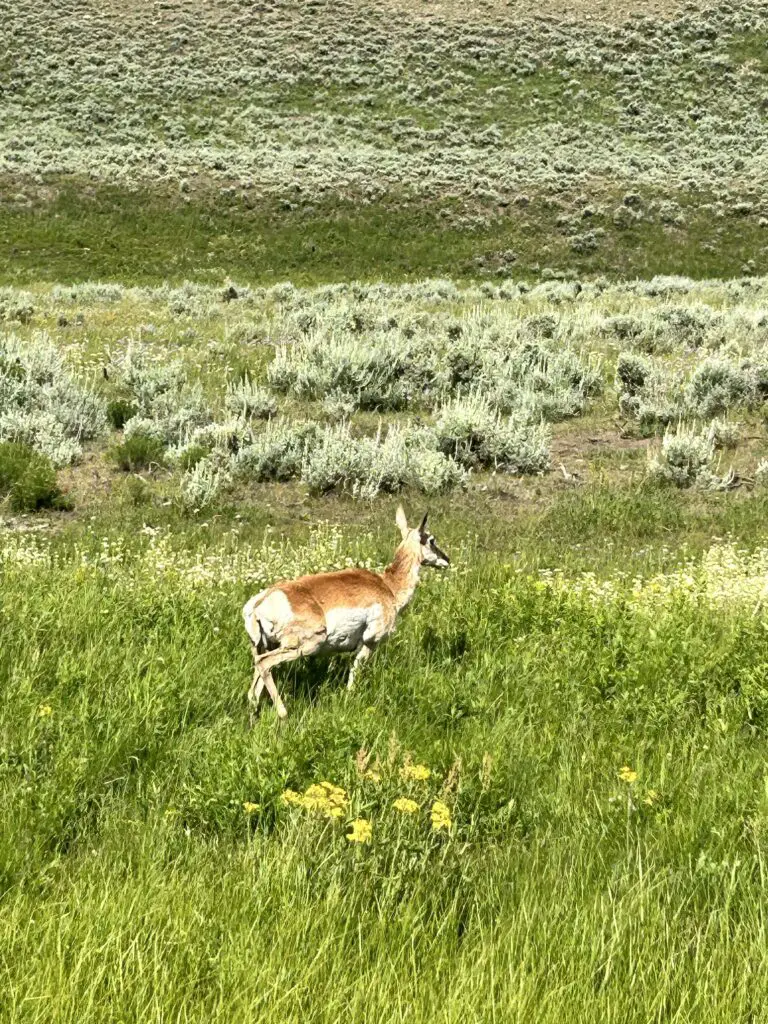 Lamar Valley was also home to bison upon bison upon bison! Herds of bison! They were everywhere! At one point one walked right by Jon's car window and here's one outside of mine. It was quite a view!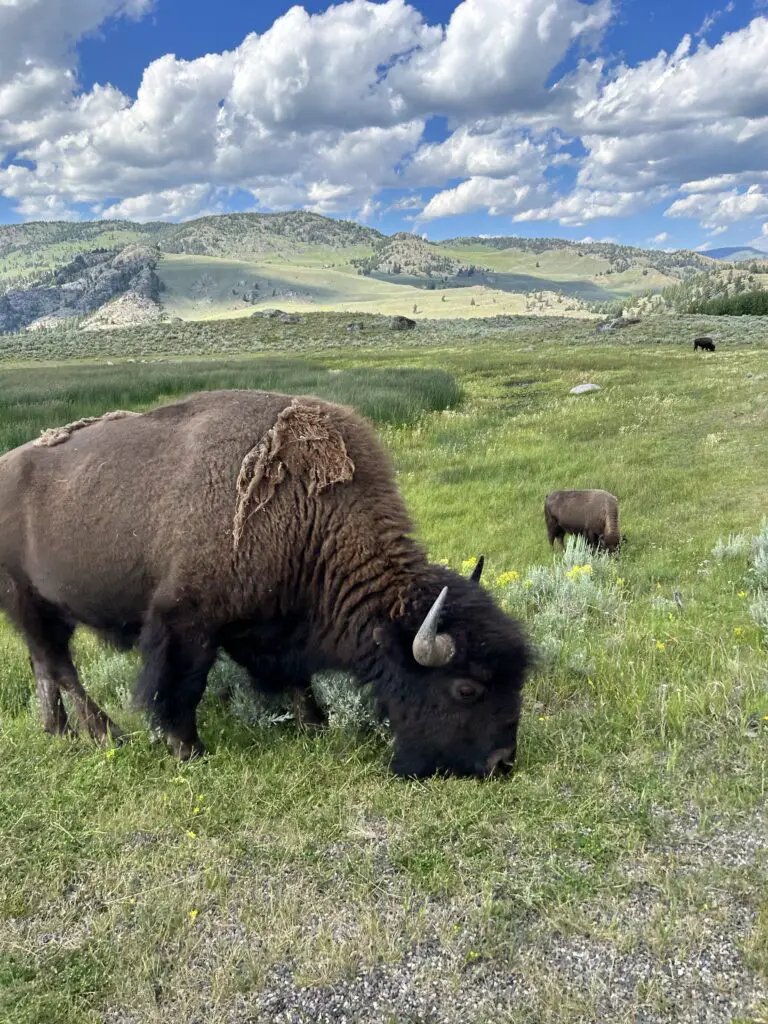 We tried to grab as much as we could while on the northeast side of the park so we made sure to make a visit to Tower Fall as we wouldn't be heading back to this area.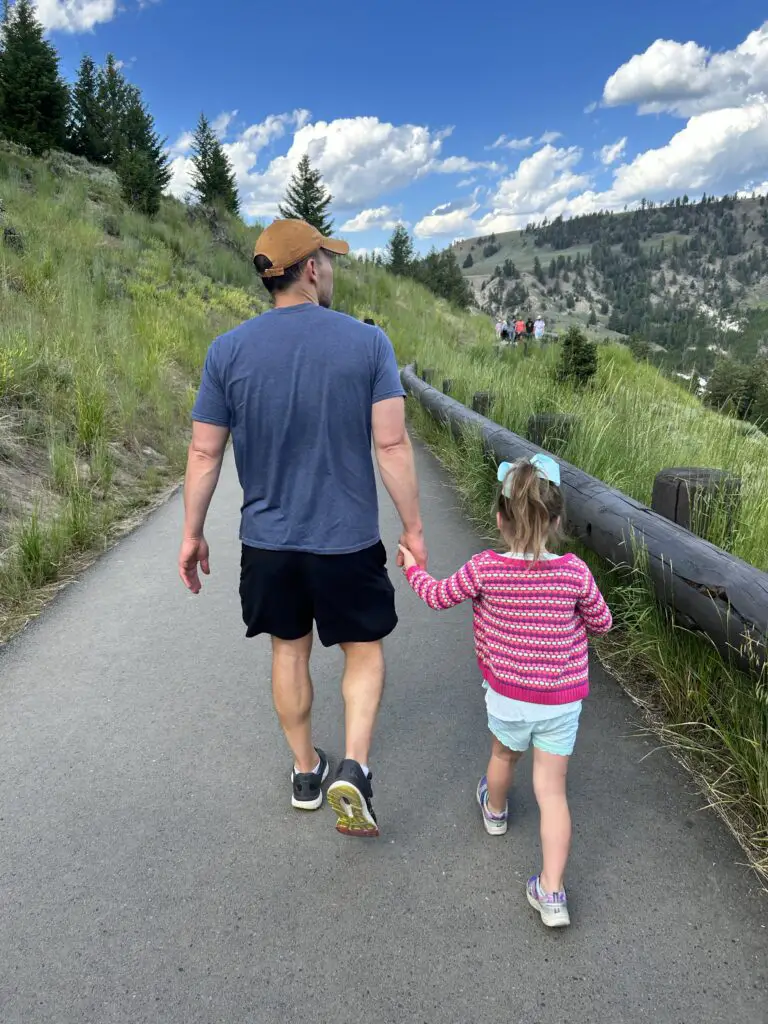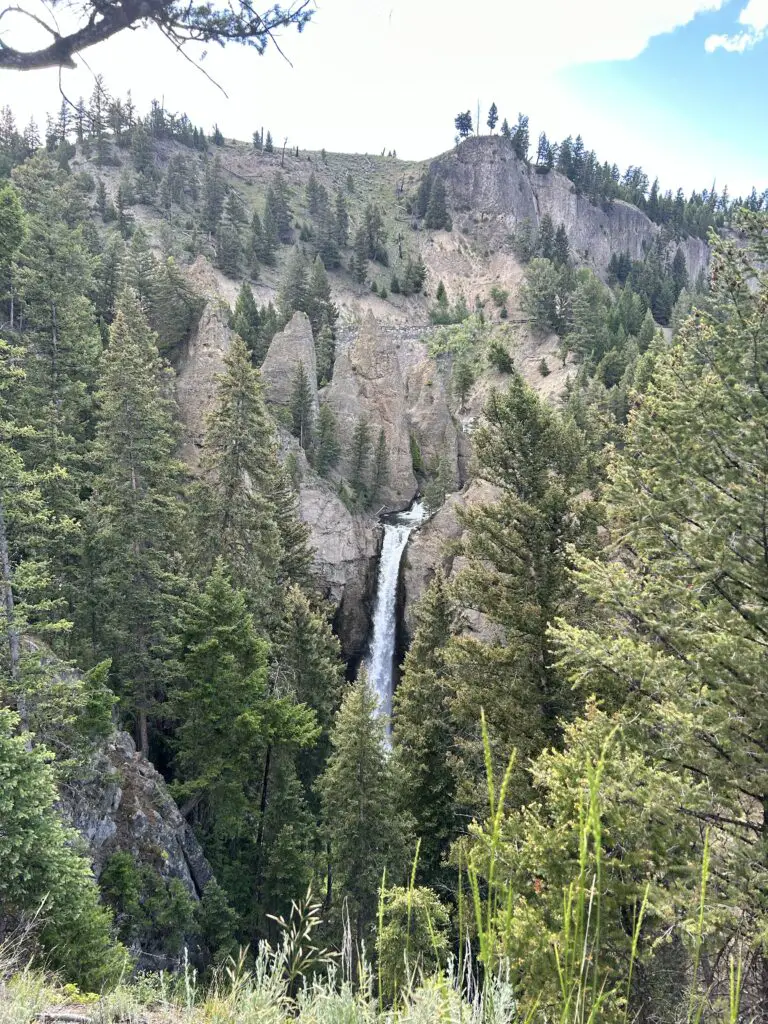 We took in more views as we drove the northern loop of the park and headed into Gardiner, Montana. The drive into Gardiner was super windy and steep! We took the new road to Gardiner as the old road had been washed out by flooding last year. This new road was quickly established for its residents as it is/was their only way out of Gardiner.
We arrived in Gardiner, after I, once again, clenched while driving up and down and around the mountainside. Our view from our stay for the night was a dream!
We occupied the top floor!
We headed to dinner, which was an easy walk in the little town and then grabbed a few items from the local grocery store as we walked back. Jon and I enjoyed some local beers once the kids were asleep and the next morning we slept in, Jon sat with a cup of coffee by the river and I read more of a book while taking in the views.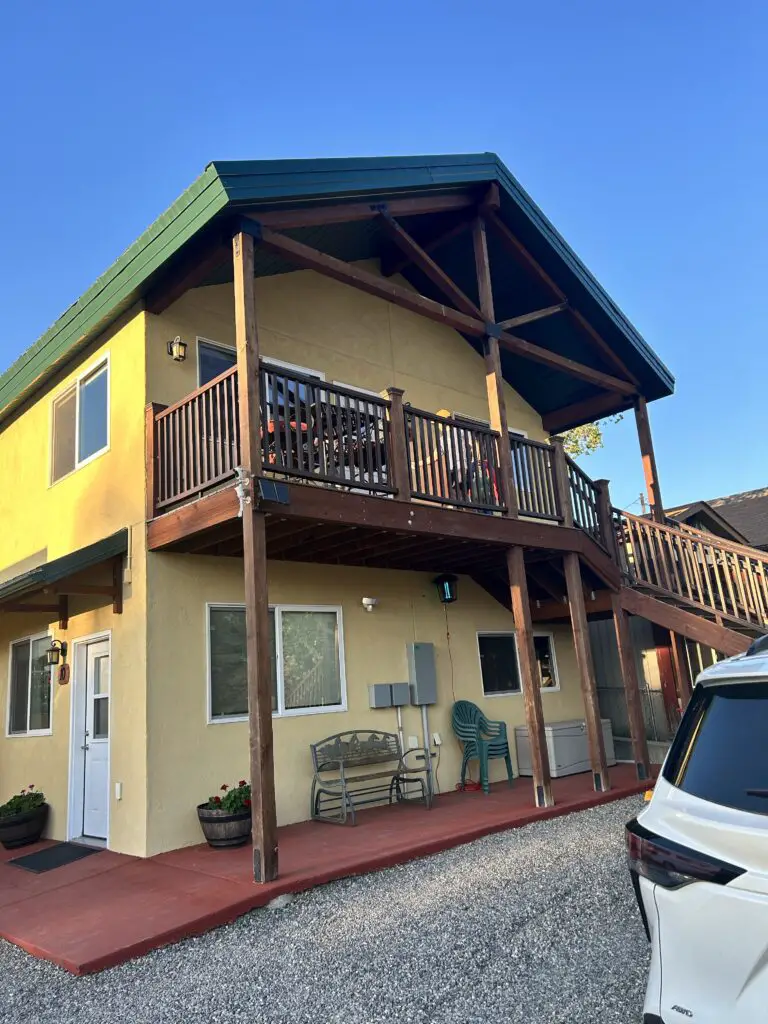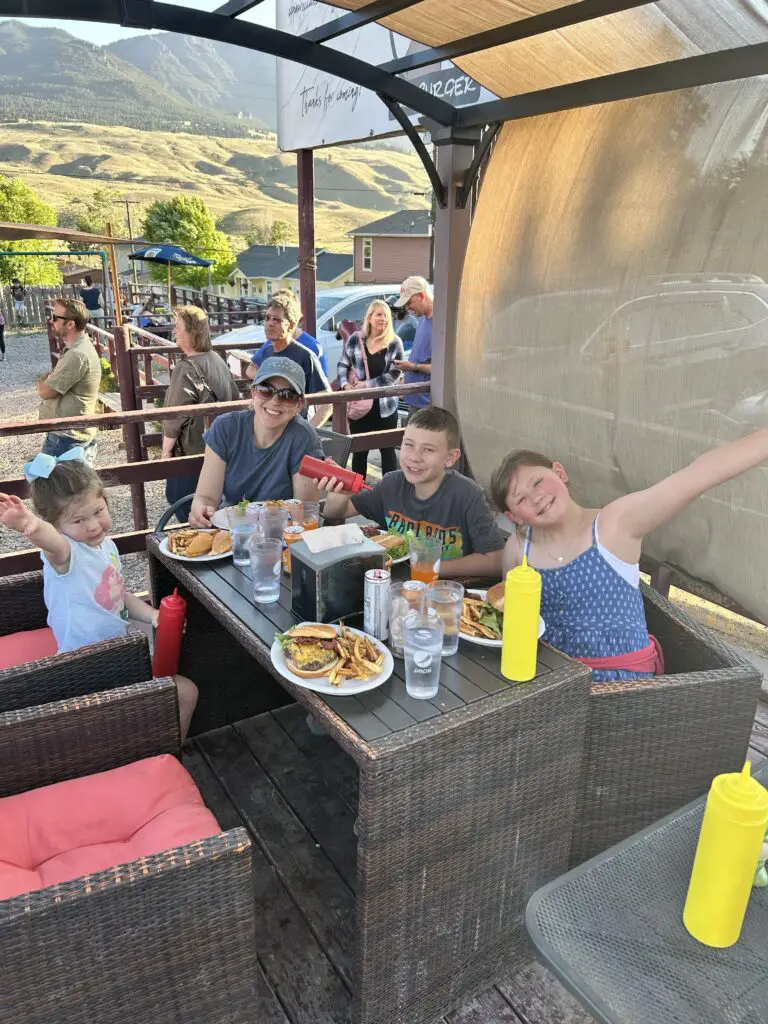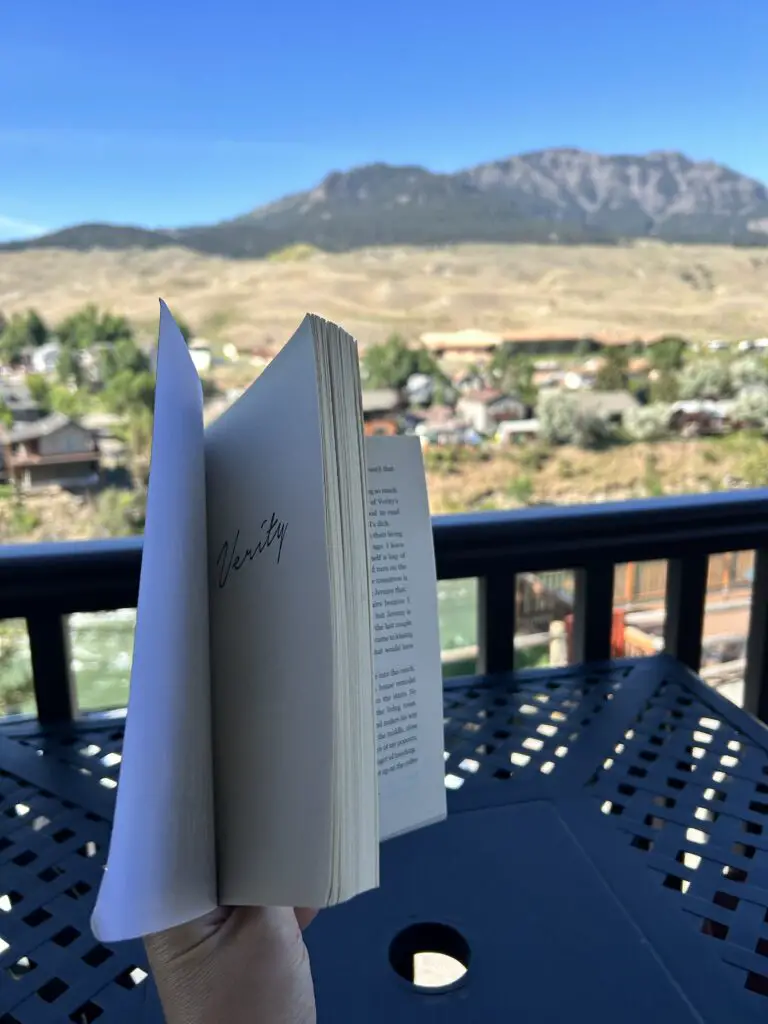 We headed out late the next morning and headed over to the Yellowstone's North Entrance to the park and over to Roosevelt Tower for pictures!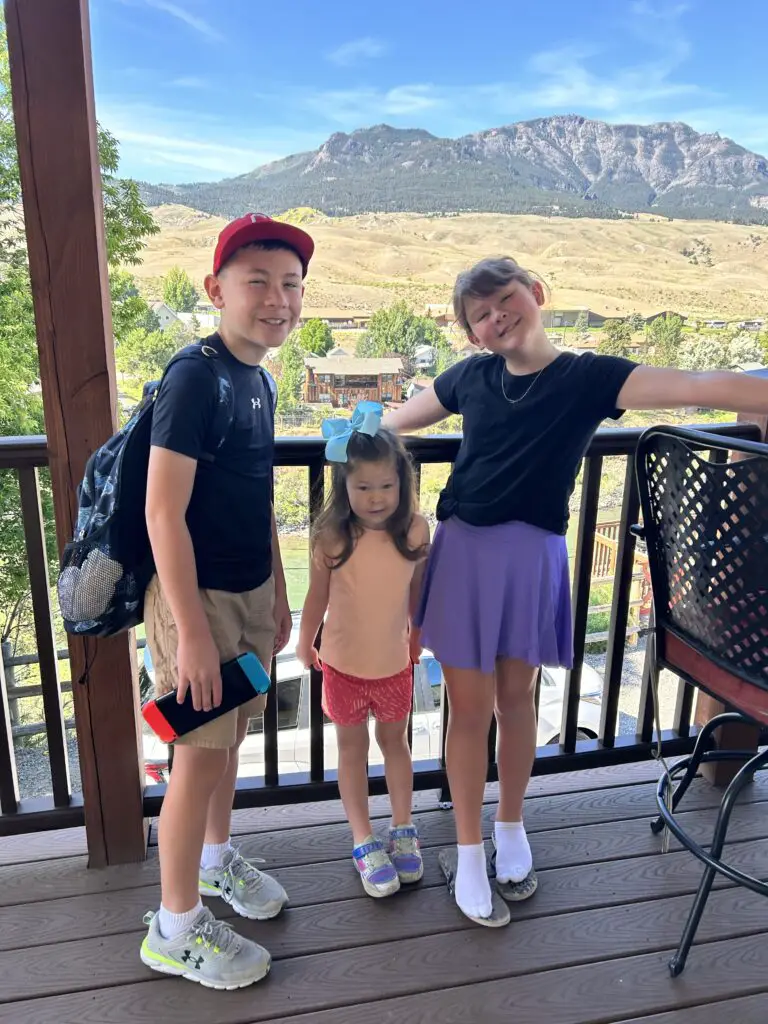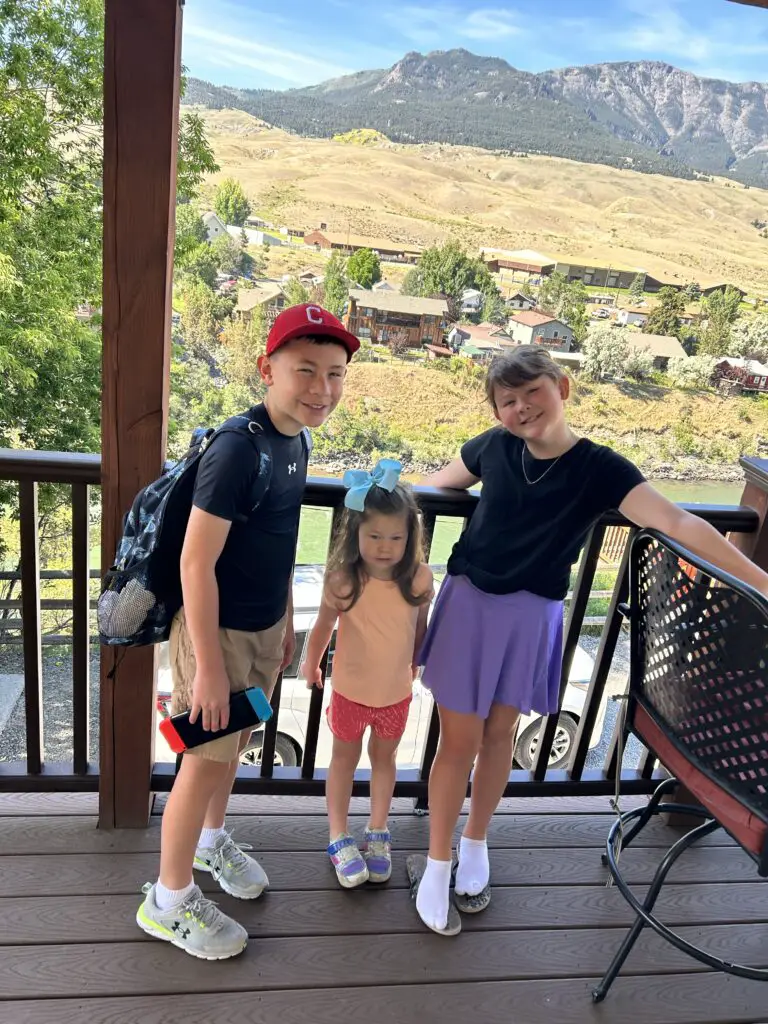 This North Entrance is the second most popular entrance into Yellowstone.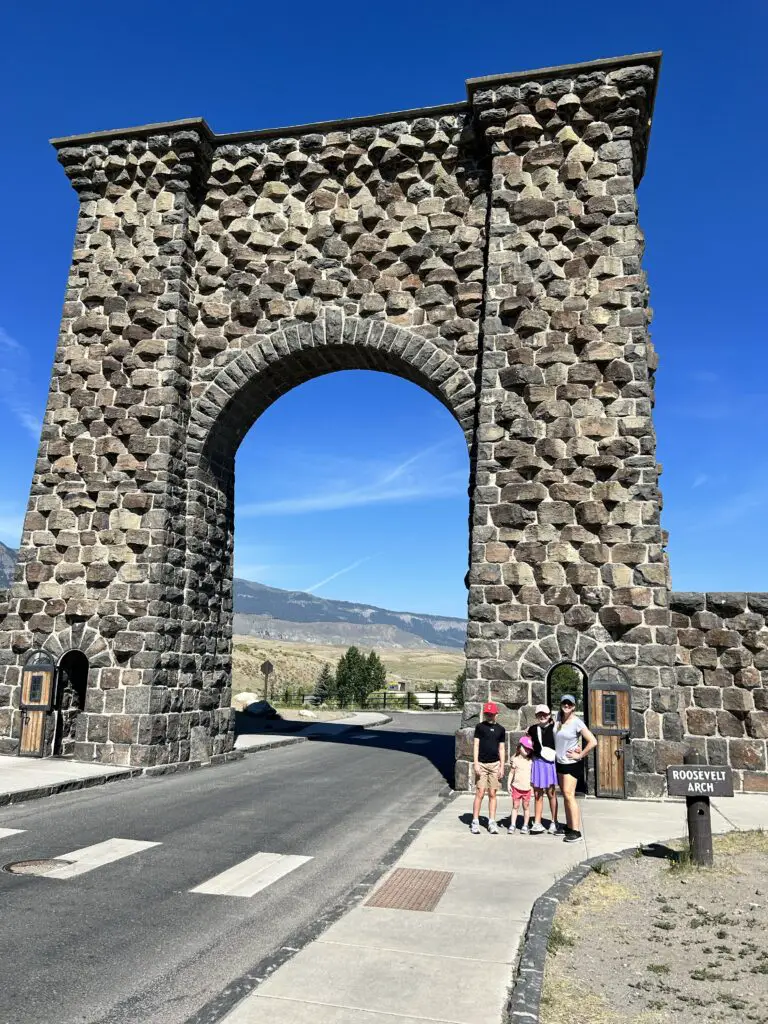 We walked through the arch and it was pretty cool to look up!
As we headed out of Gardiner, Montana, we drove past this post office and I made Jon stop the car because I loved it so much!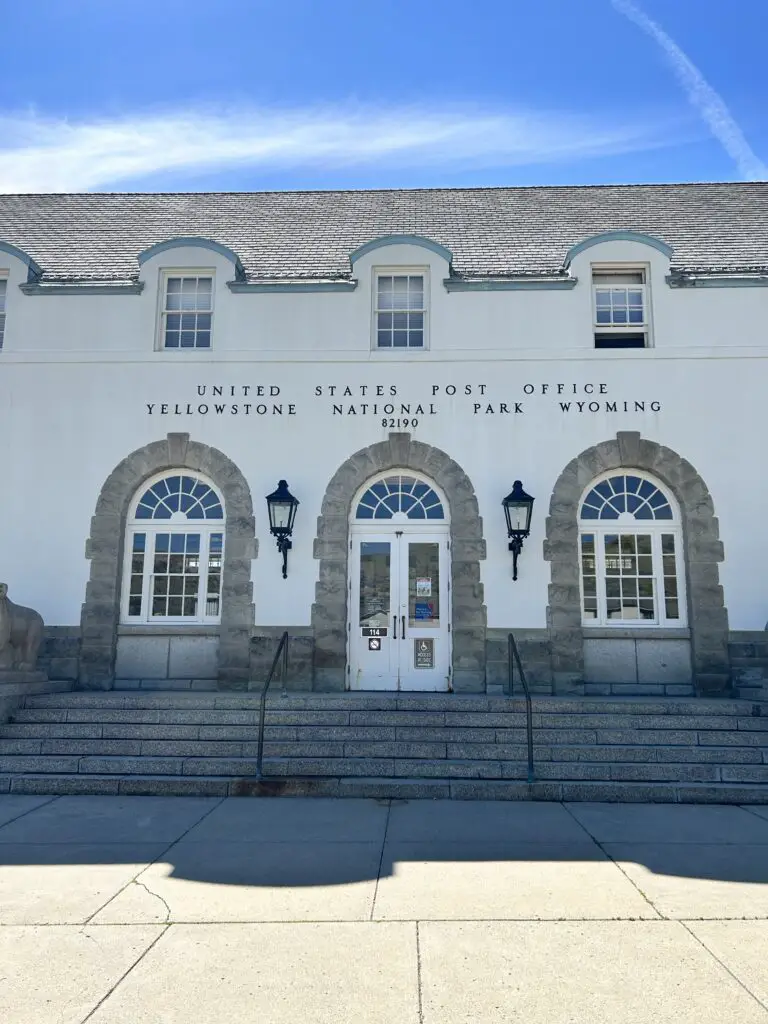 Not far from the post office was Mammoth Hot Springs!
Below is a picture of the lower terrace of the hot springs. It was an easy walk on a boardwalk, but toward the end it does become a little steep…nothing too difficult, but it's definitely worth noting.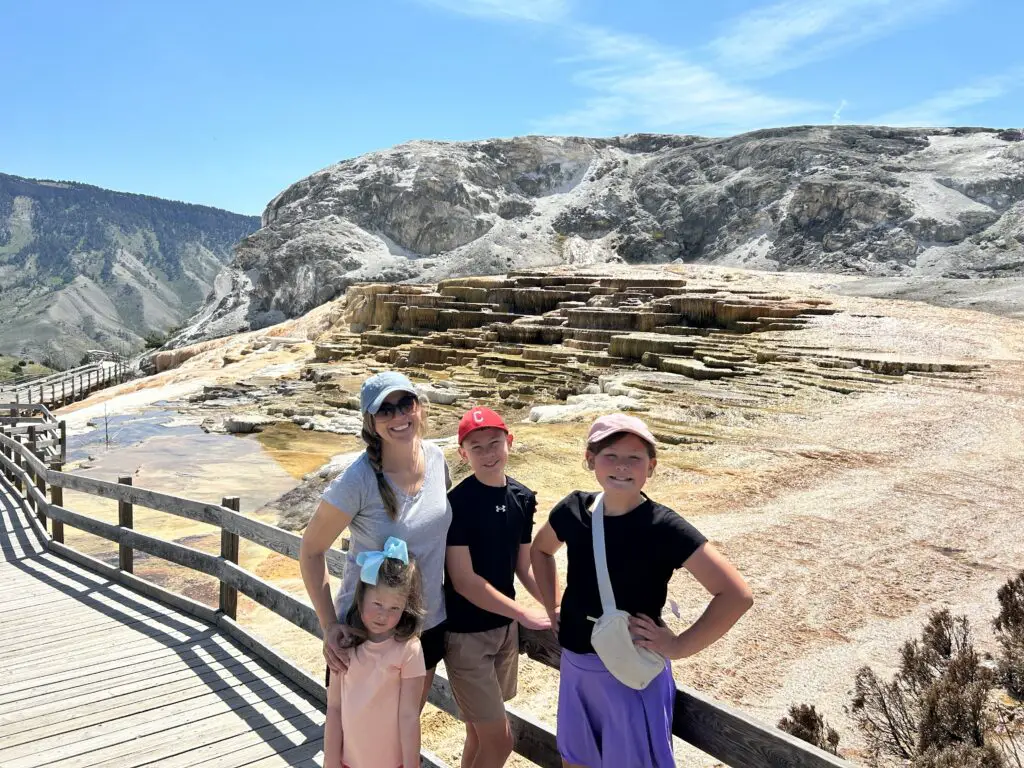 Below is a picture of the upper terrace…there's a parking lot in this area. We walked from the lower terrace to the upper terrace and it wasn't too difficult at all, but it did get HOT!
We did end up driving along the Upper Terrace Loop Drive. It was 1.6 miles and was an easy little drive which allowed us to take in the scenery just a little more.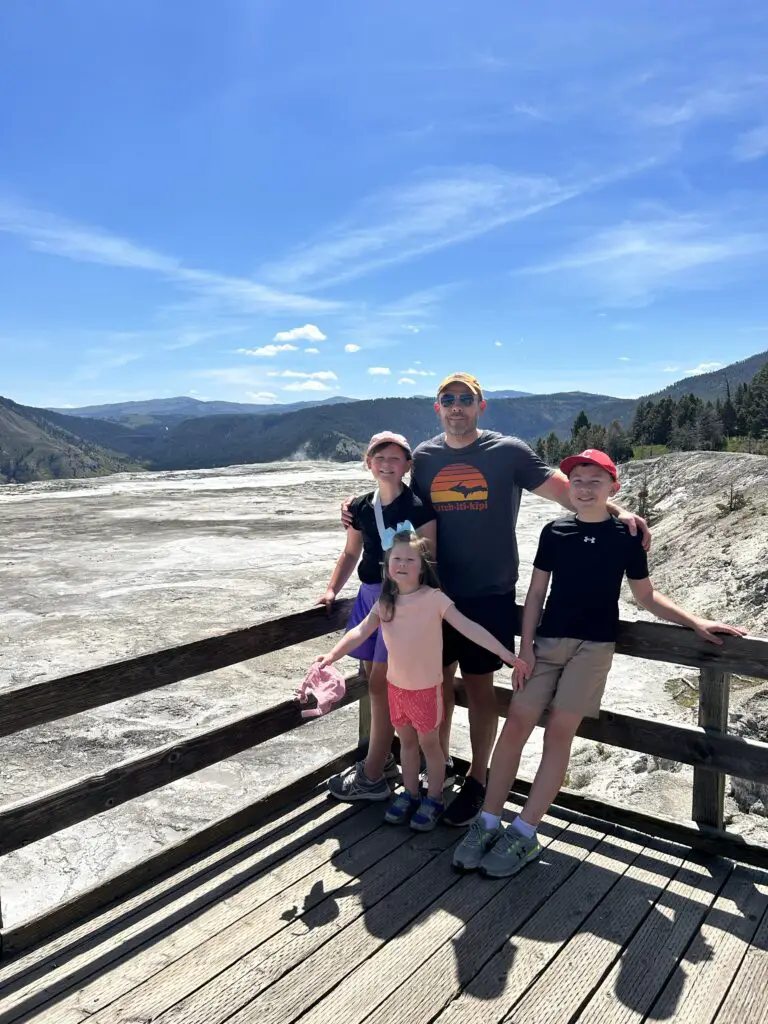 We continued south and stopped at a few features along the way. Most of the sightseeing on this route to Norris Geyser Basin was easy to take in from the car! There were waterfalls, mountains, special rocks, Sheepeater Cliff…. all seen from the comfort of our car AND our Guide Along App told us lots of information as we drove through to our next location! I cannot express enough just how valuable that app was!
We had made it to Norris Geyser Basin and spent quite a bit of time here. According to my MapMyRun, we ended up hiking over 2 miles, most of it on boardwalks. We were mostly near people, but the last part of our hike we were alone, so I made sure to be aware of where I had placed our bear spray!!!
This hike was 100 percent worth it and there were numerous unique features.
Emerald Spring…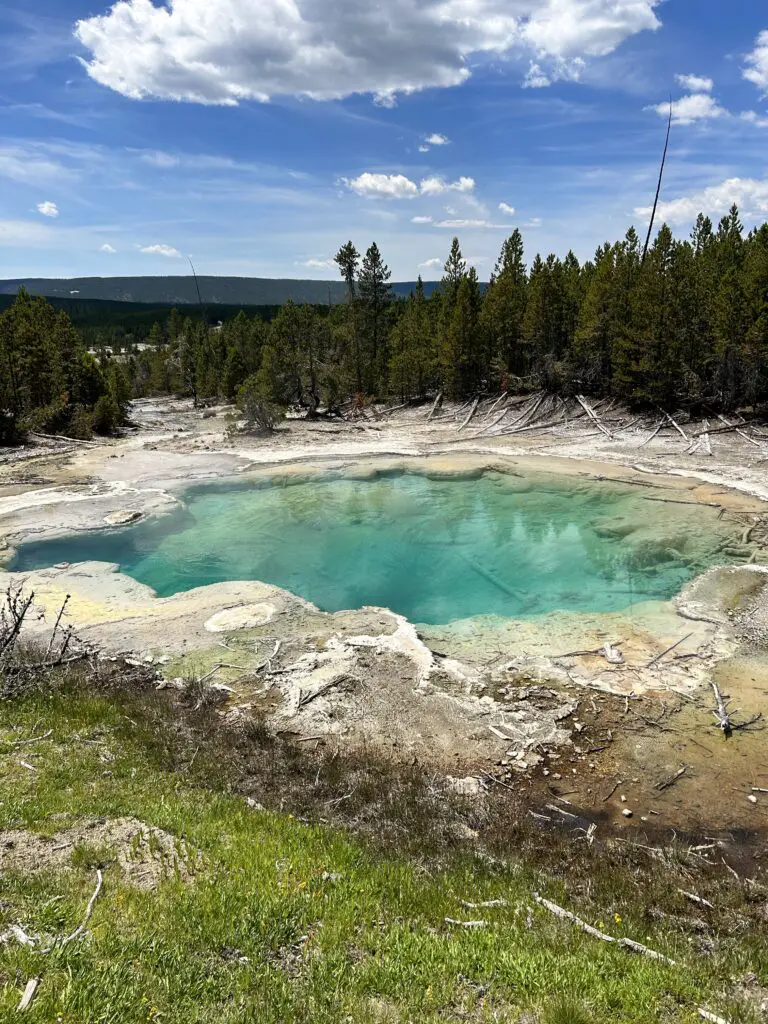 Steamboat Geyser – the world's tallest active geyser!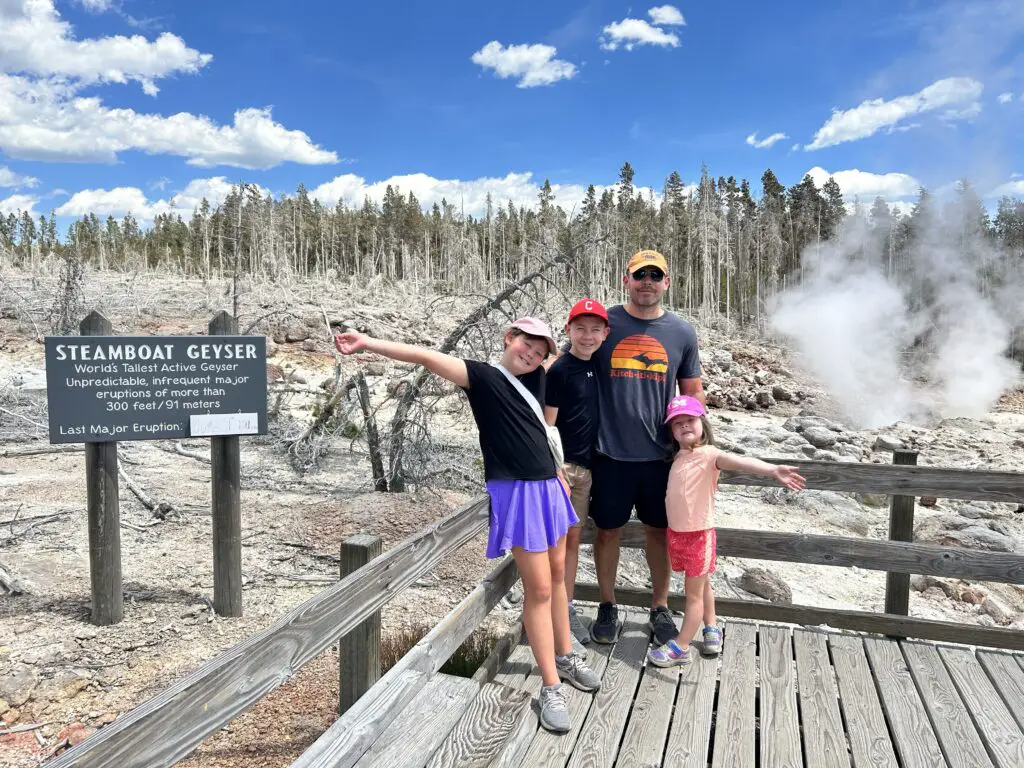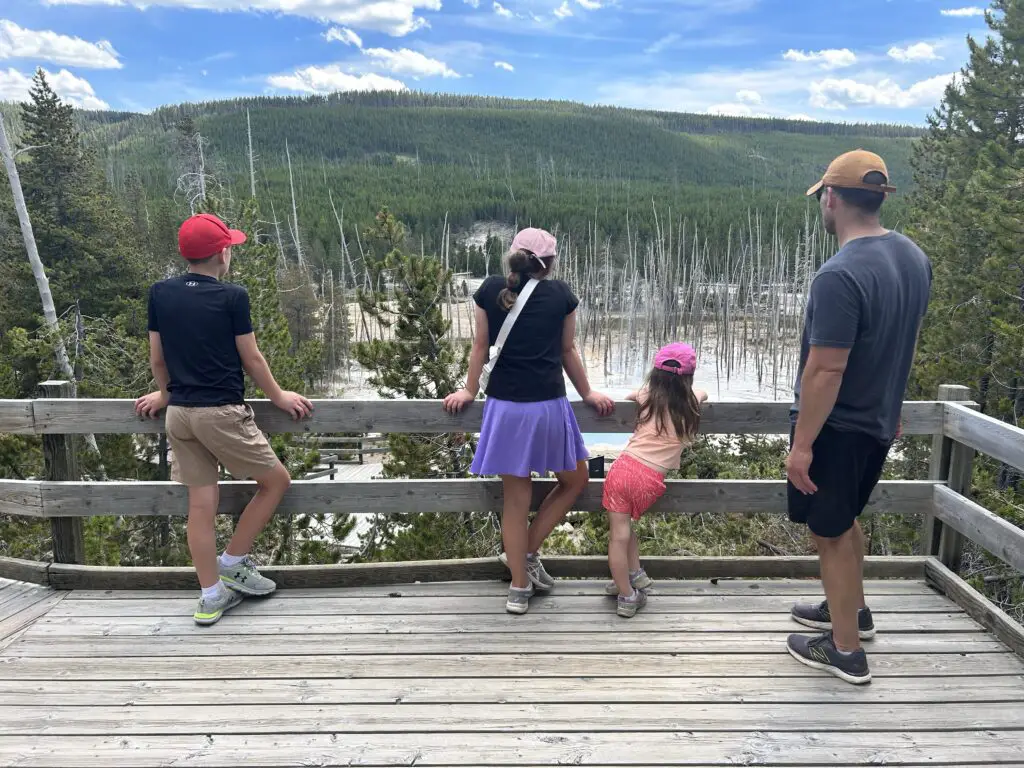 Norris Geyser Basin features four major geothermal formations – geysers, hot springs, mud pots and fumaroles and watching each do it's thing was mesmerizing.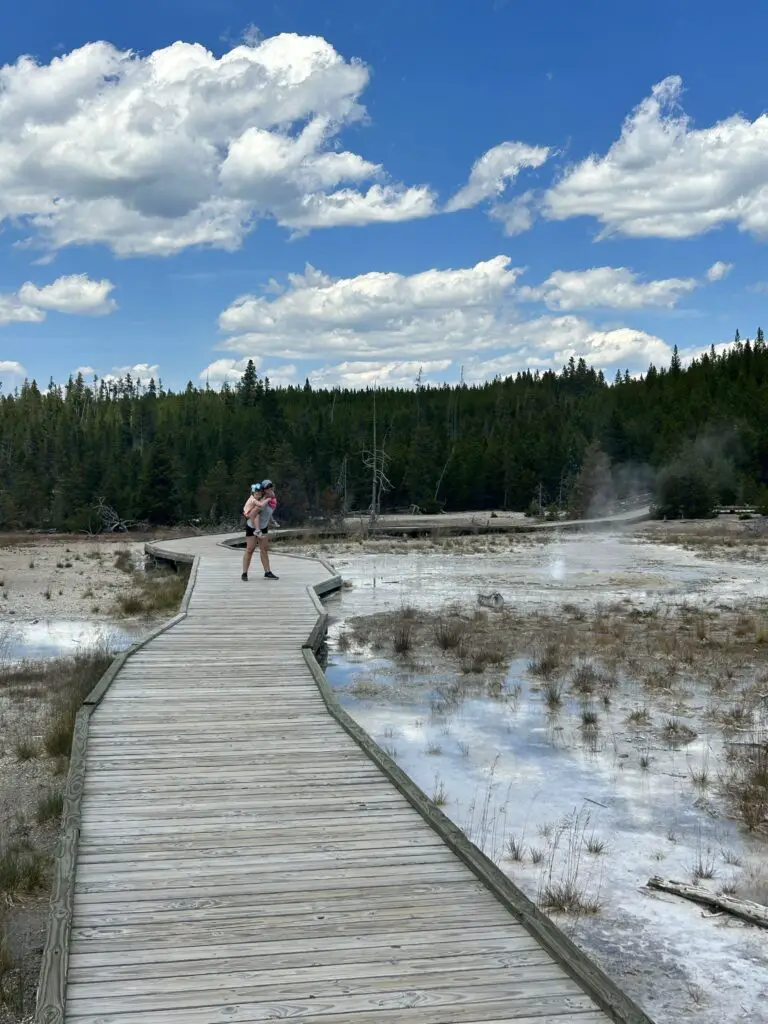 We rounded out our hike and landed back at Porcelain Basin!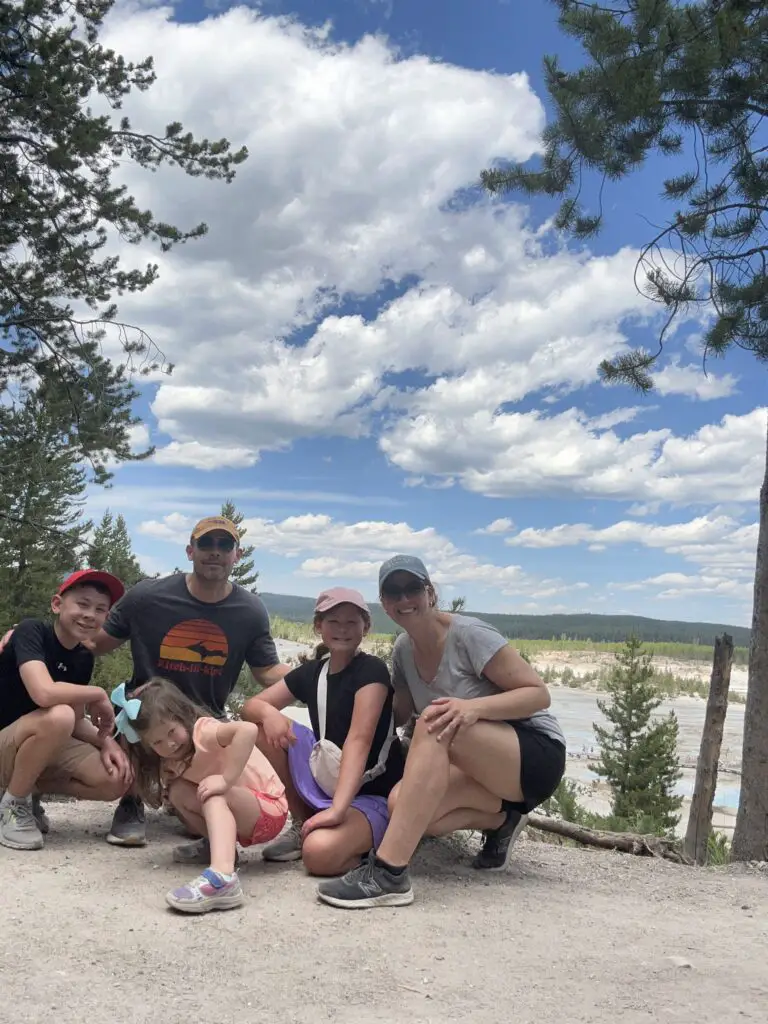 We ended up not going on the boardwalk since we hiked around other parts, but this was a very active and lively place and the noises the Earth emits, was truly amazing!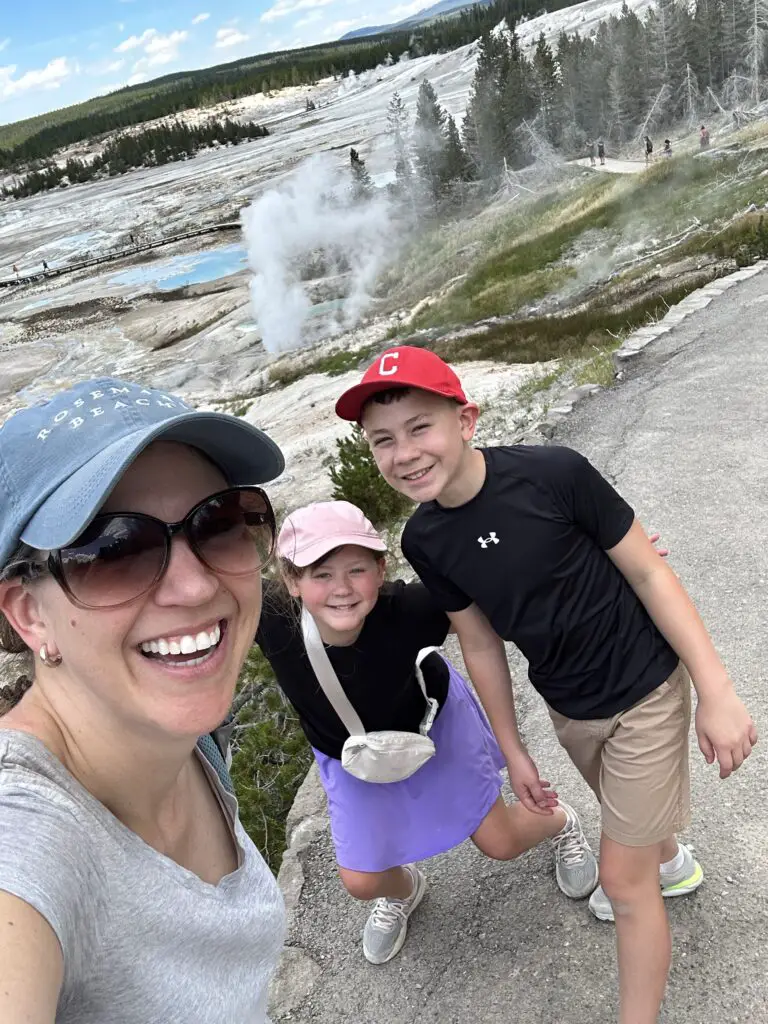 Henry posing next to the map!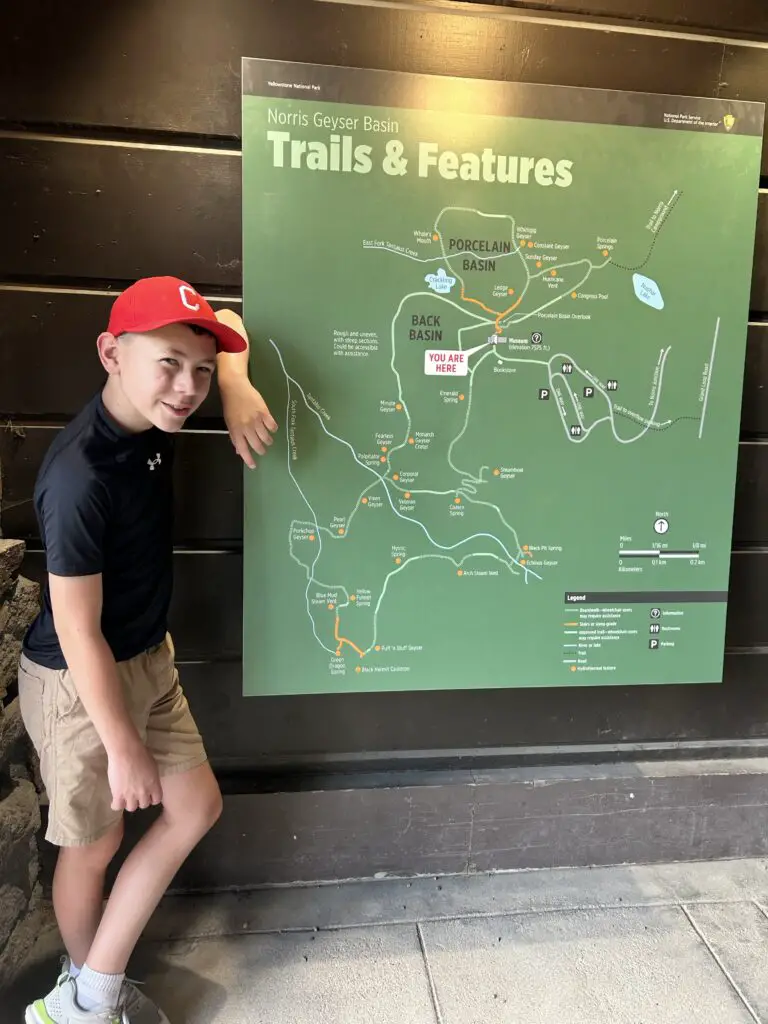 We headed east toward our hotel at Canyon Village and before checking in, we made it a point to check off a few more places since we knew we wouldn't have time to visit on the rest of our trip. We were really pushing at this point to see as much as we could since we knew we wanted to squeeze in as much as possible!
Below you'll find pictures from a few stops to take in the Grand Canyon of Yellowstone! A must-see!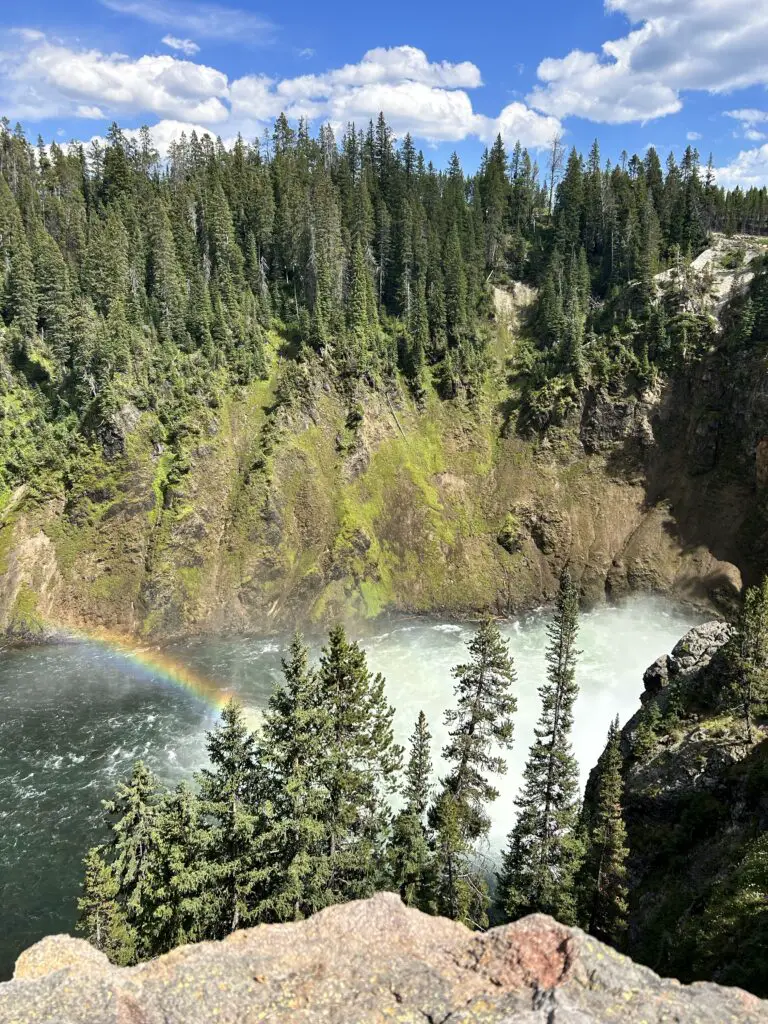 The water was INTENSE!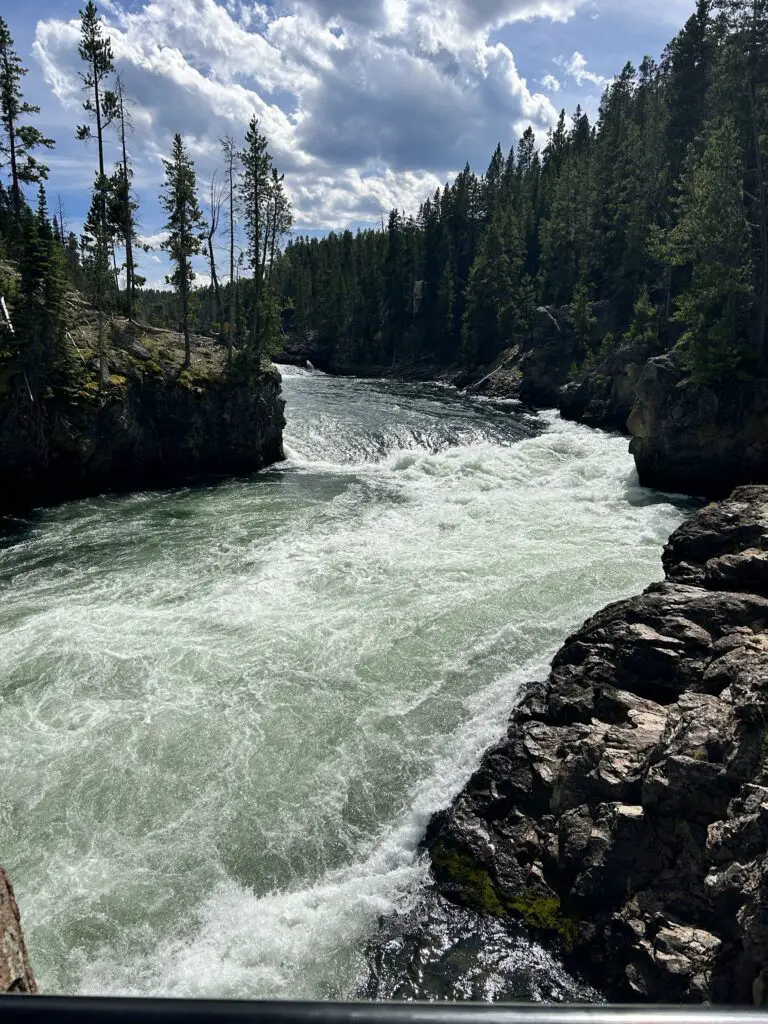 We drove up to Inspiration Point and took in this view! It was massive!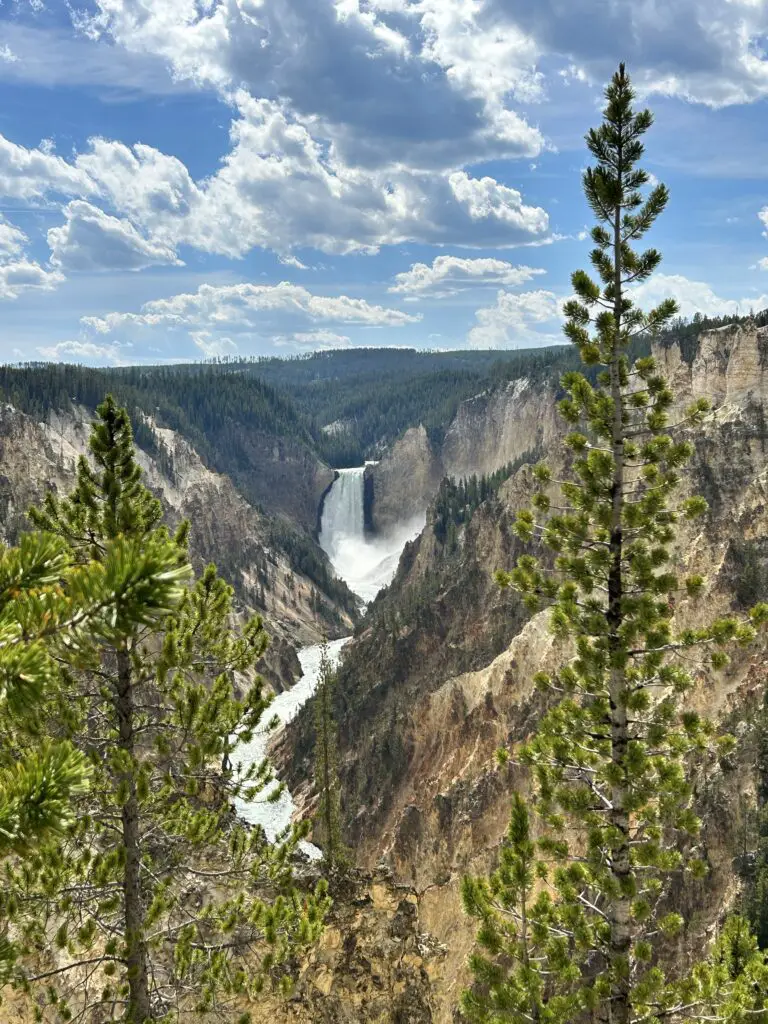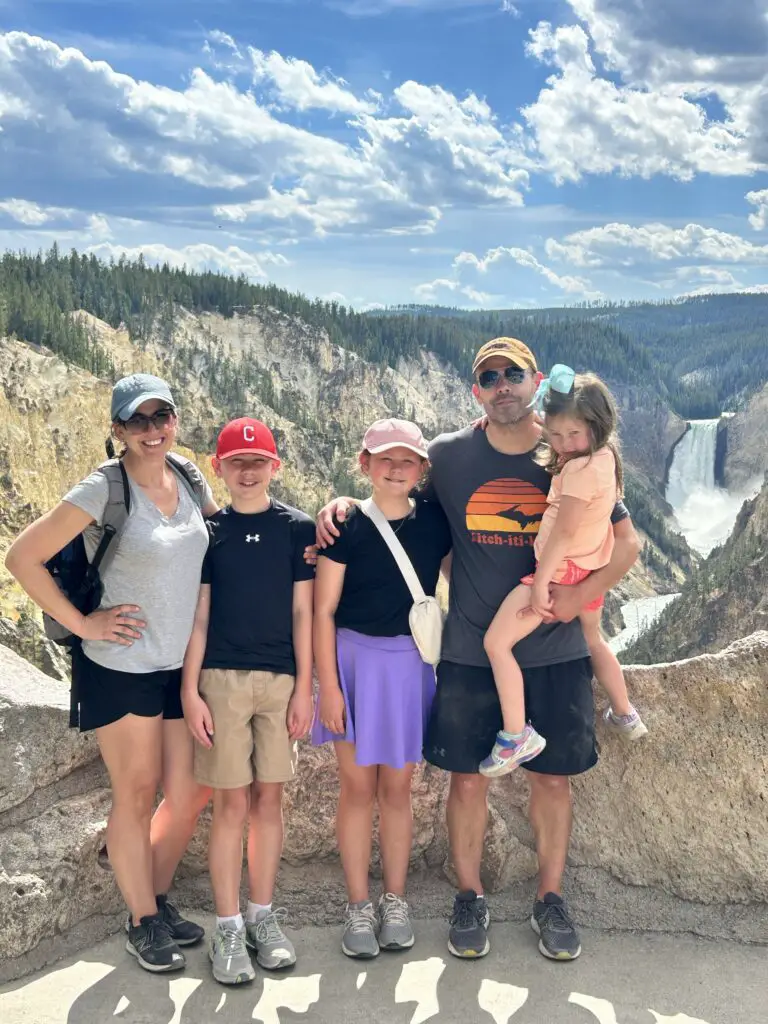 Of course, pictures don't do it justice. I heard someone say it looked like an optical illusion…it was definitely difficult to grasp how large this canyon is/was!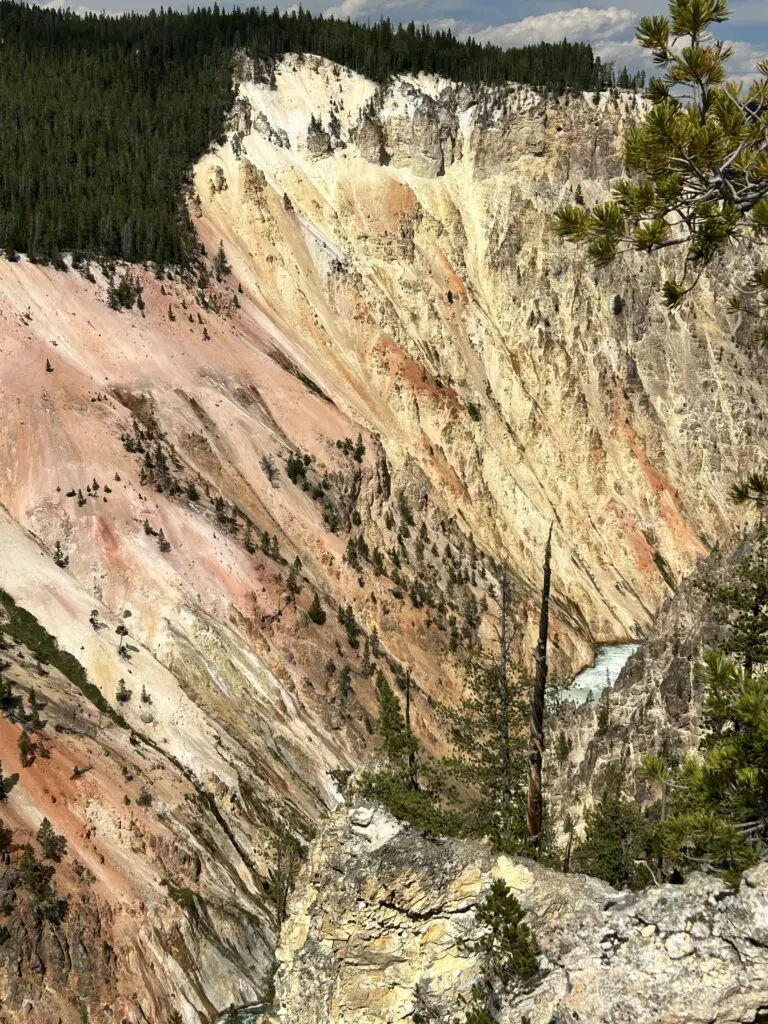 We ate dinner at Canyon Village – the set up was cool. Everyone was seated at a U-shaped table, along with other visitors and service was efficient and easy!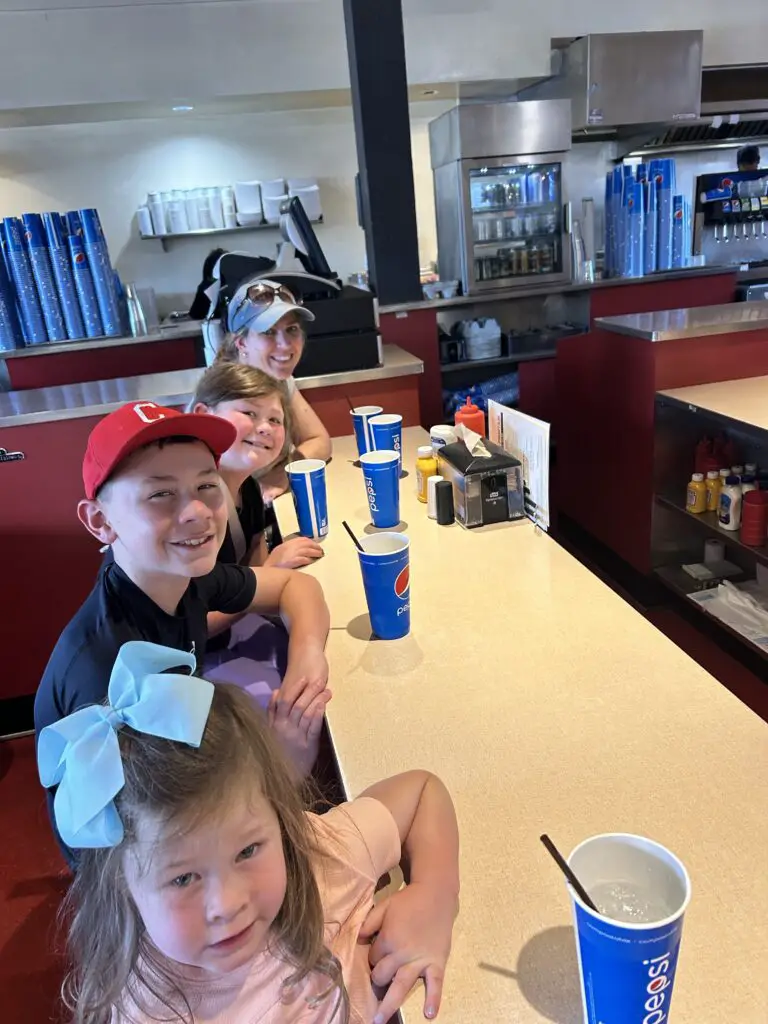 We made sure to grab a well-deserved ice cream after dinner, too!
We arrived at our hotel, Canyon Lodge, to check in and we were loving the hotel! Some people book this place a year out in advance, but we somehow lucked out and were able to get a room for the time we wanted only a few months before. We ended up staying in a suite, which had two rooms, a living space and a beautiful balcony. We stayed for only two nights so that we could visit the west side of the park and then we kept moving. Canyon Lodge doesn't have air conditioning, nor do they have tvs, but neither were missed, even with hot days, cool nights followed and sleeping with the windows open was a dream!
There was a little cafe in the lobby and a quick and easy walk to the "village," where there was more food, gift shops and a visitor's center. The campground is very close to all of this, as well. The area hosts lots of animals, too!
Our room was the balcony on the second floor! We looooved it! I sat on that balcony as much as possible!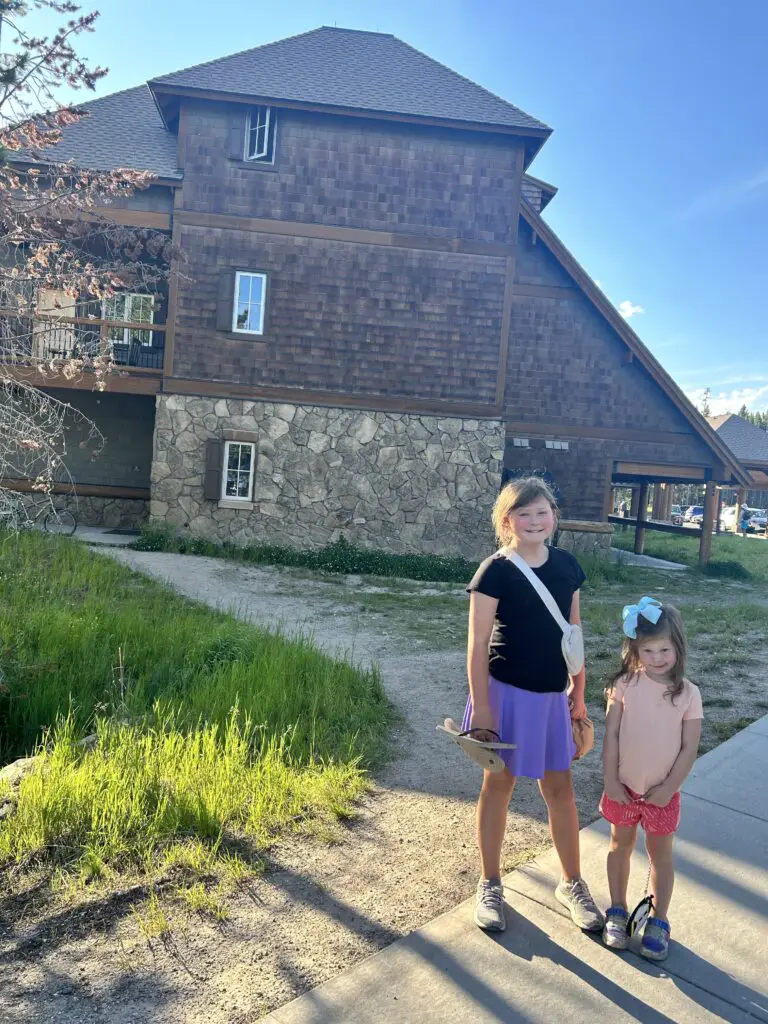 This suite was incredibly clean, the bathroom was amazing and the soaps were sooooo good!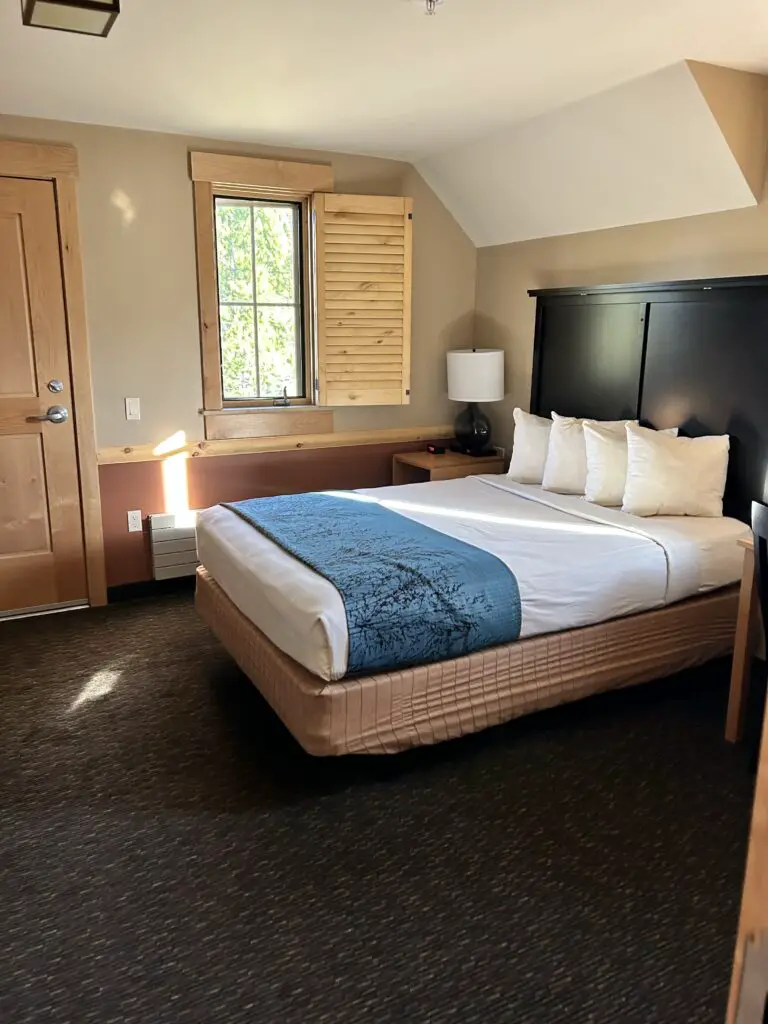 Jane completely exhausted, but also fake napping. Ha!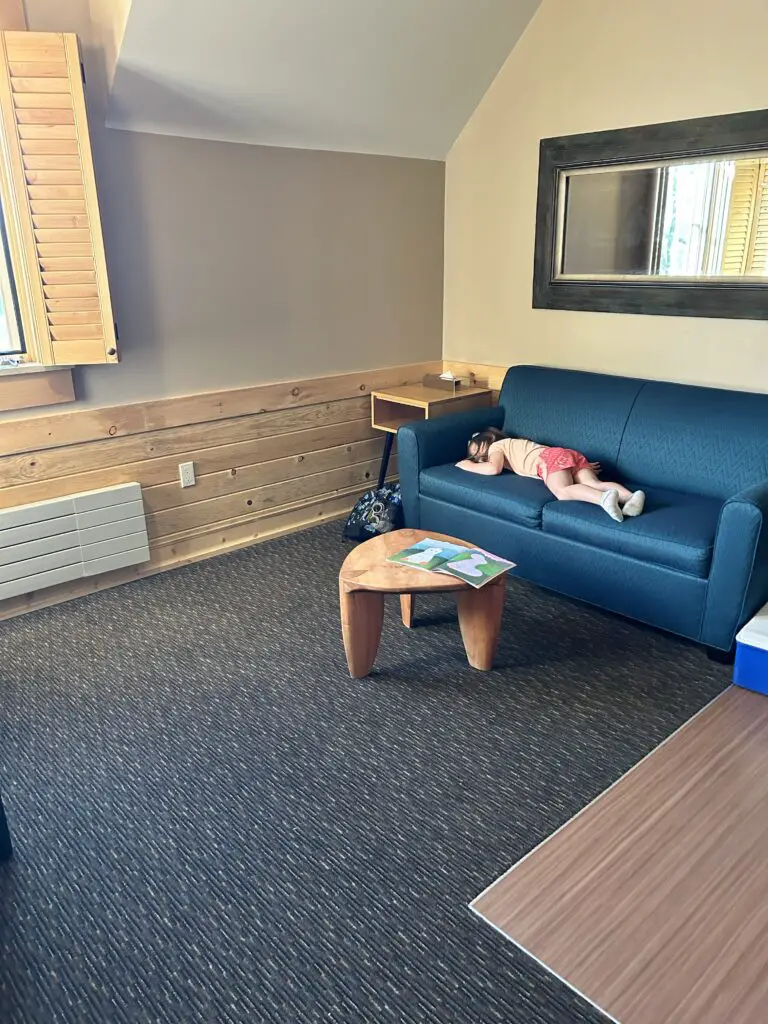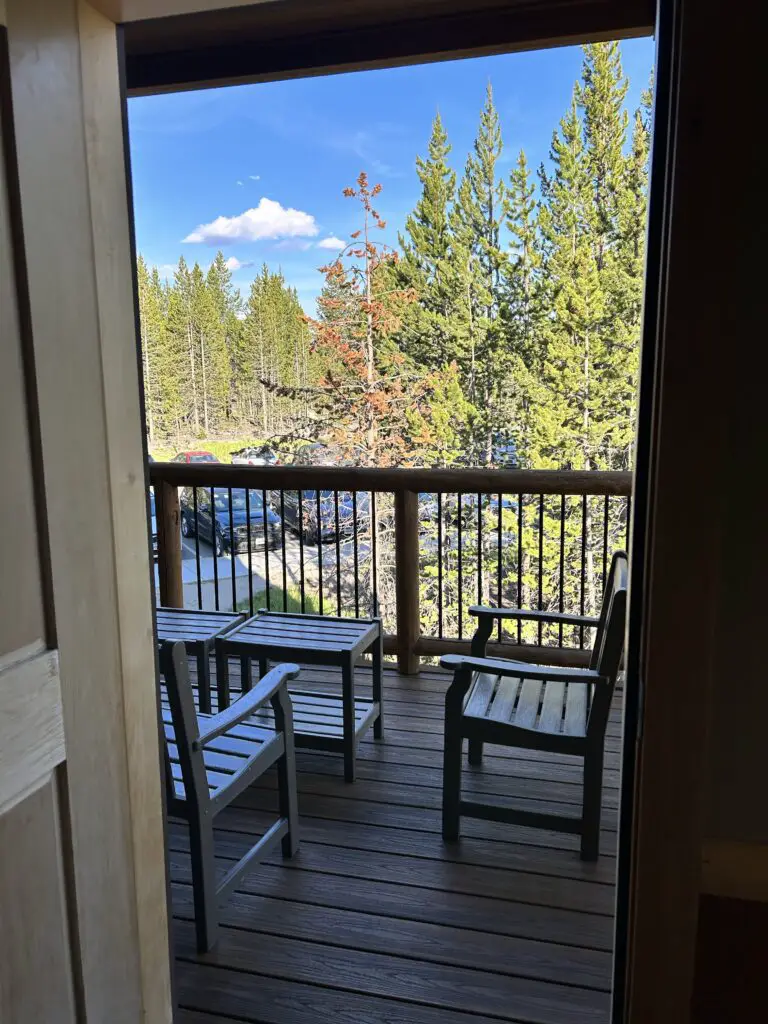 Lots of free snacks and treats were left for us to consume! It was great!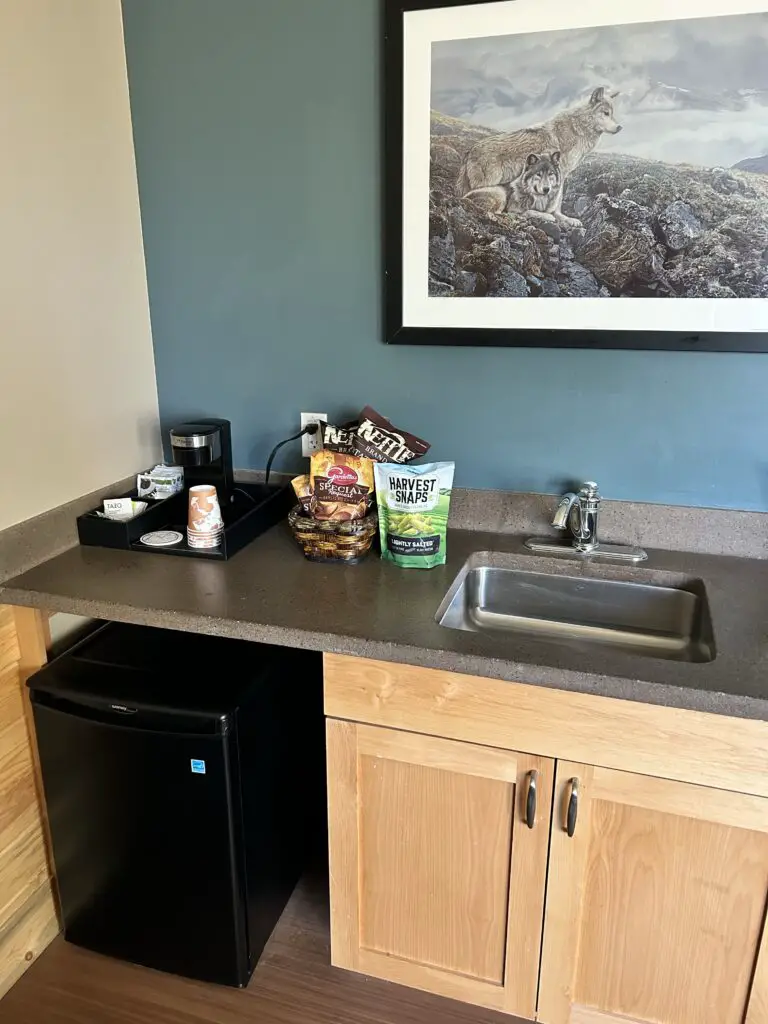 I did manage to get one picture of the stars from my room. This wasn't even late at night and there lights on around me. It sure was pretty!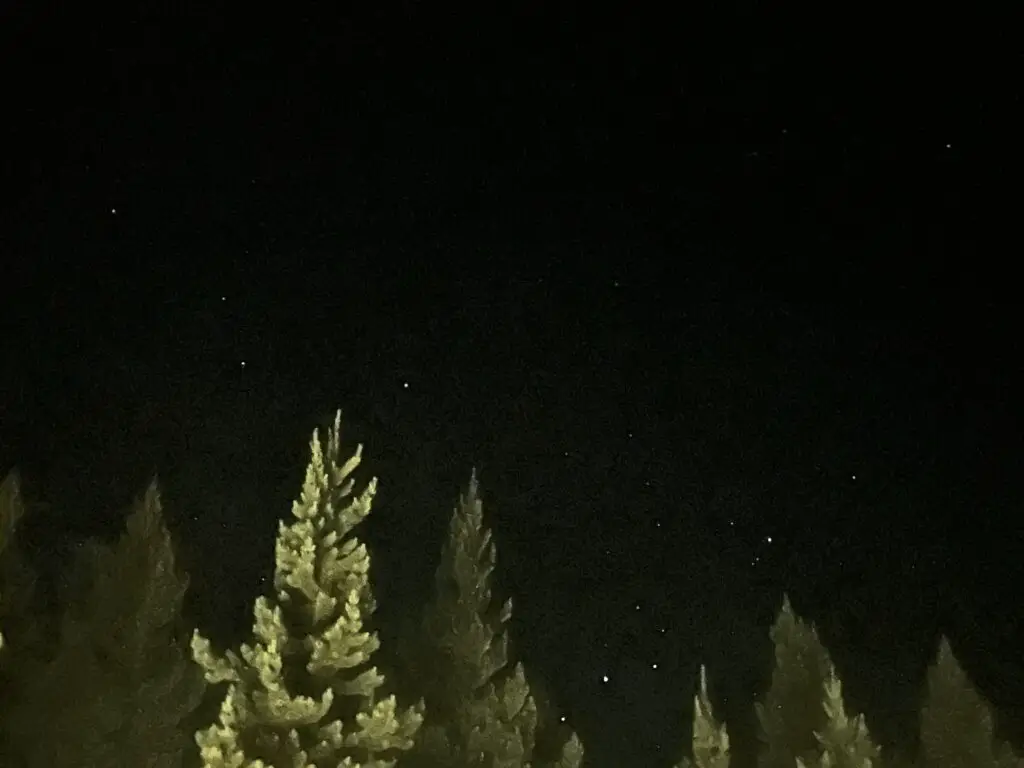 Canyon Village was a fantastic place to stay! We were having so much fun! Our next day consisted of visiting more of the west side of the park. We were about to see some moose and Old Faithful! I'll be back to share more of our adventures!
Thanks so much for scrolling through!
Marie 🙂