Our Vacation out West – Part One
We recently arrived home from a fantastic trip out west visiting the Badlands, the Black Hills, Yellowstone and Grand Teton National Park! Jon and I have had a trip out west on our minds for quite some time now. We started to look into a trip in the late spring knowing that we probably wouldn't stand a chance of acquiring reservations for this summer, but we were okay with it and decided to plan ahead for the summer of 2024 instead. As we continued to plan, we found reservations for dates that would work for this summer, the summer of 2023! From there, Jon reserved rooms at locations/Holiday Inn Expresses on the way out to Yellowstone (which was a must because everything was sold out upon arrival), as well as on the way back. So it seemed as though we were heading out west without really having planned at all! In the weeks to come, we squished in as much information via YouTube and social media as possible.
Our reservations involved us staying inside Yellowstone. Staying within the park has the benefit of allowing visitors to not have to wait in lines at any of the five separate entrances into Yellowstone. The alternative to staying inside the park is to find a hotel or a house outside of the park which could provide more space, food options and amenities. There are several homes available to rent, especially on the west side of the park. The West Entrance is also the most popular entrance into the park.
As for a quick review of our route and where we stayed – We took our time driving from Michigan out to Wyoming. We stayed at Holiday Inn Expresses in Madison, Wisconsin, Sioux Falls, South Dakota, Rapid City, South Dakota and Billings, Montana. We broke our 22 hour trip up into 5-6 hour drives with sight-seeing along the way. There was A LOT of driving involved – thank goodness for tablets for the kids! After taking the Beartooth Highway from Red Lodge to Cooke City, we stayed one night in a lovely place called Yellowstone Riverside Cottages located in Gardiner, Montana. Our "room" was a two bedroom suite with a kitchen and plenty of room for us to spread out and breathe for a night. These cottages were located along the most beautiful river and provided easy access into the park. I would HIGHLY recommend staying in Gardiner! We then headed to Canyon Village for two nights within Yellowstone. All accommodations within Yellowstone are owned by the same company, Xanterra. There are several facilities to choose from and each offer something different to suit your needs. We opted for Canyon Village, because well, it had availability! We did end up staying in a suite for more room to spread out. The rooms didn't have tvs or air conditioning, neither of which were missed. The kids had tablets and the hot days didn't last long as the evenings quickly cooled and sleeping with the windows open provided to be quite magical! We stayed two nights in Yellowstone and decided it was just enough time as we wanted to keep moving. From there we headed down to Grand Teton National Park where we stayed at the Wyoming Inn for two nights. In total we spent four days exploring Yellowstone, while moving between hotels and two days in Grand Teton.
Onto our trip! So…after our multiple stays at Holiday Inn Express hotels, a much loved guarantee of pools and breakfasts, we decided to stop at Corn Palace in Mitchell, South Dakota! It was free to visit and not far from the expressway. Corn Palace is an event venue in the small town of Mitchell and it's been around for over 100 years! The community celebrates this gathering place by displaying its local crop – CORN! The outside of the building features corn artwork and the inside is also chock-full of beautiful corn murals – it's always changing, too!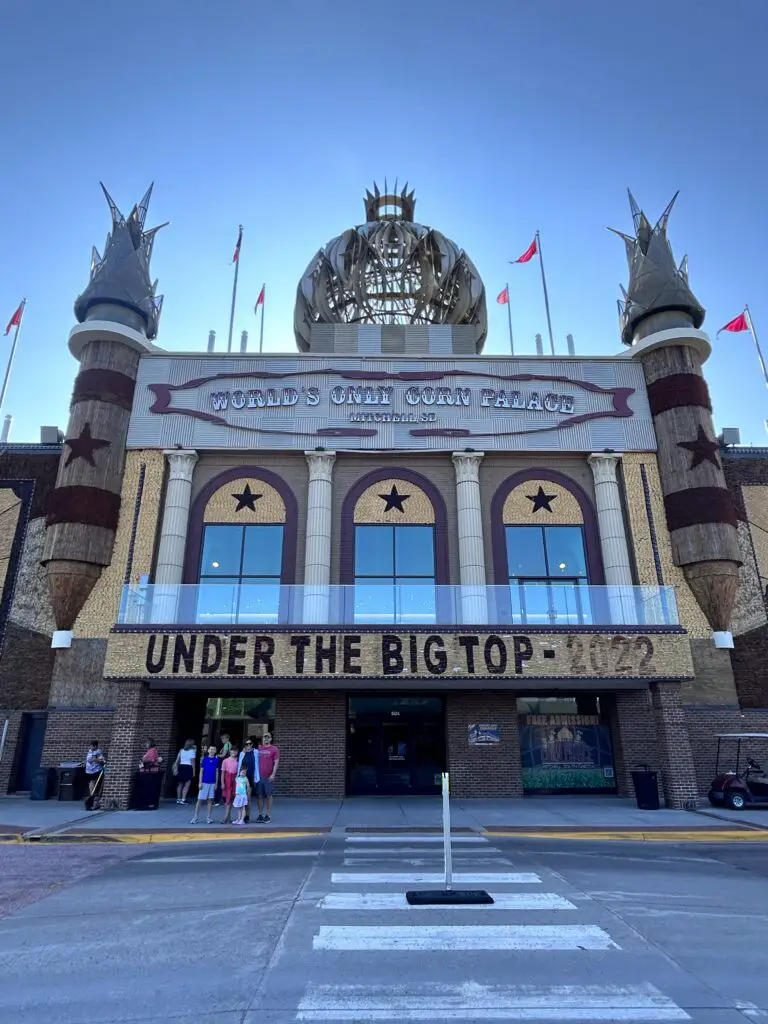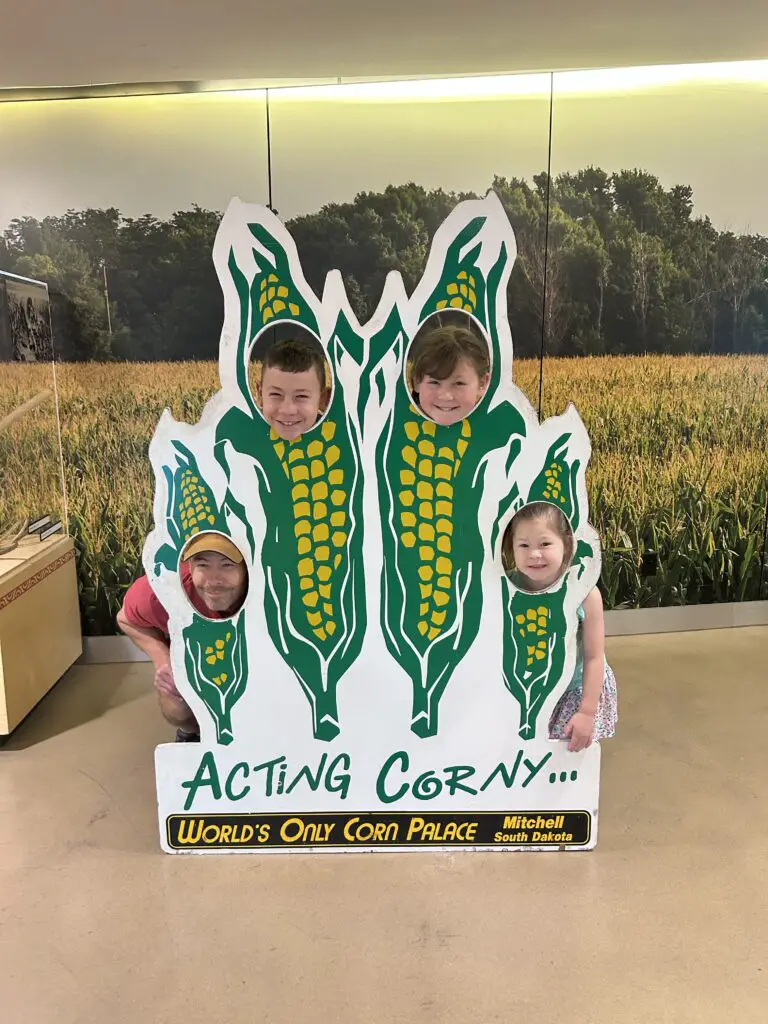 After a visit to Corn Palace, we were probably there for 45 minutes, we hit the road to make it to Badlands National Park, which was about a three hour drive. The scenery around us was quickly changing and it was quite beautiful.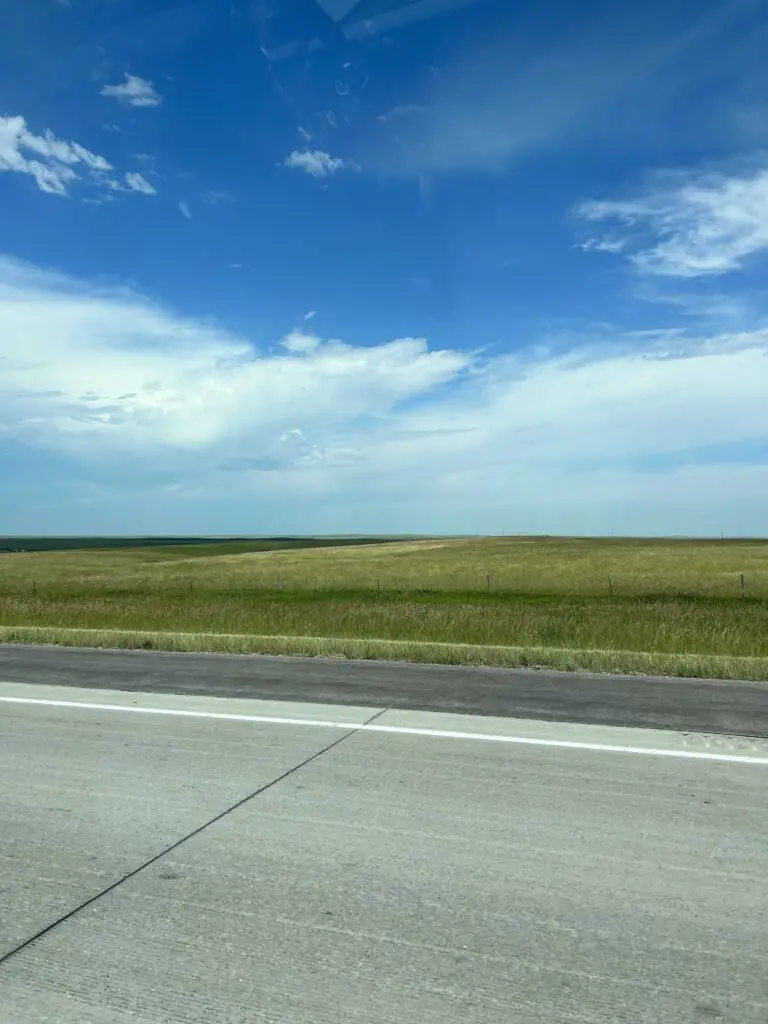 As we took the exit off the expressway to visit the Badlands, we noticed the Minuteman Missile National Historic Site. We decided to stop. The kids were able to get their National Park Passport Stamps and while reading we found that we were only 4 miles away from nuclear weapons. Yikes! I had some up and down emotions while visiting.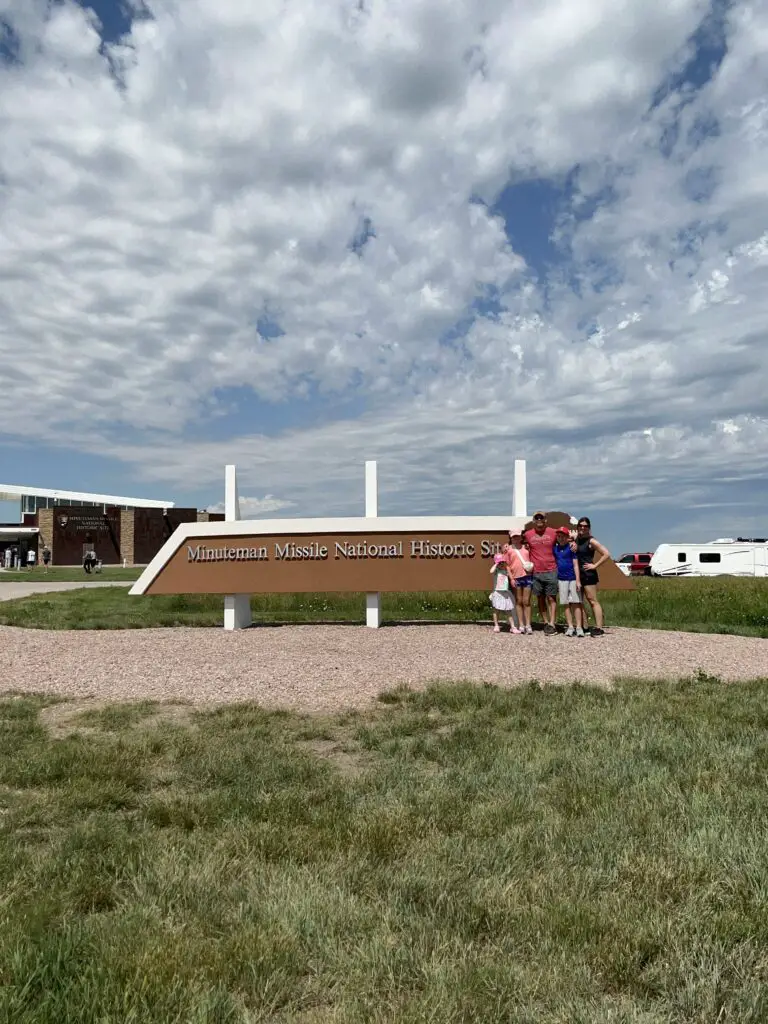 We ate a quick roadside lunch at a gas station/picnic area and then just down the road we entered Badlands National Park.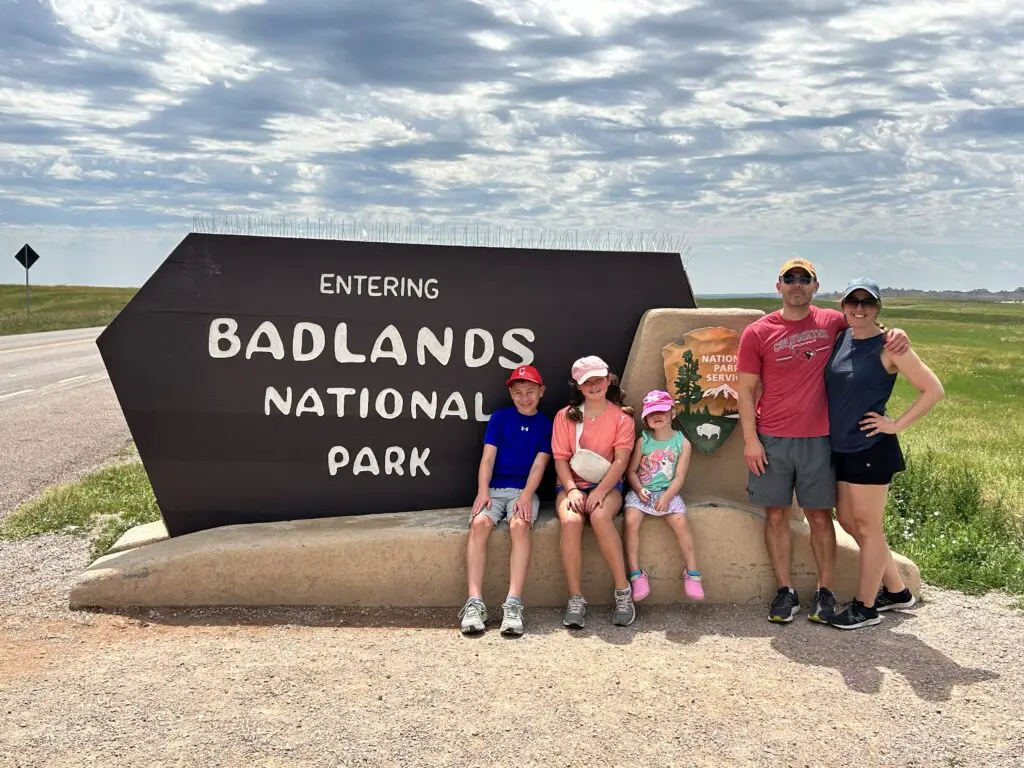 The Badlands was an easy visit. It takes about an hour to drive through the park without stopping. We decided to walk/hike a bit, so it took us a bit longer. It was hot, hot, hot while we were visiting, so the air conditioning inside the car was a welcomed relief!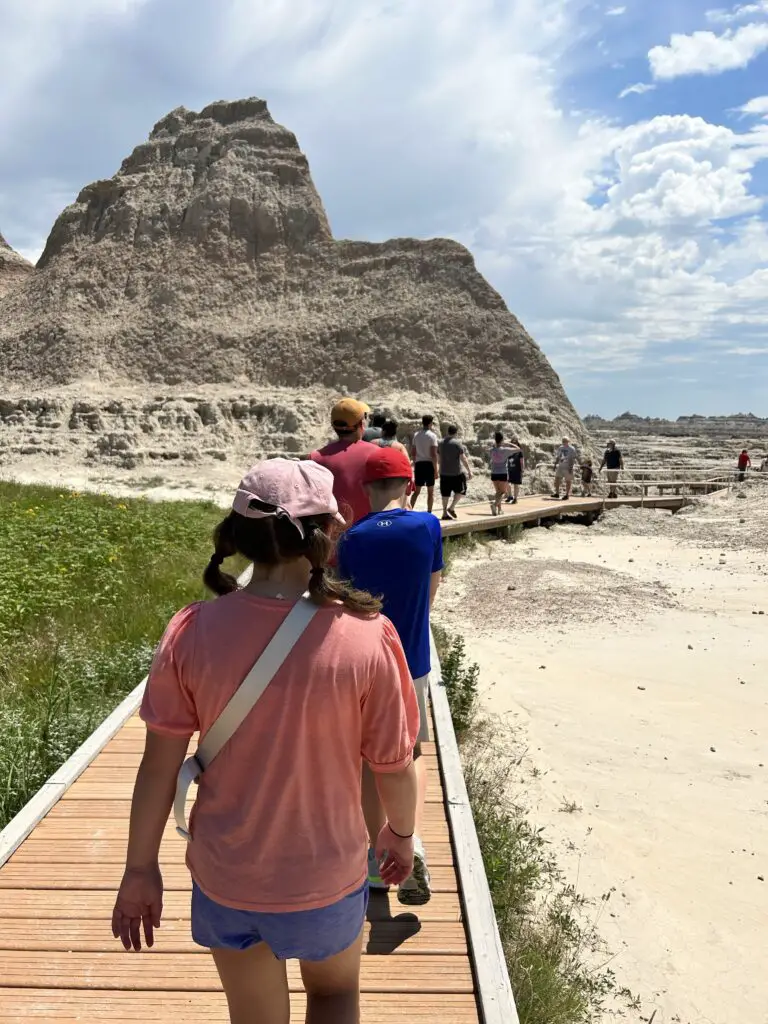 There were so many unique features!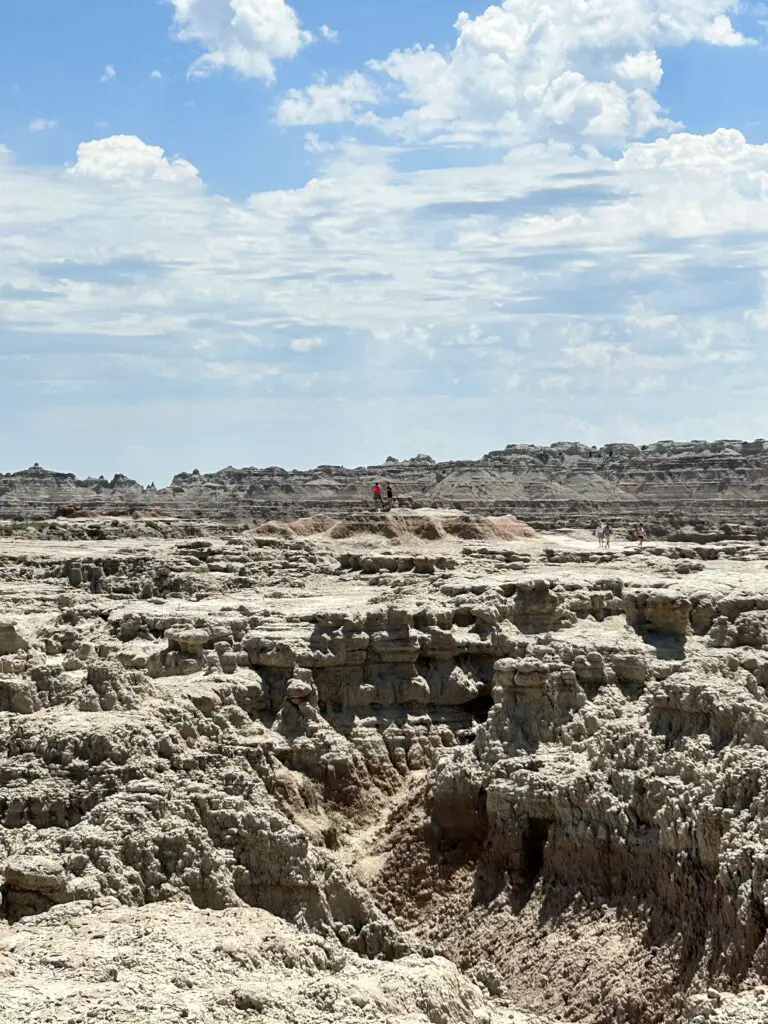 This area is also an excellent place to discover new fossils. People are constantly discovering them and the Visitor's Center explains what to do when finding a fossil. There were pictures upon pictures of people of all ages on display at the Visitor's Center who had discovered fossils while exploring the area.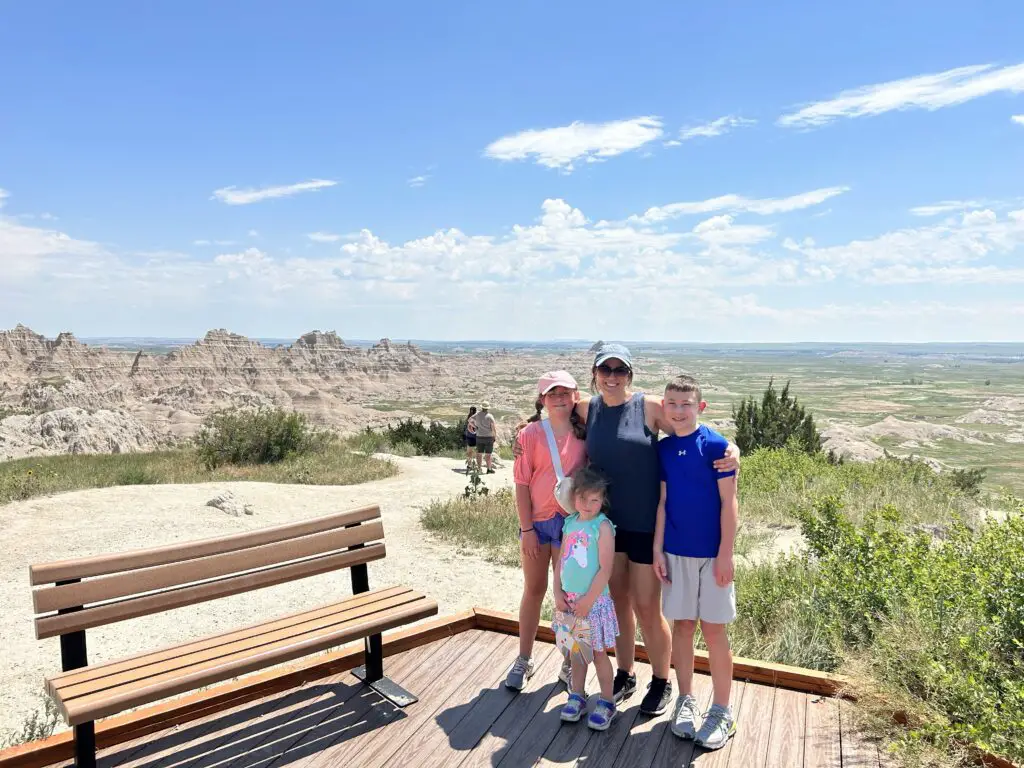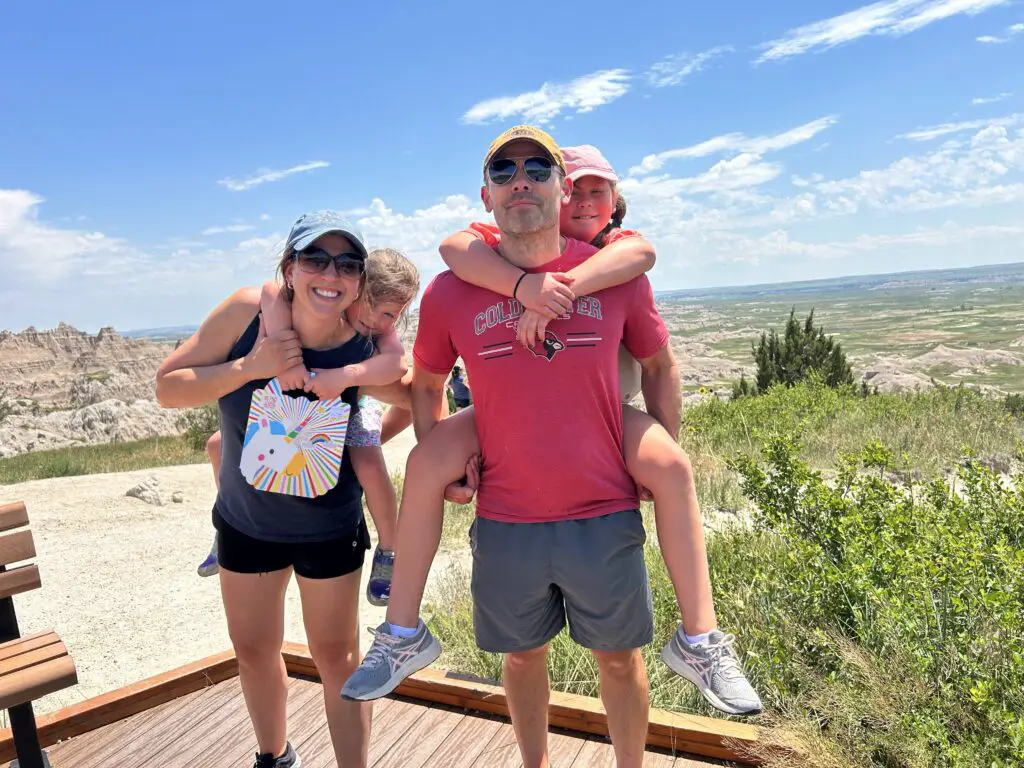 Jane was loving all the insect and bug books at the Visitor's Center! We also pressed some pennies!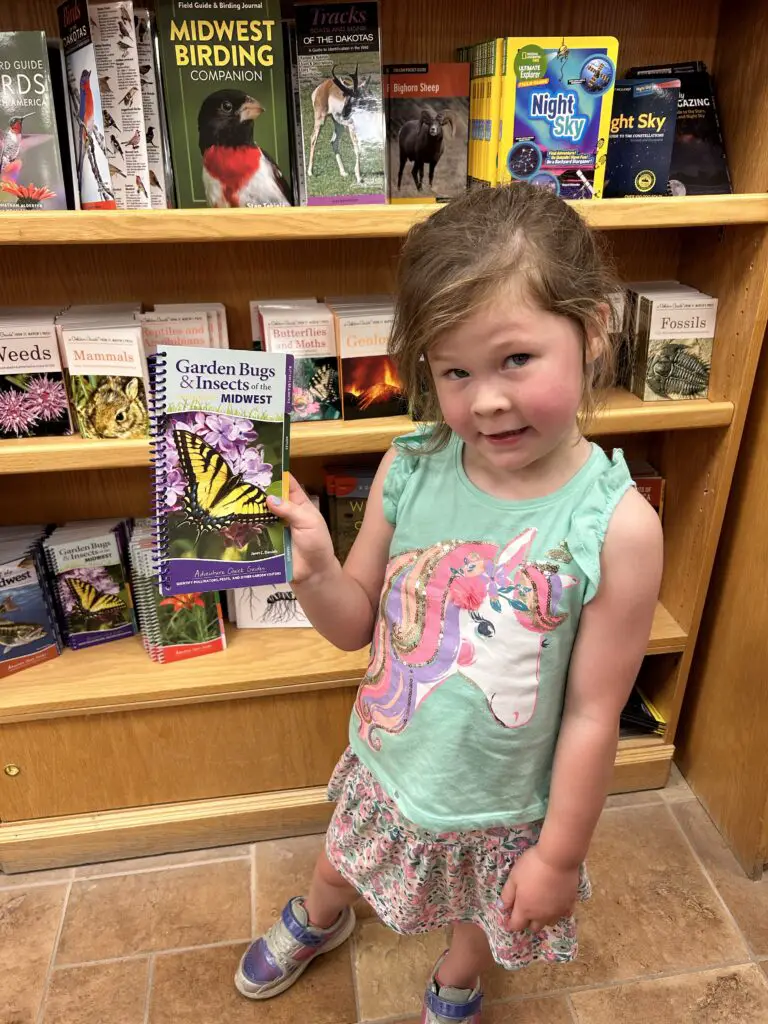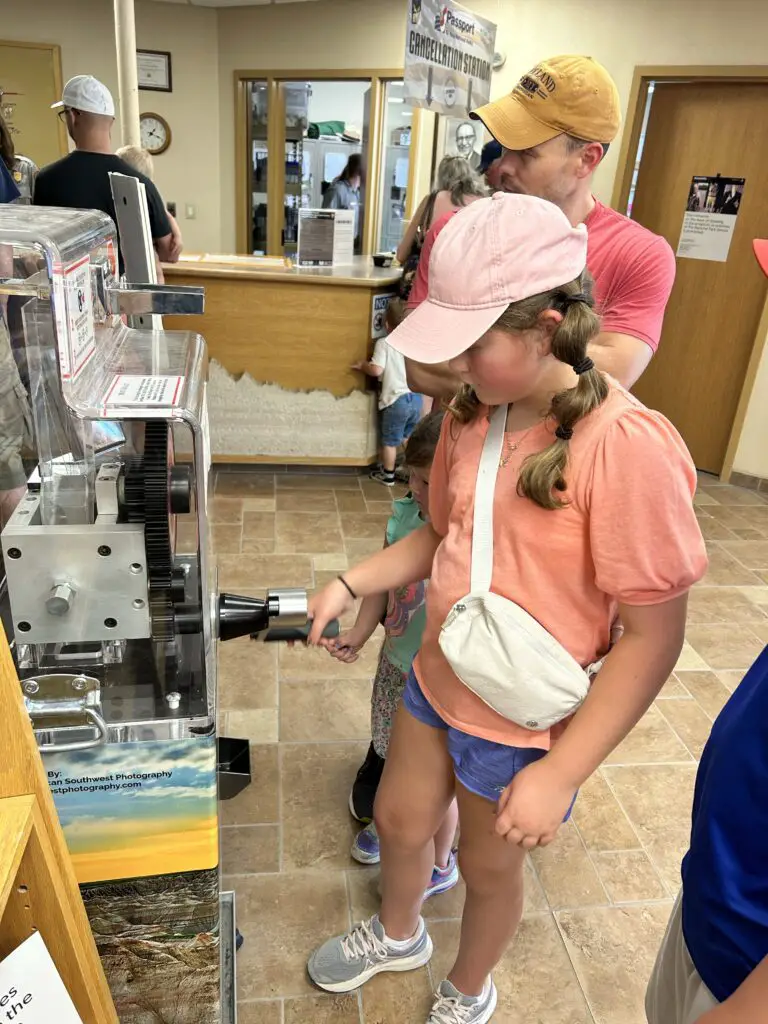 I had read that if people within the parks are all looking or standing or taking pictures in a certain direction, then there is most likely an animal in the vicinity. Sure enough, we spotted a Bighorn Sheep atop a ledge! It was our first animal sighting of the trip and it was extremely exciting! Unfortunately, I don't have picture of it below, just imagine a HUGE sheep in the scene below. LOL!!!!
We left the beautiful Badlands and headed toward our next location – another Holiday Inn Express stay in Rapid City, which was under an hour away. The kids were exhausted and had fallen asleep. Jon and I decided to go to Wall Drug (a must-stop tourist destination) for coffee while they were napping. You can't miss the advertisements along the highway for Wall Drug – they're EVERYWHERE! Inside of Wall Drug one will find food, coffee, ice cream, shirts…tourist EVERYTHING! I grabbed some coffee and doughnuts while Jon stayed back with the kiddos.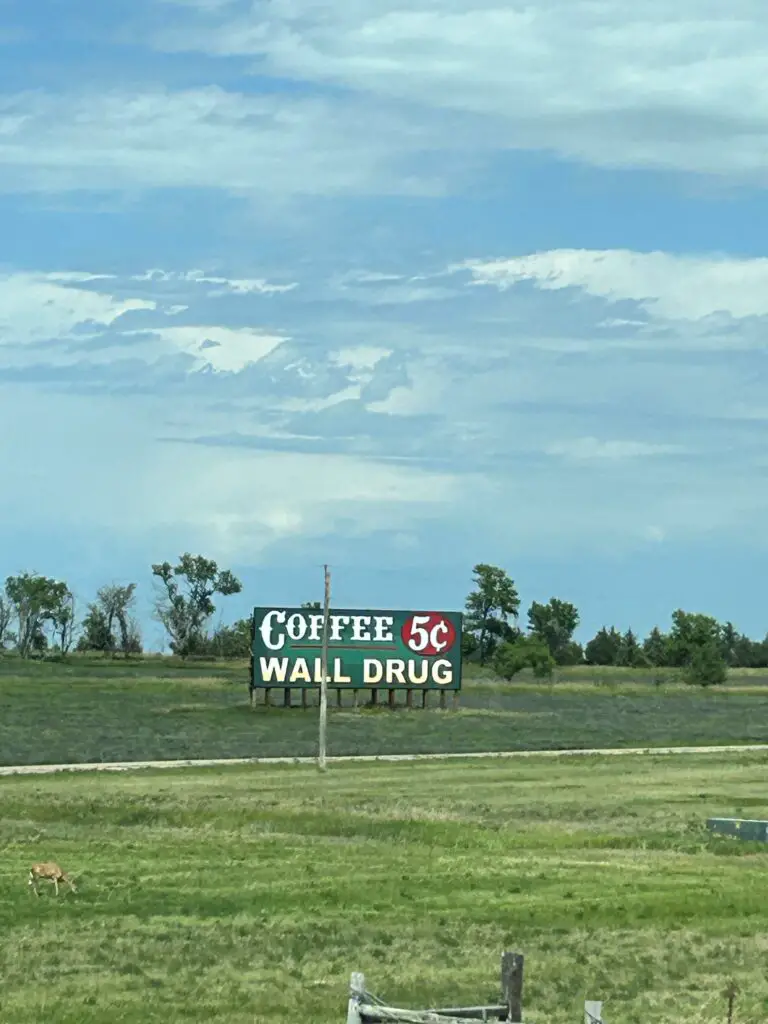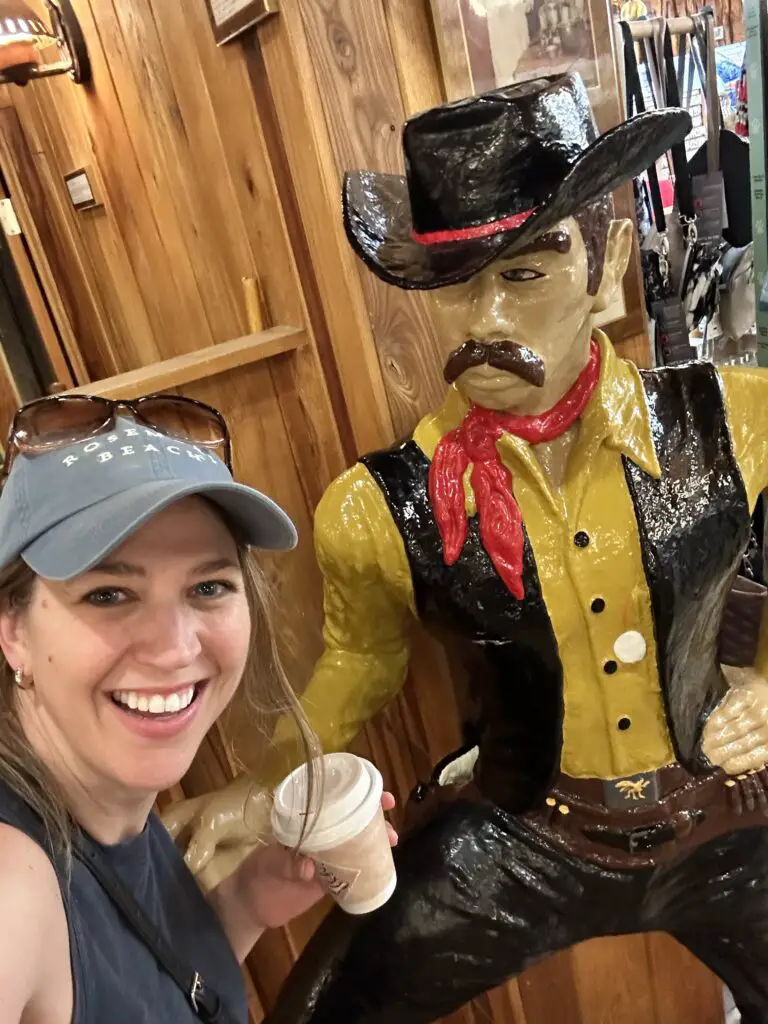 We had originally planned on going to Mt. Rushmore the next morning, but we were doing great with time and being that we had arrived in the area of our hotel for the night in Rapid City, South Dakota, we decided to just go for it and we headed into the Black Hills!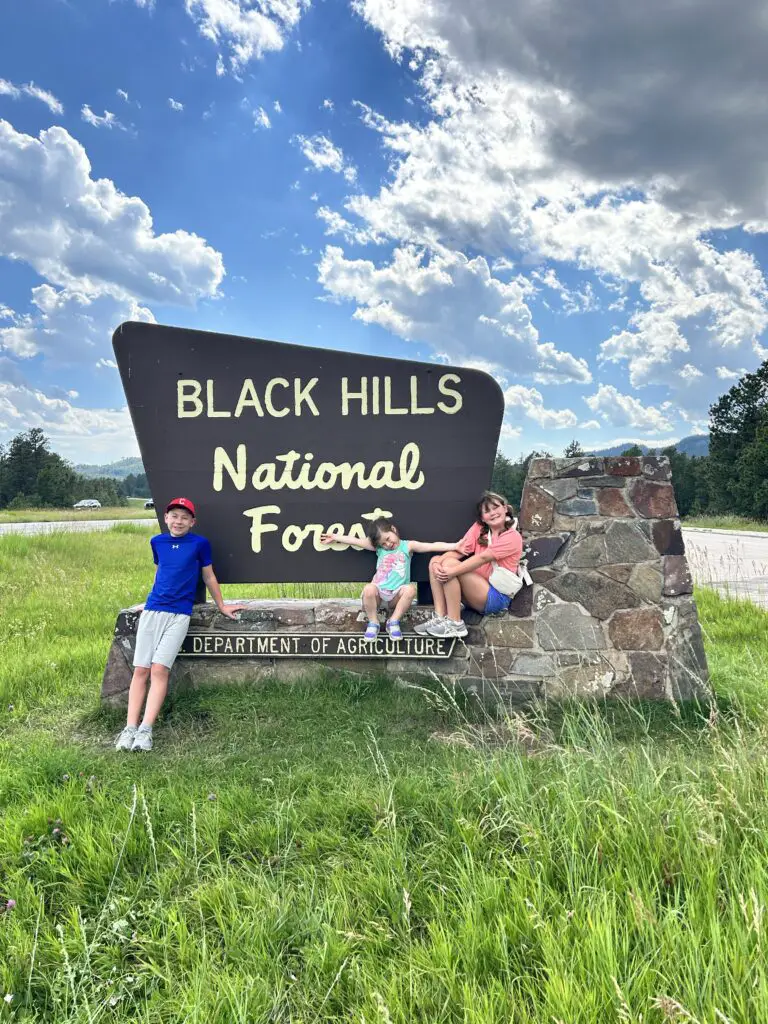 We could have easily spent 2-3 nights in this area. There's soooo much to do – parks, trails, activities…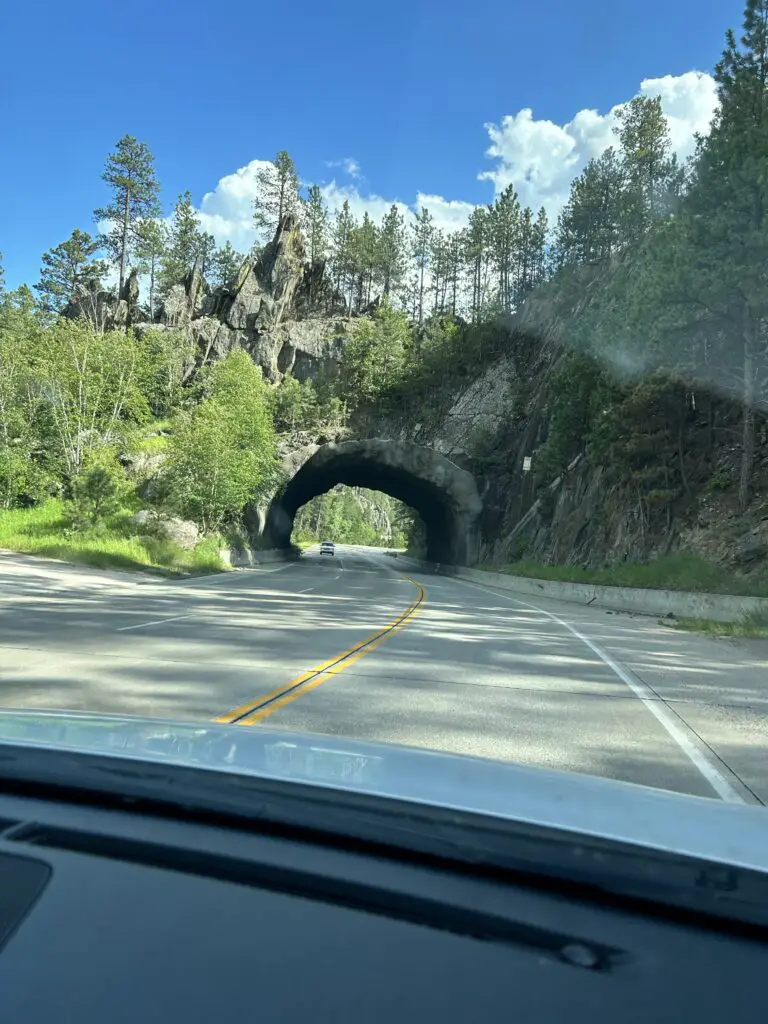 On our way up to Mt. Rushmore, we spotted this sign and turned around to take a picture. We love the National Treasure movies!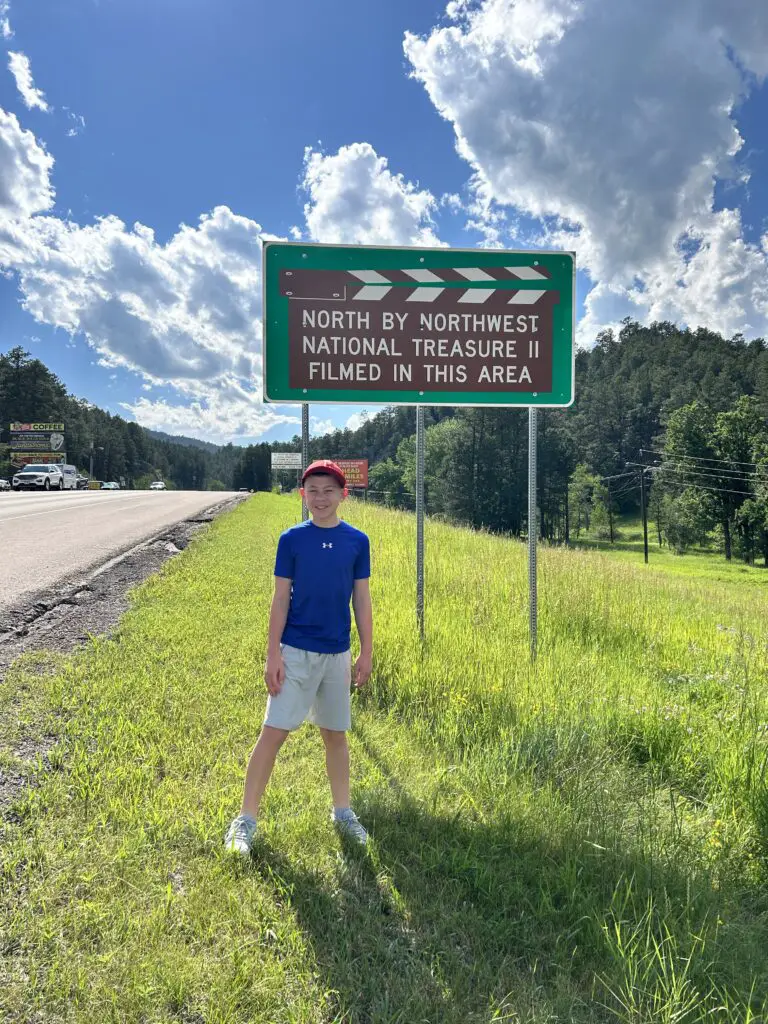 We had arrived!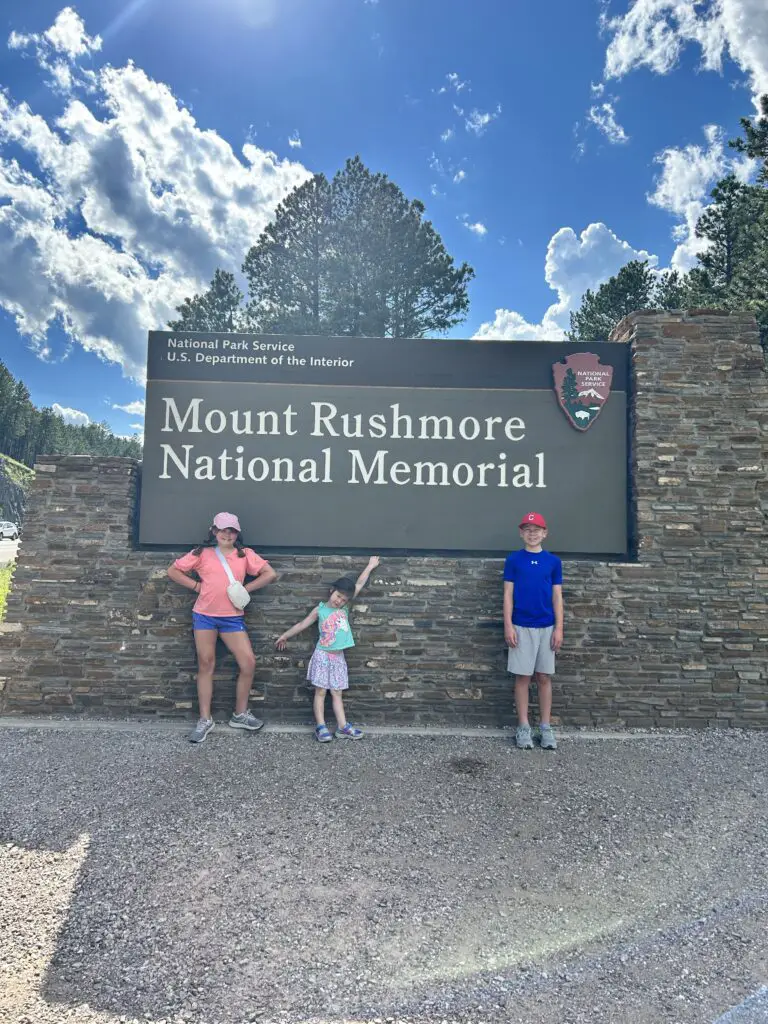 We made sure to get out Passport Stamps!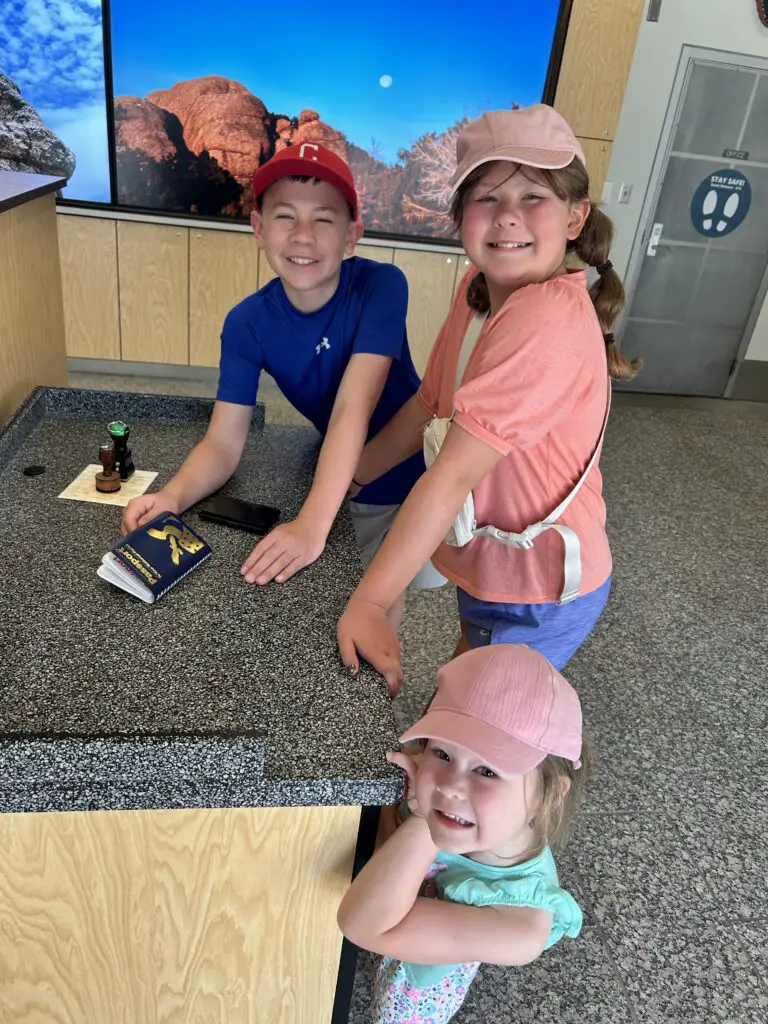 A Bucket List item was checked off – Hello, Mt. Rushmore!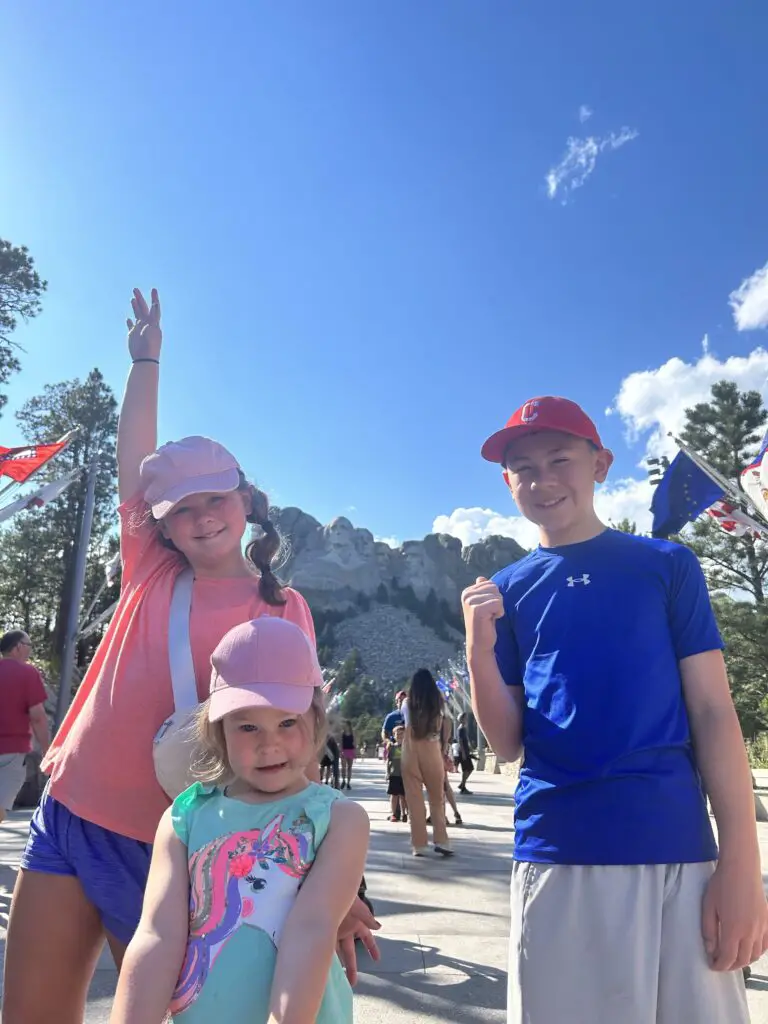 We were so excited to be here! I was thrilled!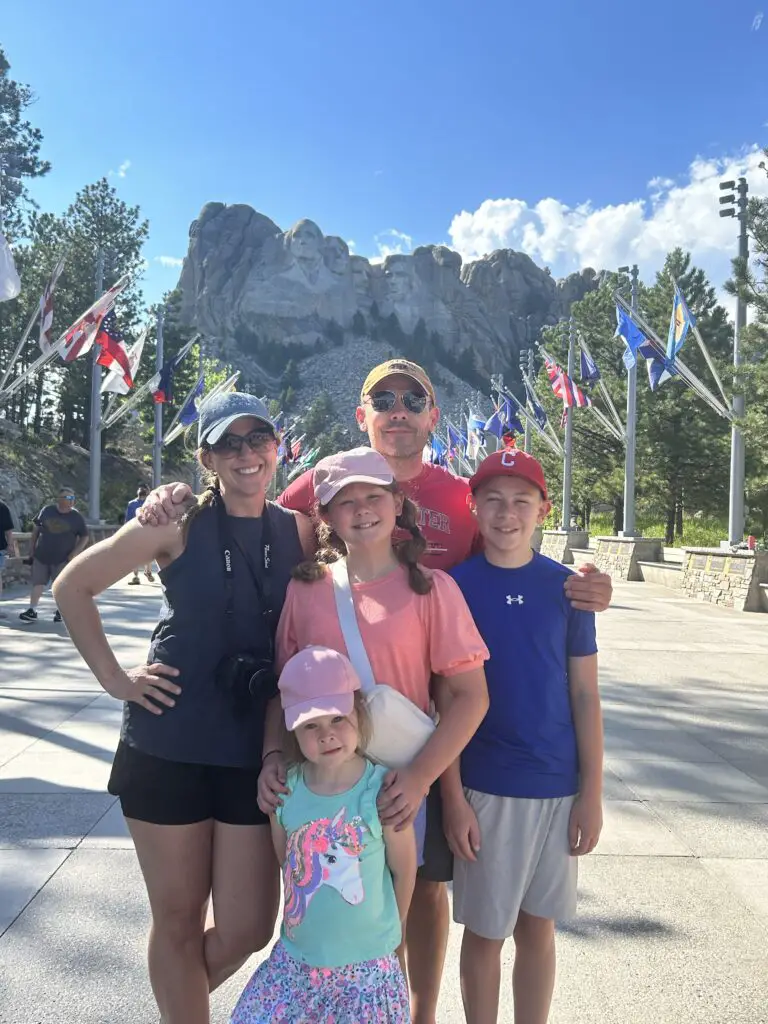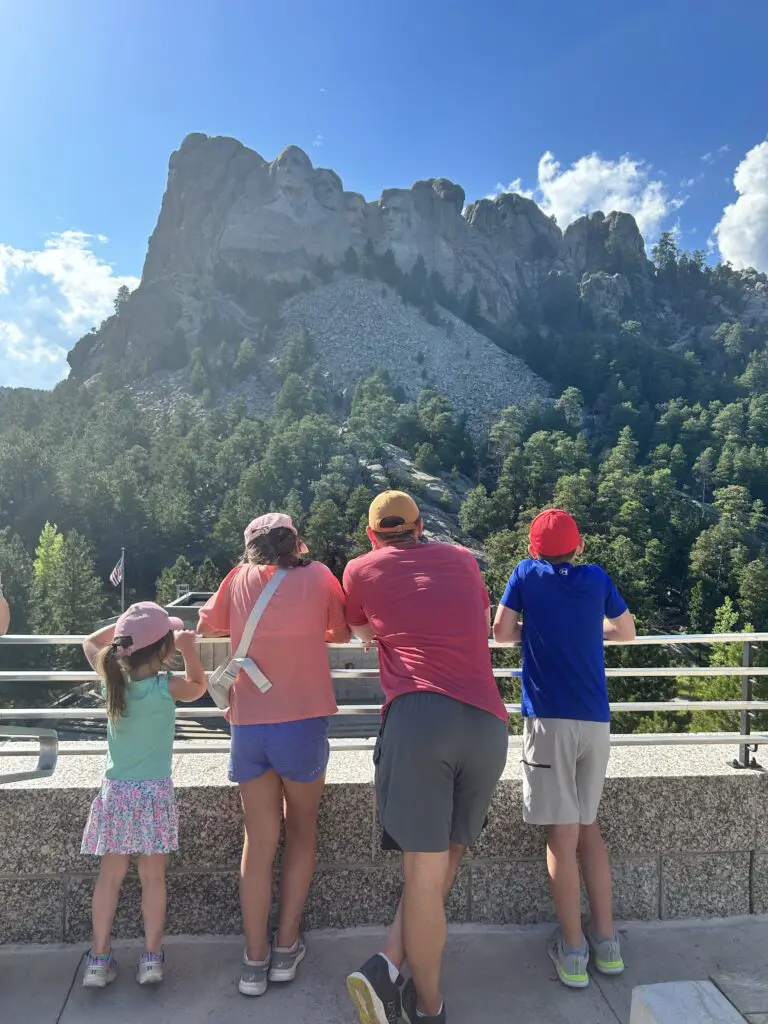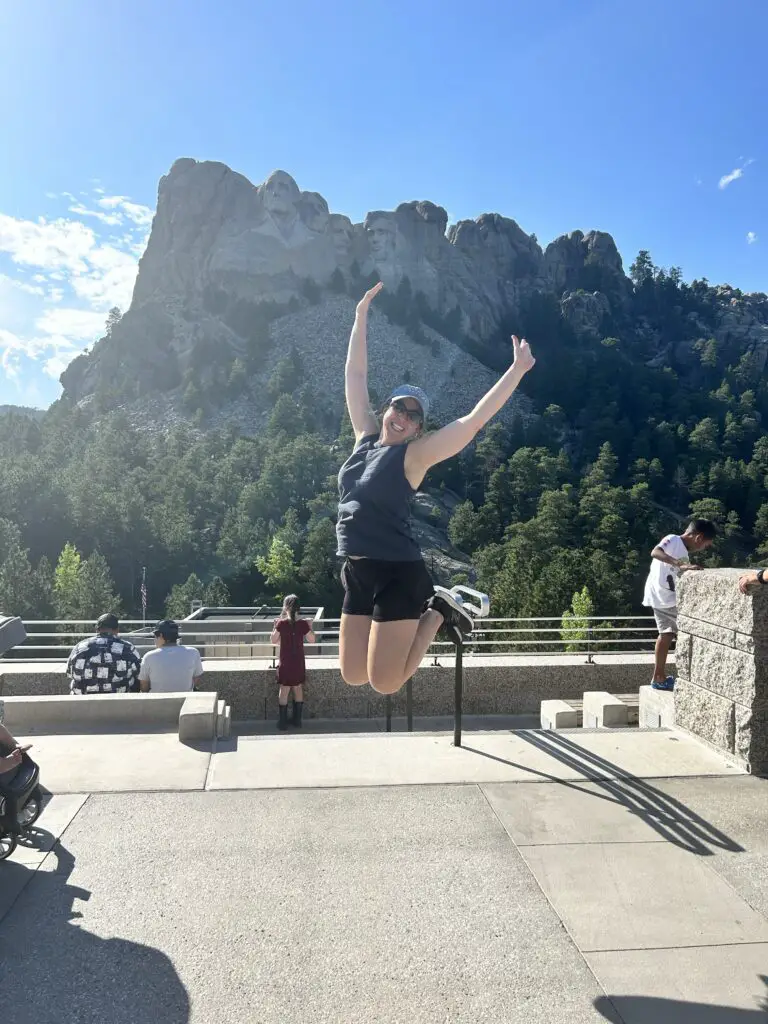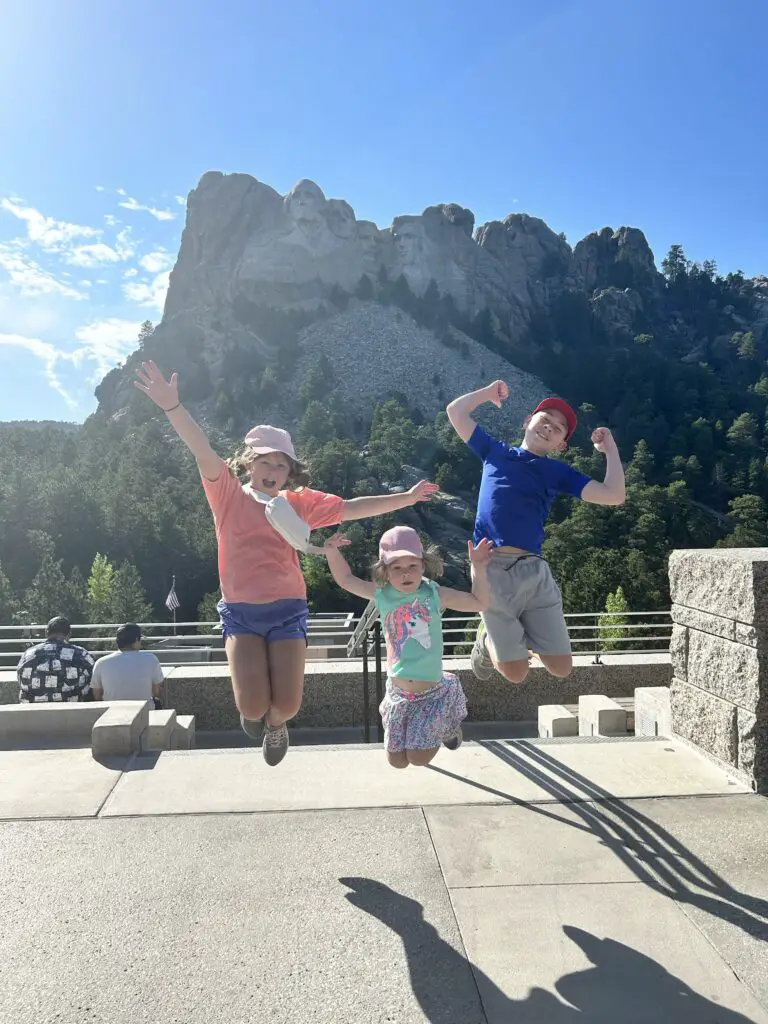 After Mt. Rushmore, we decided to pan for gold at Big Thunder Gold Mine, which was not too far from the park, in the town of Keystone. It was waaaay past dinner time and closing in on bedtime by the time we left, but panning for gold was TOTALLY worth it and so much fun. No, we didn't leave with loads of gold, but the activity itself was A BLAST!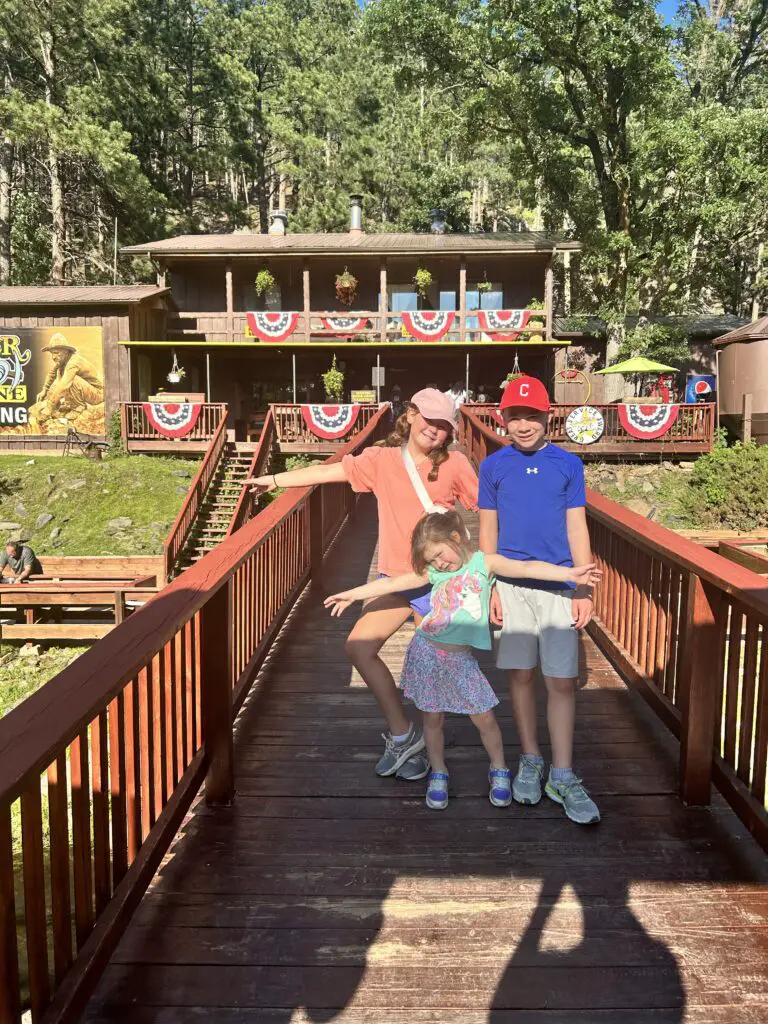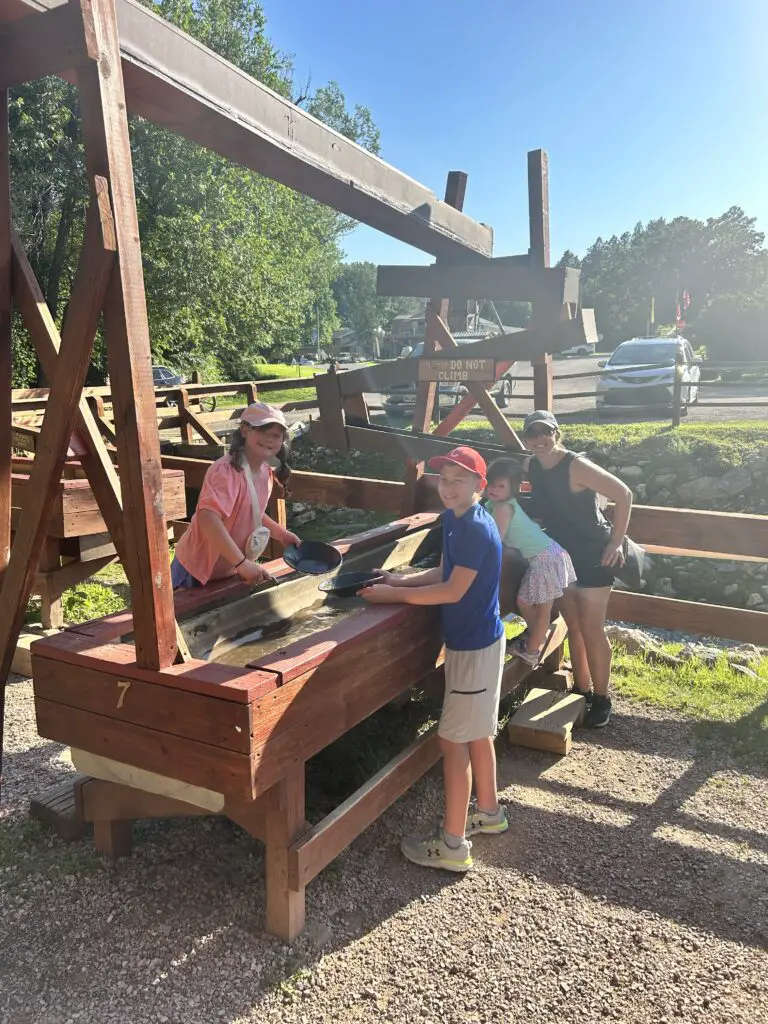 We were taught exactly how to pan and what to look for. An employee, Bryan, was a pro and helped us so much! He had some great stories about the mine and of the area!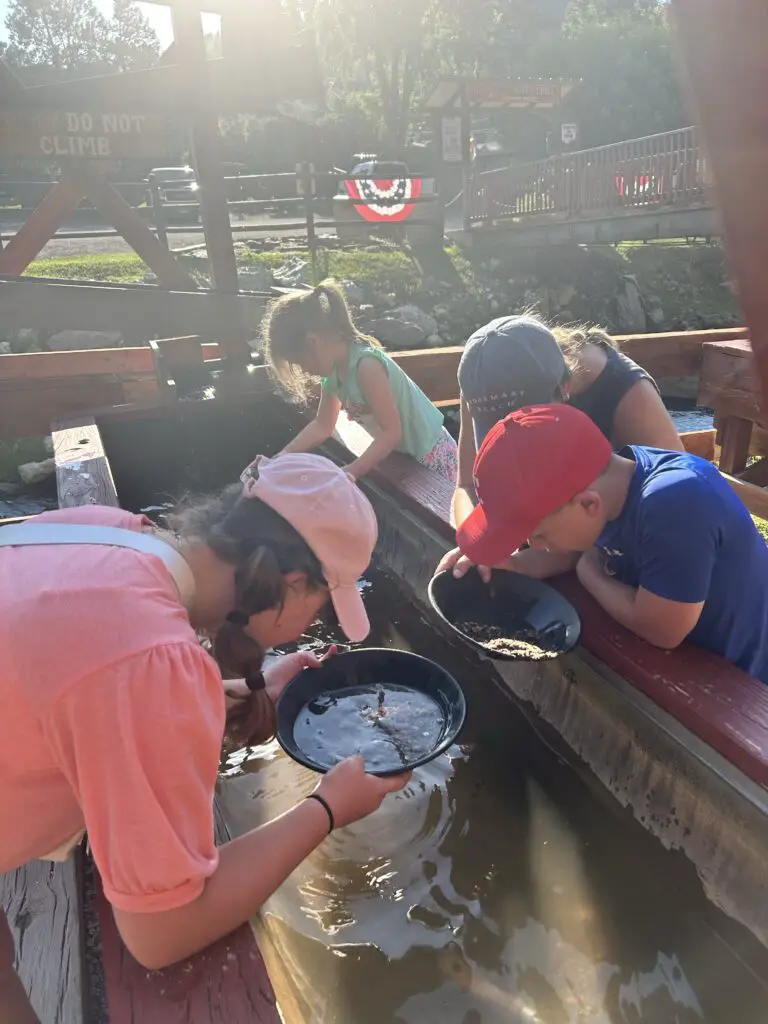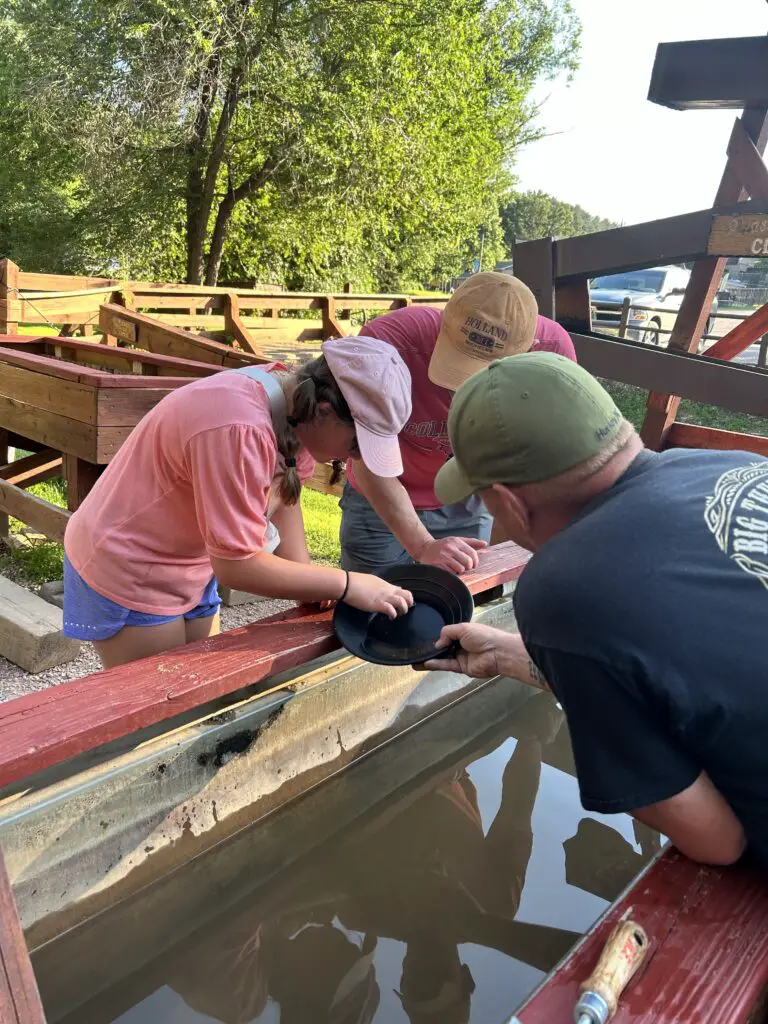 A tiny piece of gold!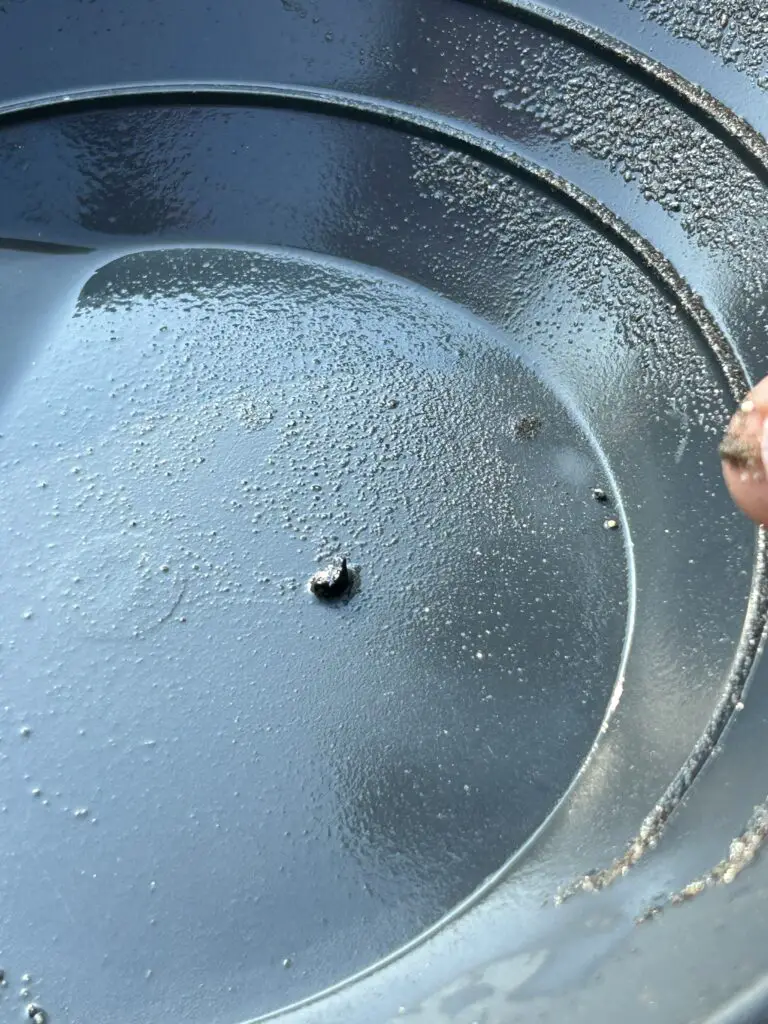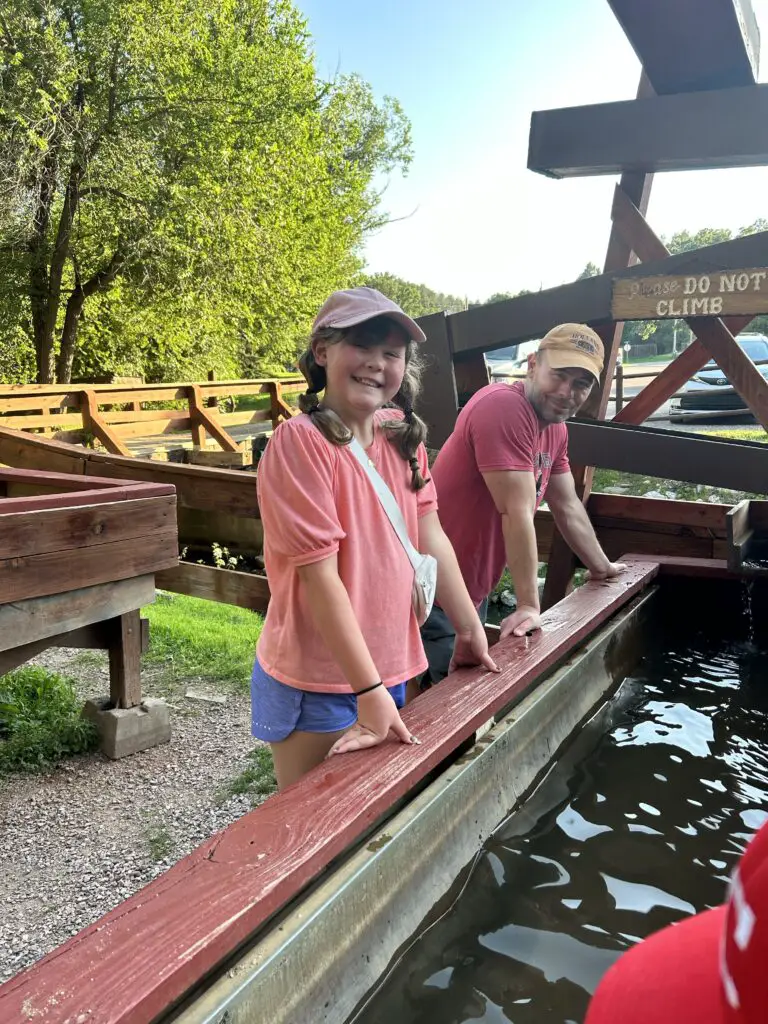 We headed to our hotel and ended up finding an Outback Steakhouse for dinner. We ended up closing down the place since we were eating so late. I joked that we were so wild! LOL! It fun to let go and let be with our usual schedule!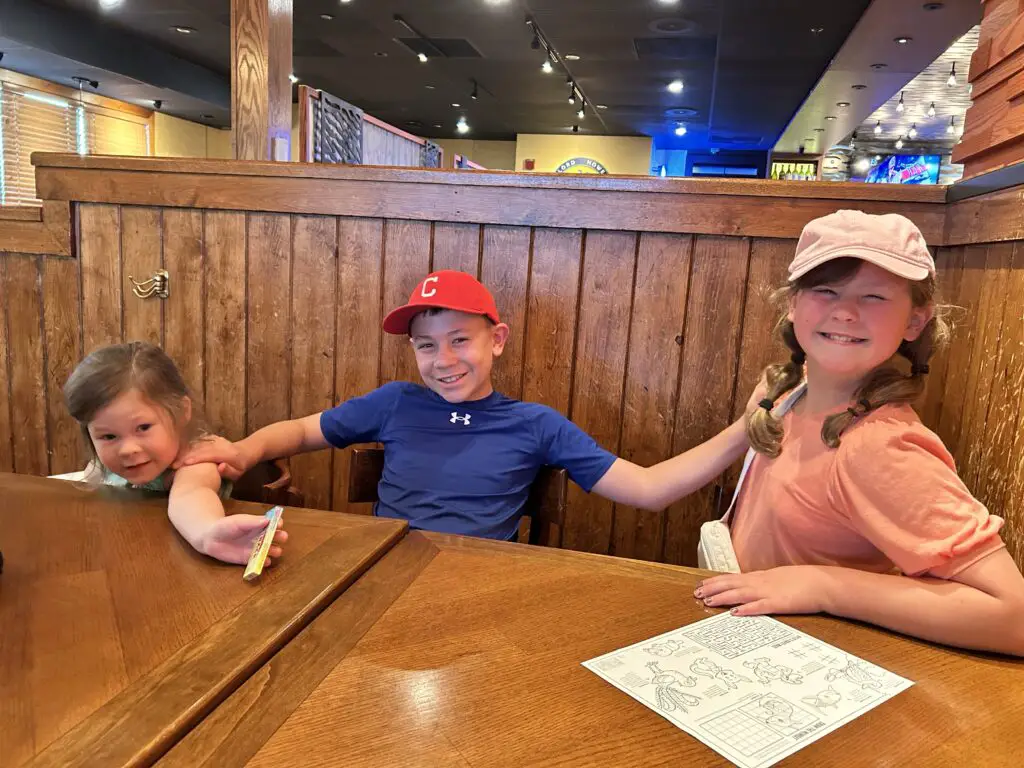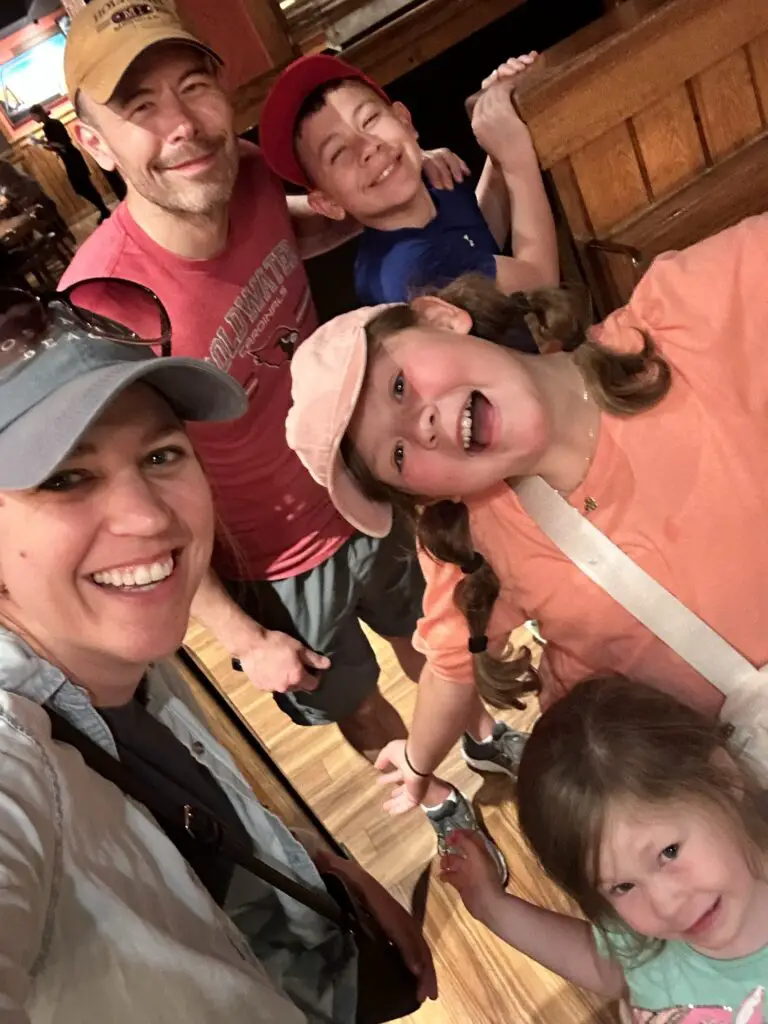 It was incredibly late, but of course we had a hotel with the BEST pool area EVER, so we decided to let the kids swim! I'm telling you, we were a wild bunch on this vacation with staying up waaay past bedtimes and all. HA! I ended up meeting a great family in the hot tub and they were just returning from their Yellowstone vacation and gave me loads of pointers and advice for our future travels.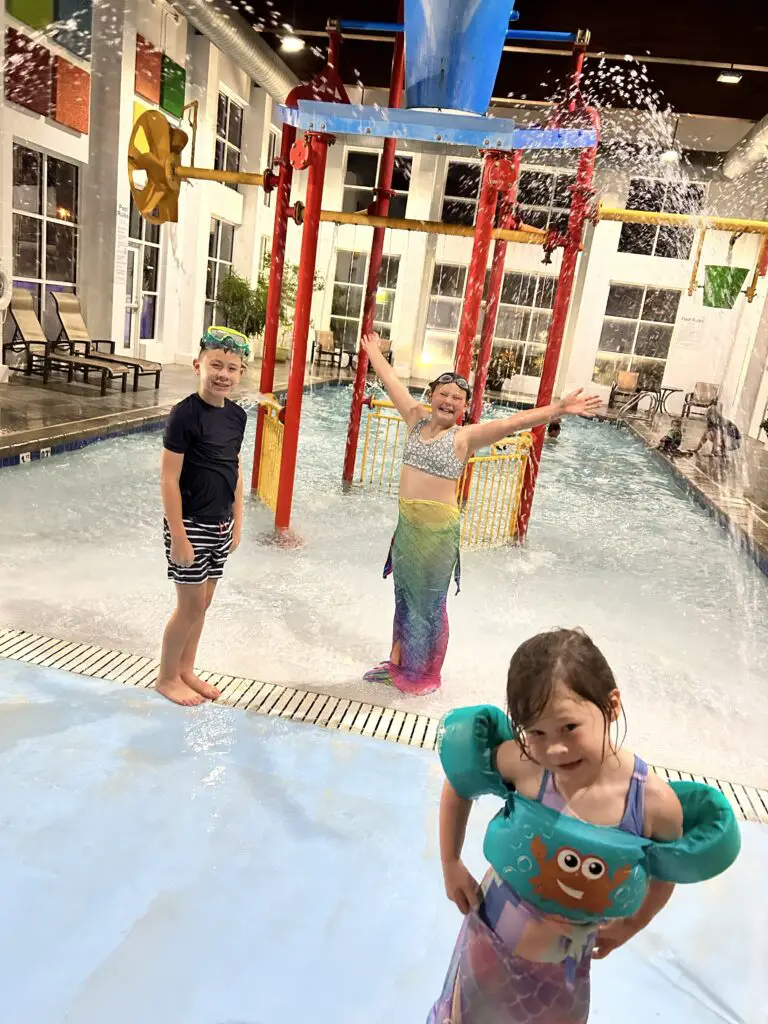 The next morning we headed to Deadwood with no plans other than just checking it out, maybe grabbing a coffee or two and then heading up to Devil's Tower, which was a little more than an hour away.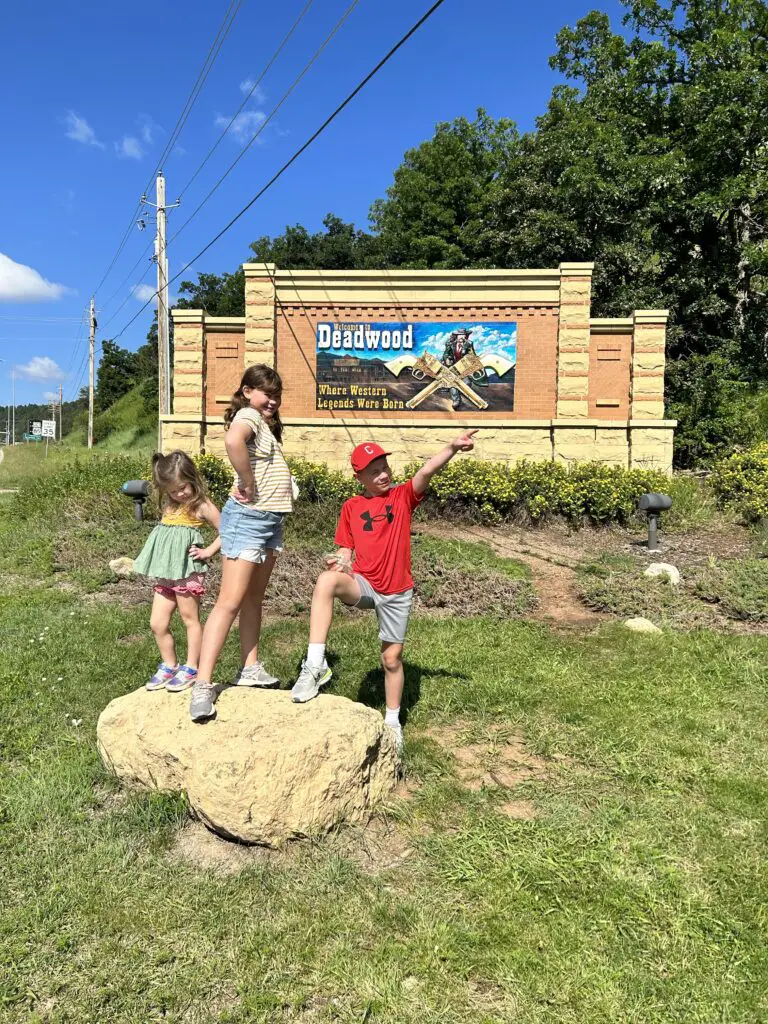 We snapped some pictures, took in the really cool history of the town and walked around for a bit…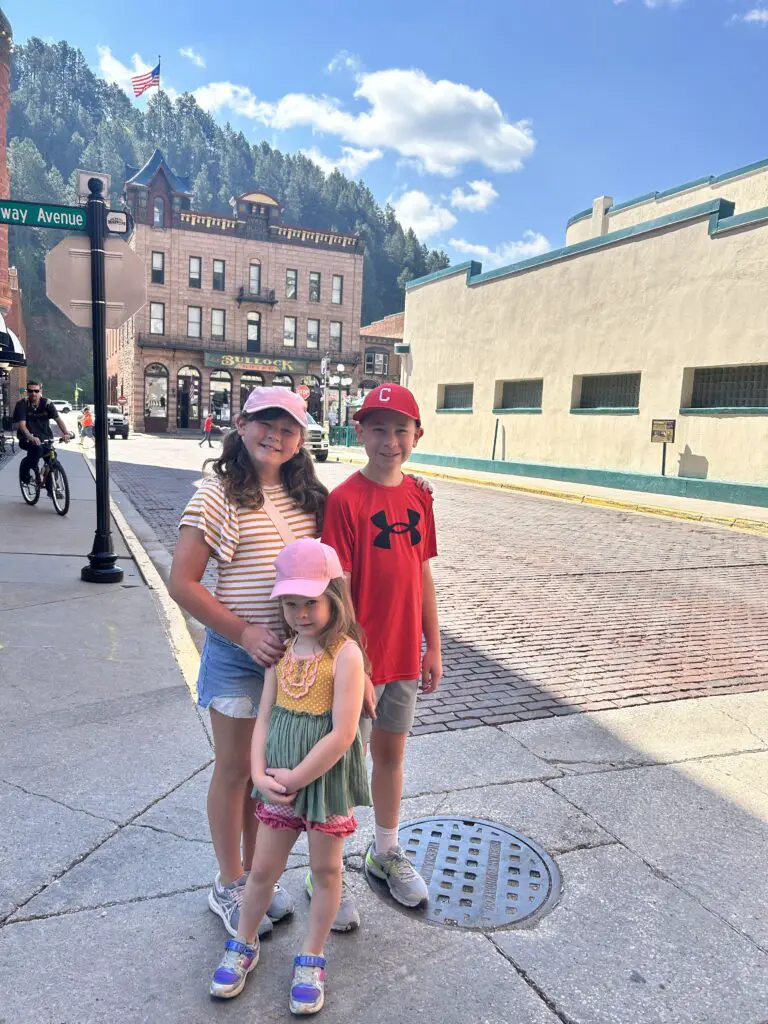 Jane wanted a picture in front of one of the several downtown casinos. Deadwood is full of casinos and lots of little shops. It definitely one of my favorite little towns I've ever visited. It was fun to read about and imagine the history of the area.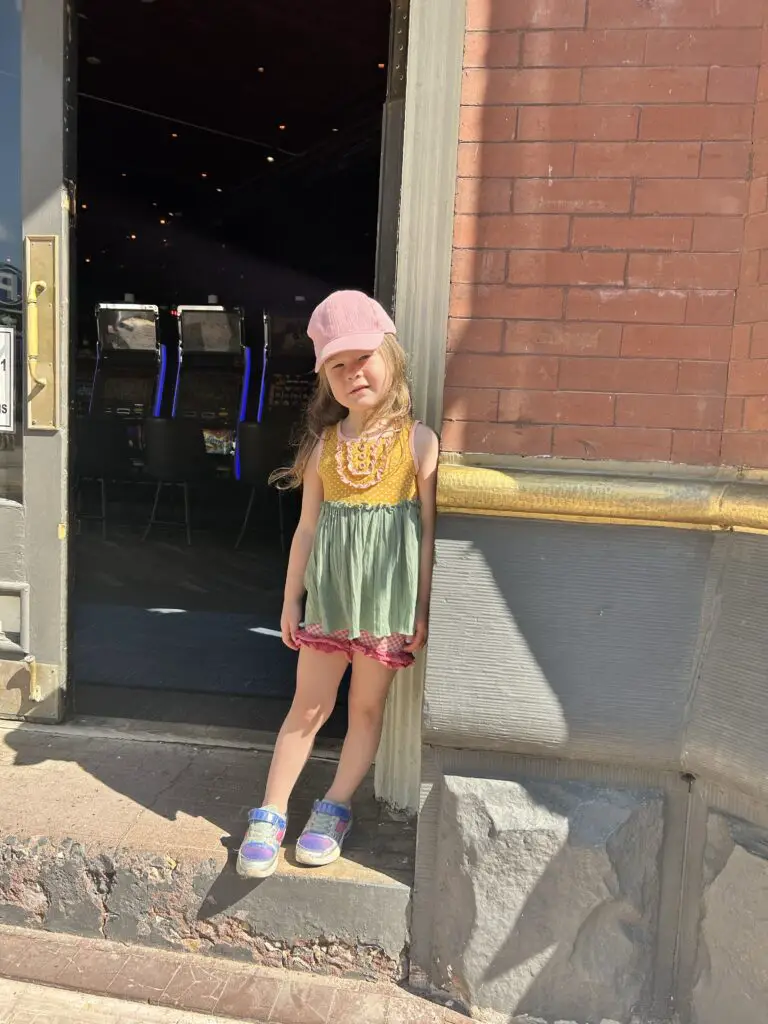 We walked around the bar where Wild Bill was shot – it was actually really neat.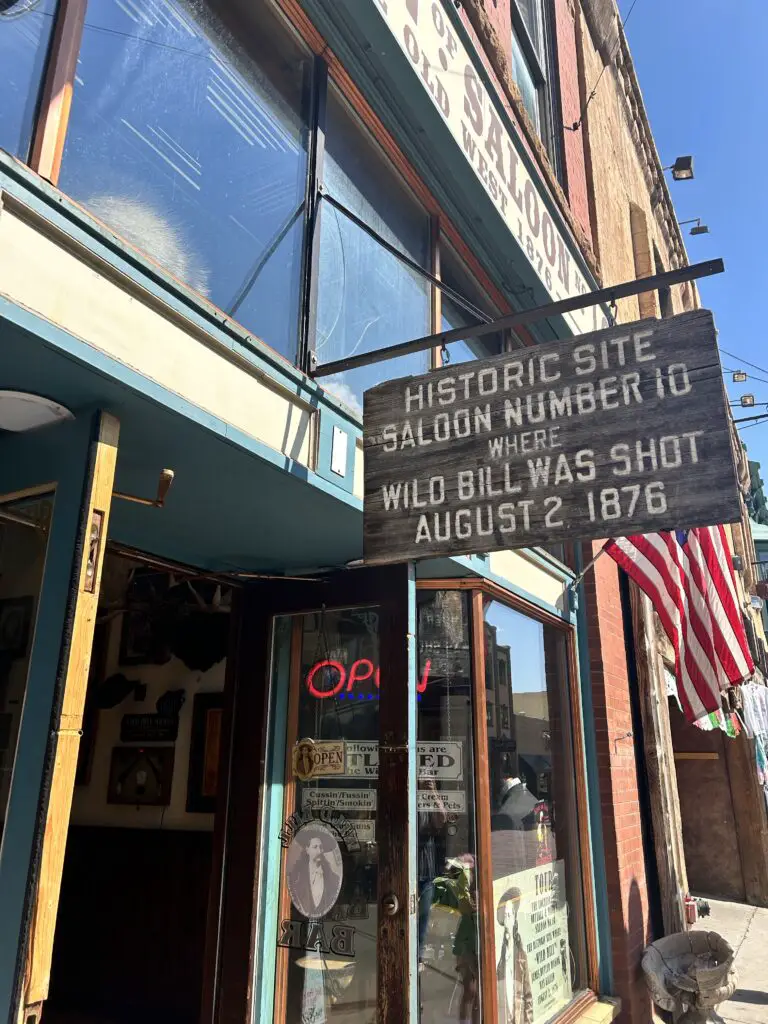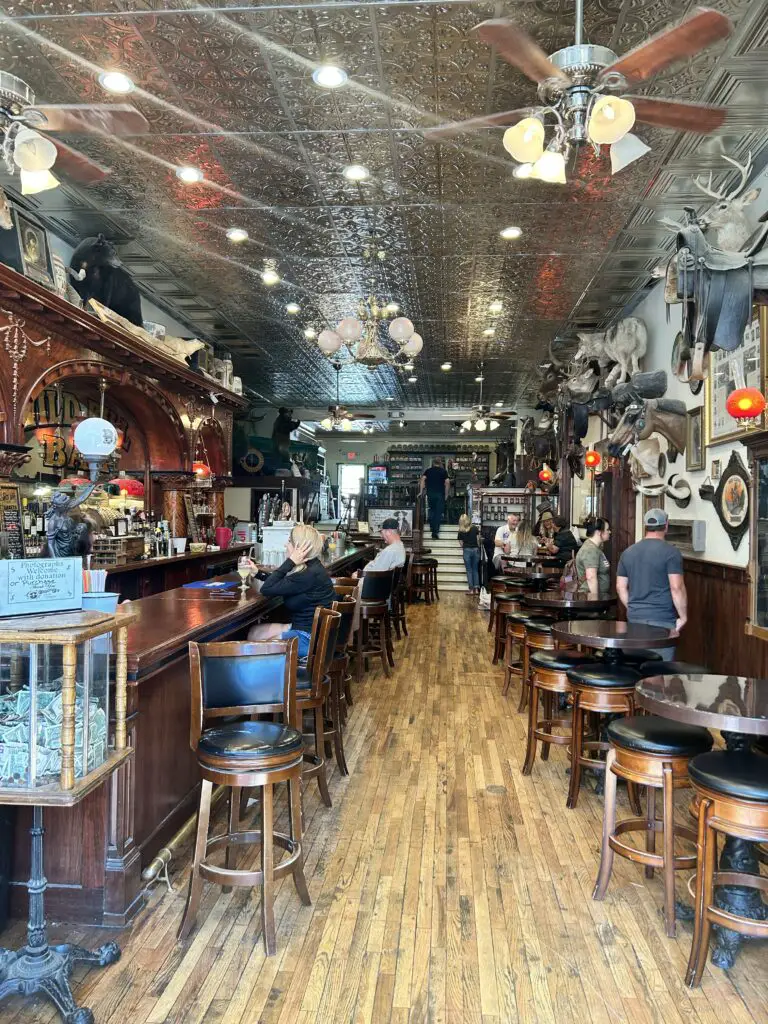 Wild Bill was an interesting man attempting to provide law in a lawless land.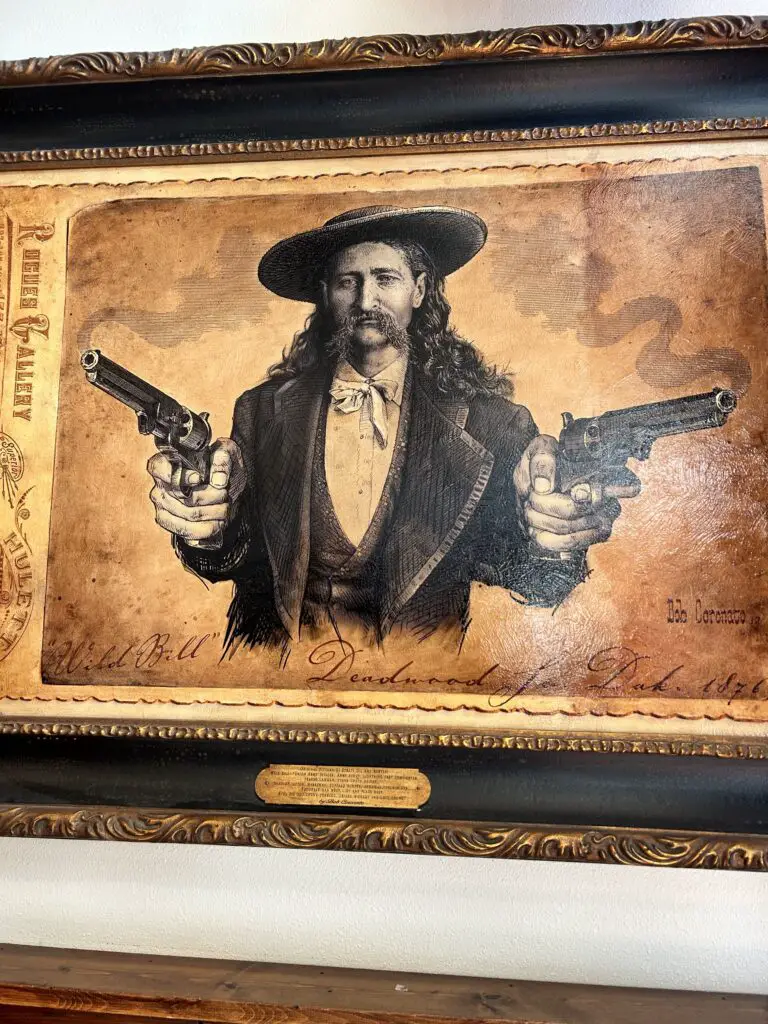 While walking around downtown we found ourselves at an Old Time Photo shop! Before we knew it, we had signed up for a time slot to return for a photo session. LOL! This was one of the FUNNIEST things I have ever done! As we returned for our appointment, we walked upstairs to discover loads of people in front of sets and in costume – some where laughing, cracking jokes – it was incredibly funny to me and to be taking these pictures in DEADWOOD of all places, just added to the hilarity!
A small fortune later, we walked away with THE most memorable pictures! It was about a two hour process, but it was worth every penny and time spent in Deadwood!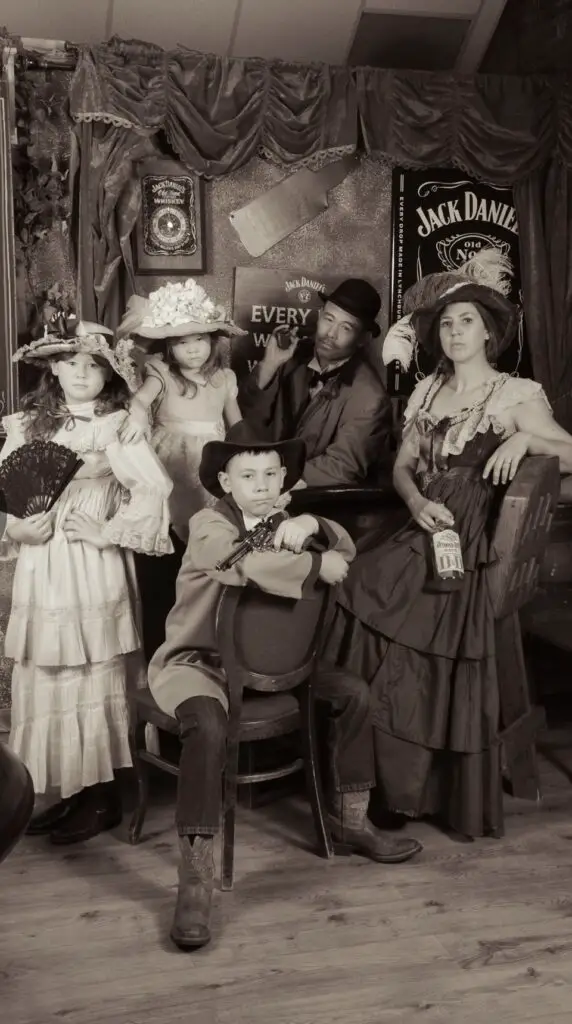 Around noon, we grabbed some Starbucks and headed up to Devil's Tower! Fun fact about the woman walking behind us in this photo – I had helped her with her phone in the Badlands! What are the chances!? We caught up for a couple of minutes then parted ways in hopes of seeing each other again! People were so friendly!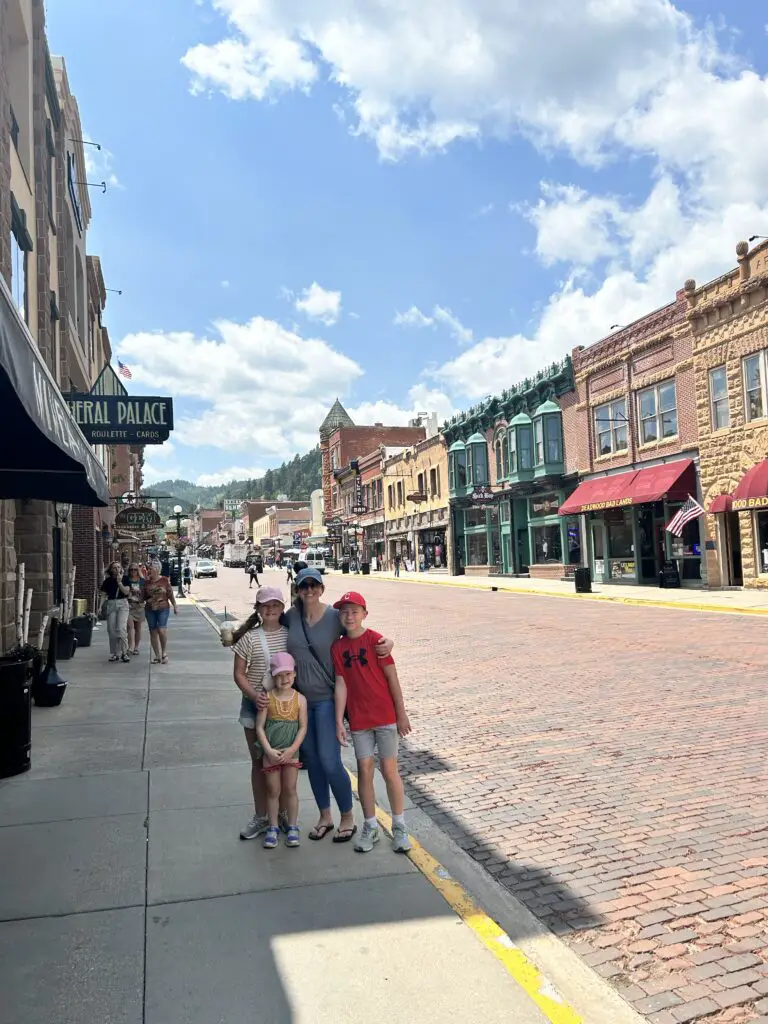 We made it up to Devil's Tower, ate lunch in a picnic/campground area and then hiked around the entire base, it was about 1.3 miles on a paved walkway – an absolute must-do while visiting the area. They views of the valley below were breathtaking!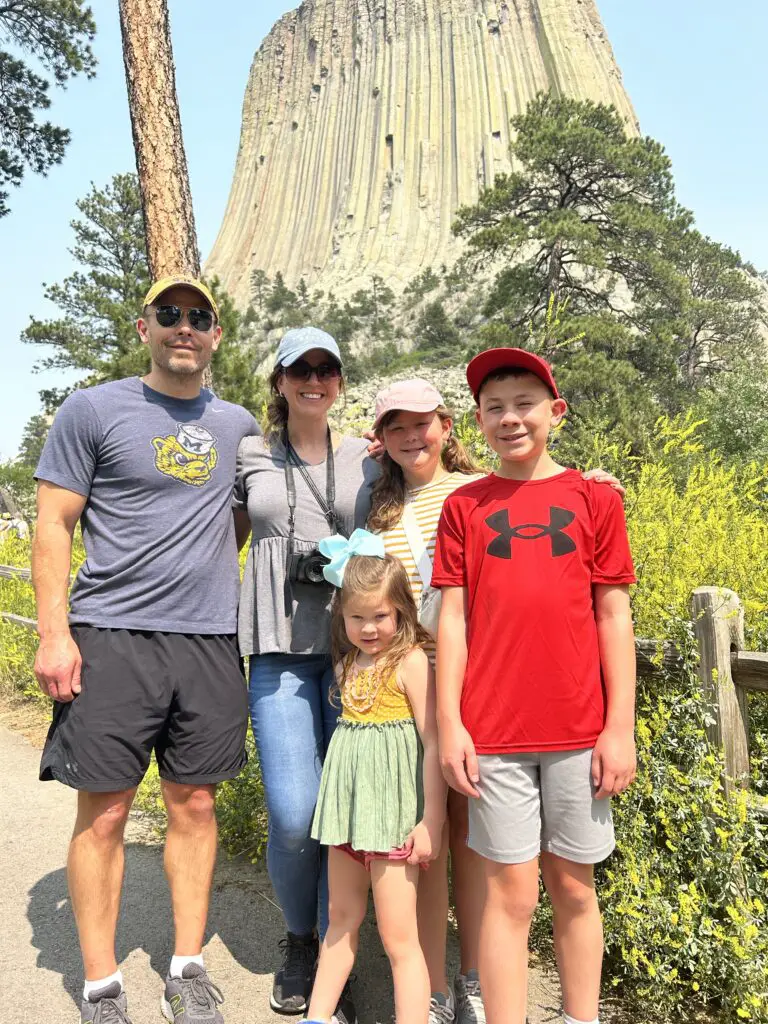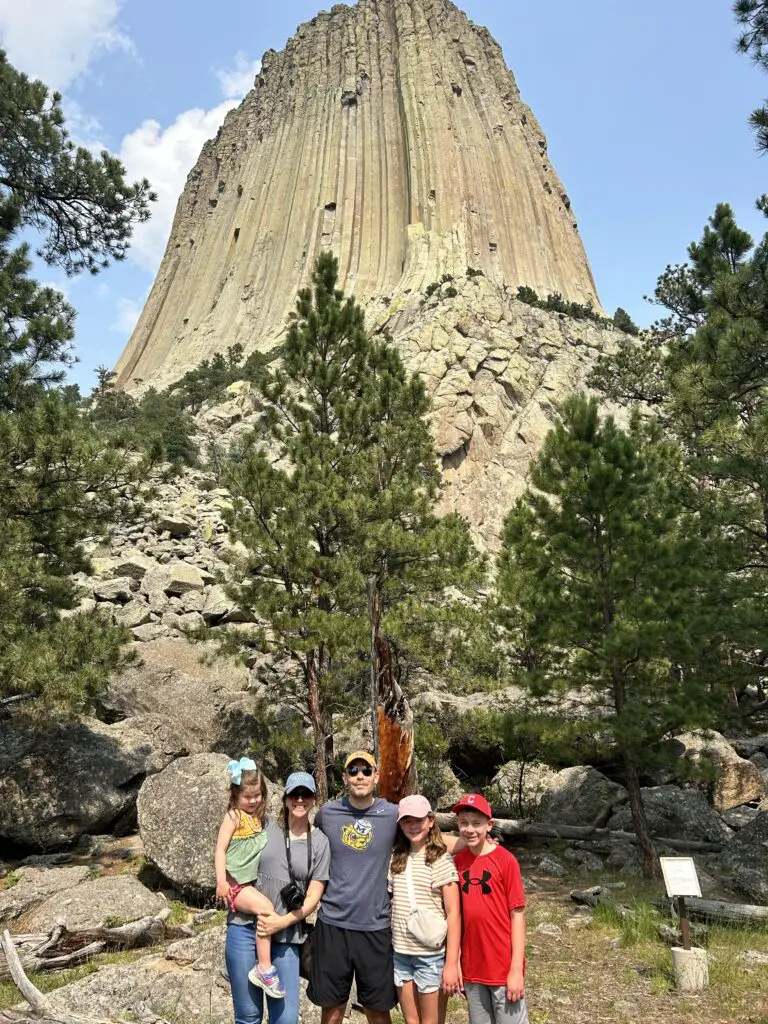 This view was stunning in real life! We loved it so much!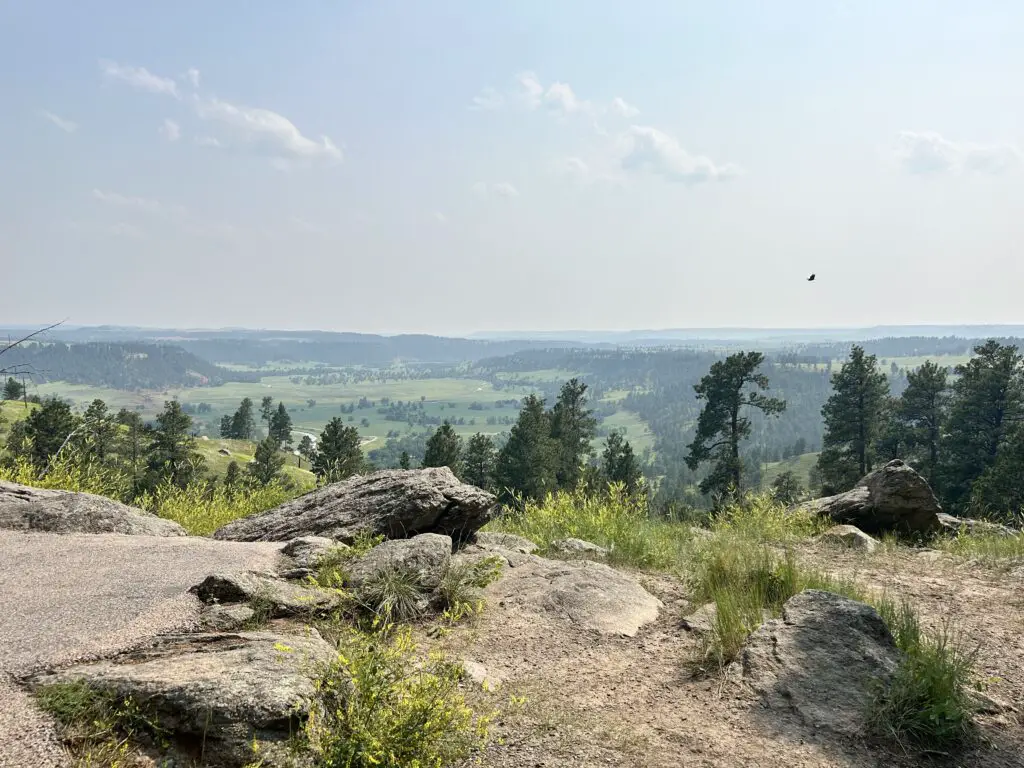 The kids wanted pictures on this stump, so I obliged. Haha!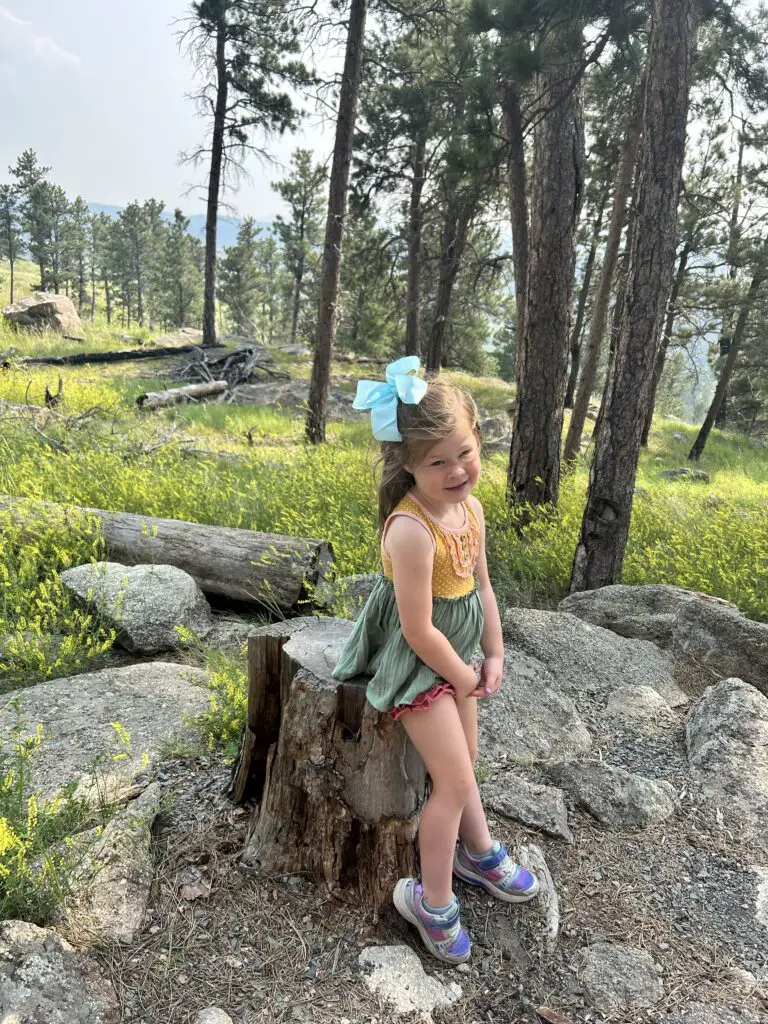 A Devil's Tower Marmot!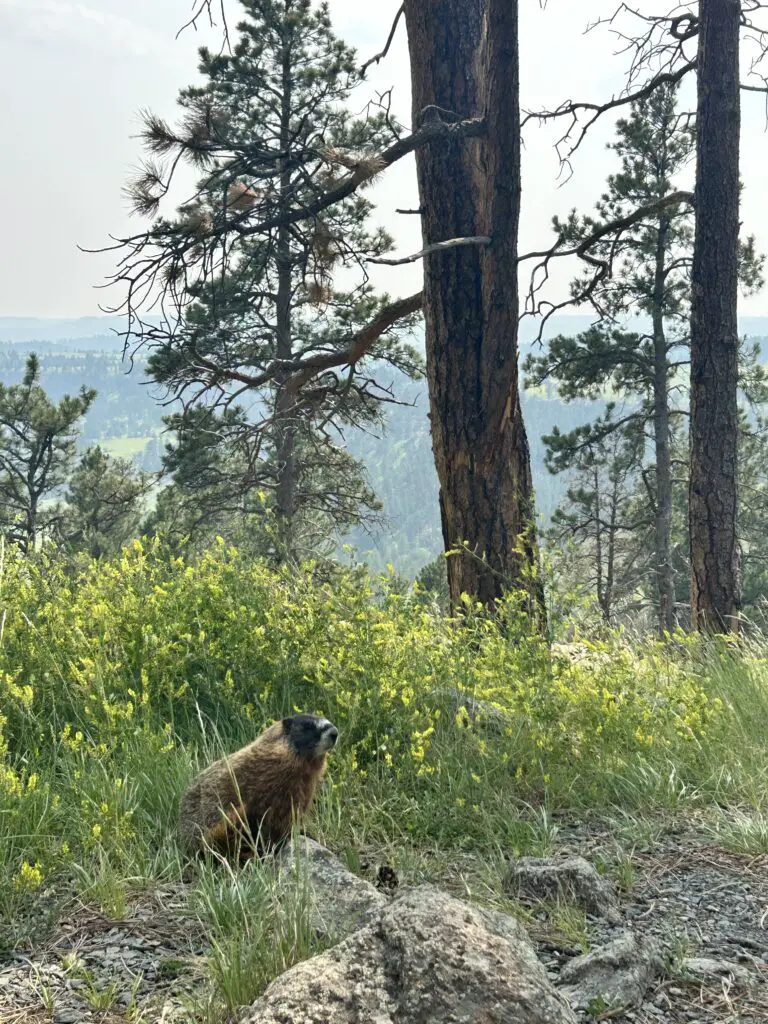 Taking in the view!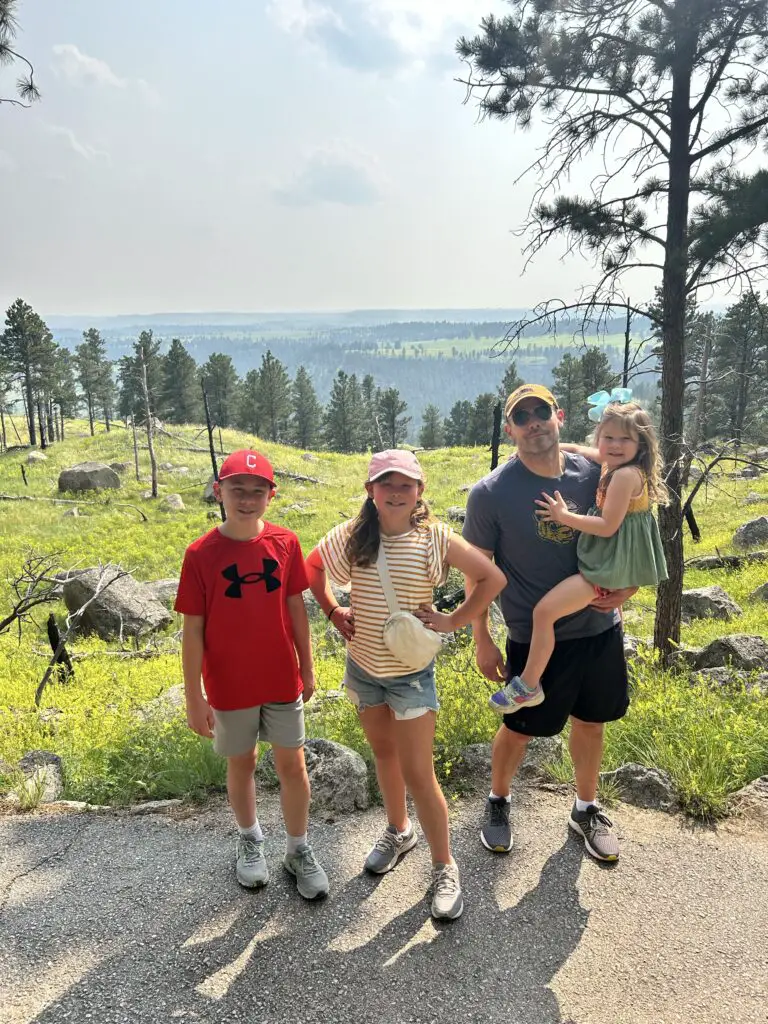 We had the best time! Devil's Tower was so fun to explore and such a pretty park. We had about a 4 hour drive ahead of us to get to Billings, Montana, so it was time to hit the road!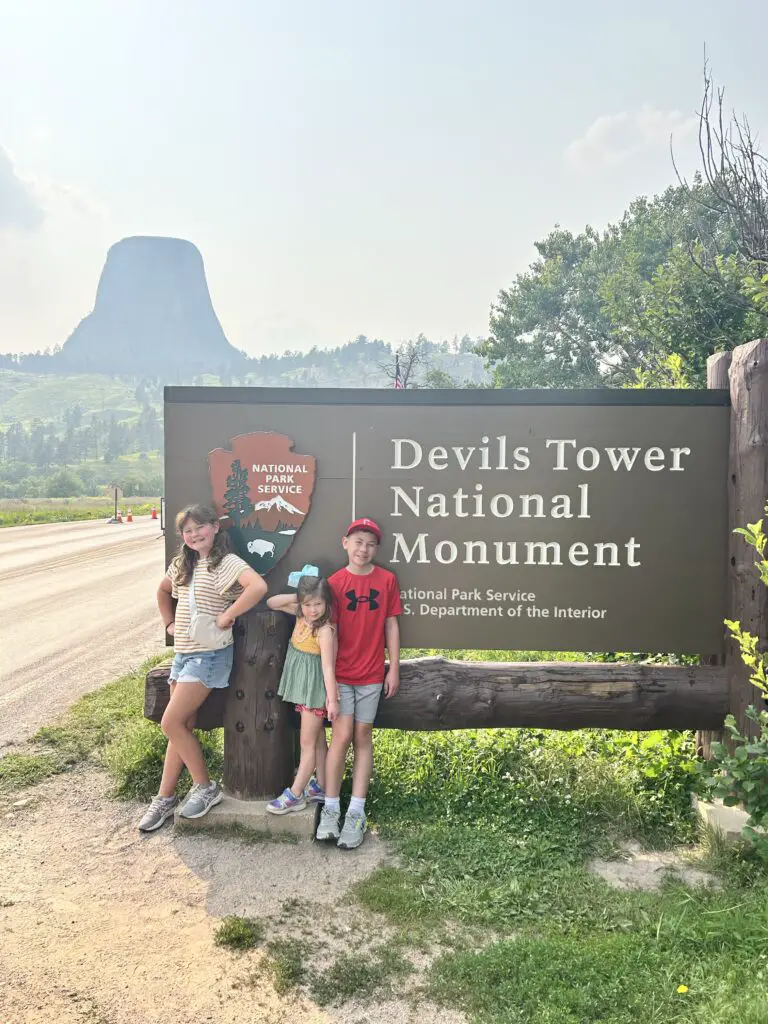 The start of start of us exploring Yellowstone through the Beartooth Pass was on the agenda for the next day and I was a tad nervous about it! Stay tuned as I share our Yellowstone adventures in Part 2 of my, "Out West Recaps!"
Thanks so much for stopping by!
Marie 🙂
I'm linking up with Hello Monday!