DIY Halloween Tomato Cage Witch
Let's make a DIY Halloween Tomato Cage Witch!
This project began just before sunset so it was definitely a race against time to figure out what I'd be doing! Not to mention that I had to enlist one of kiddos to become my photographer and videographer!
I knew I wanted the base of my witch to be in this pot of dirt that once housed some lettuce from my mom.
I added a tomato cage and was sure to press it all the way into the dirt.
Next, I added another tomato cage, but placed it on top of the bottom one upside down.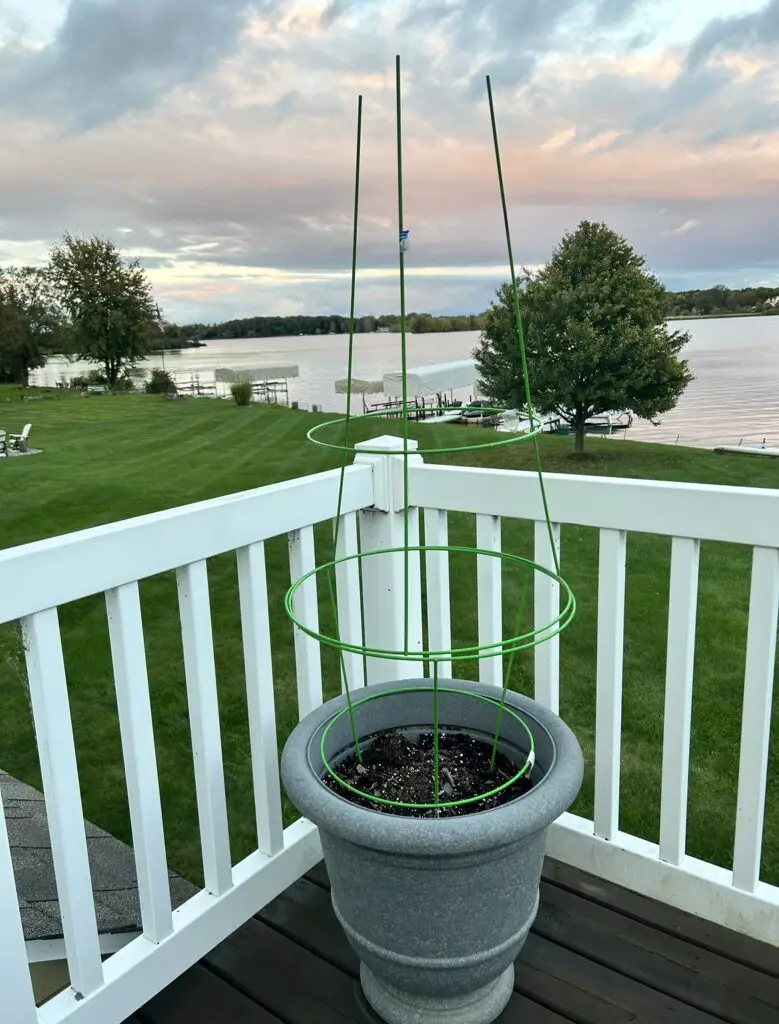 I used some handy dandy zip ties to secure the two tomato cages together.
Next, I secured the top of the tomato cage together by using a rubber band (one literally from my hair – it was a race against time, remember?! LOL)!
I then added a black plastic table cloth from a dollar store and poked it through the top of the tomato cage.
A "waist" was added after tying some black rope around the mid-section of the tomato cages.
This foam head was then added to the top of the cage. I just stuck it right on and into the cage!
I found this foam head for a dollar at a thrift store, but Amazon sells them here and Walmart sells them here. Also, check your local Hobby Lobby!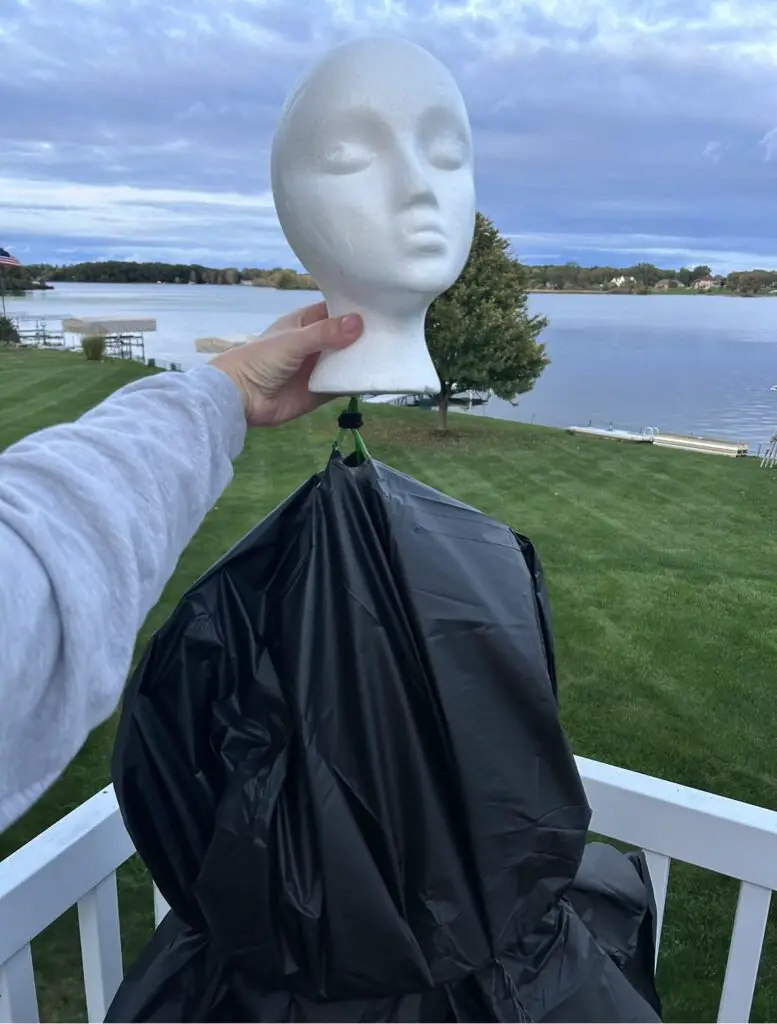 I added these green battery-operated lights and wrapped them around the head. A little duct tape was used to ensure they stayed in place.
After wrapping the lights around the head, I then added black mesh to flatten everything down and to soften the look of the lights.
This witch needed something around her neck and shoulders, so a sort of "fluffy sleeved cape" was created with more rubber bands (Jane's this time Haha!). I tied them on and then tucked them under.
It was quickly getting dark! This witch was looking fancy with her new faux bow, shoulders and cape!
The sun was setting, a witch hat was added and we had ourselves a spooky witch to watch over us through our deck windows! In fact, she keeps scaring Jon when he walks by… mission accomplished. 😉
This DIY Halloween Tomato Cage Witch has been a great addition to our Halloween decor. I literally made it as the sun was setting – it was that easy and fast.
Thank you so very much for stopping by! Tag me on Instagram if you make one of these (my feed is on this blog – I'm Over at Marie's on IG). I'd love to see some more tomato cage witches out there!
Marie 🙂
I'm linking up with Hello Monday // Two Chicks and a Mom // Reinvented Delaware // Inspire Me Monday // Inspire Me Monday // Wednesday Link Party // Inspire Me Monday // Anything Goes // Wonderful Wednesday Link Up // The House on Silverado // Life as a Leo Wife // Encouraging Hearts and Home Blog Hop // The House on Silverado // Jenerally Informed // Karins Kottage // A Pinch of Joy // Creative Crafts Linky Party // Tuesday Turn About
This post contains affiliate links for which I may be paid a commission.