DIY Framed Witch Silhouette
Hello! Let's make this DIY Framed Witch Silhouette!
This is the first time I've blogged all week! Gasp! We've been on the go – it's been an exhausting week over here with preparing for a school fun fair, cross country for Henry, dance for Jane and production week for Eliza!
I did manage to get in a craft and I've had this draft just sitting on my blog for a few days! I gave myself some grace and told myself to rest when I could and that I'd come back around to blog about this witch silhouette when I could squeeze in time! Welp, the time has come!
I found this round black frame, which I'll now keep forever – love it – , some material from a thrift store and a piece of black construction paper.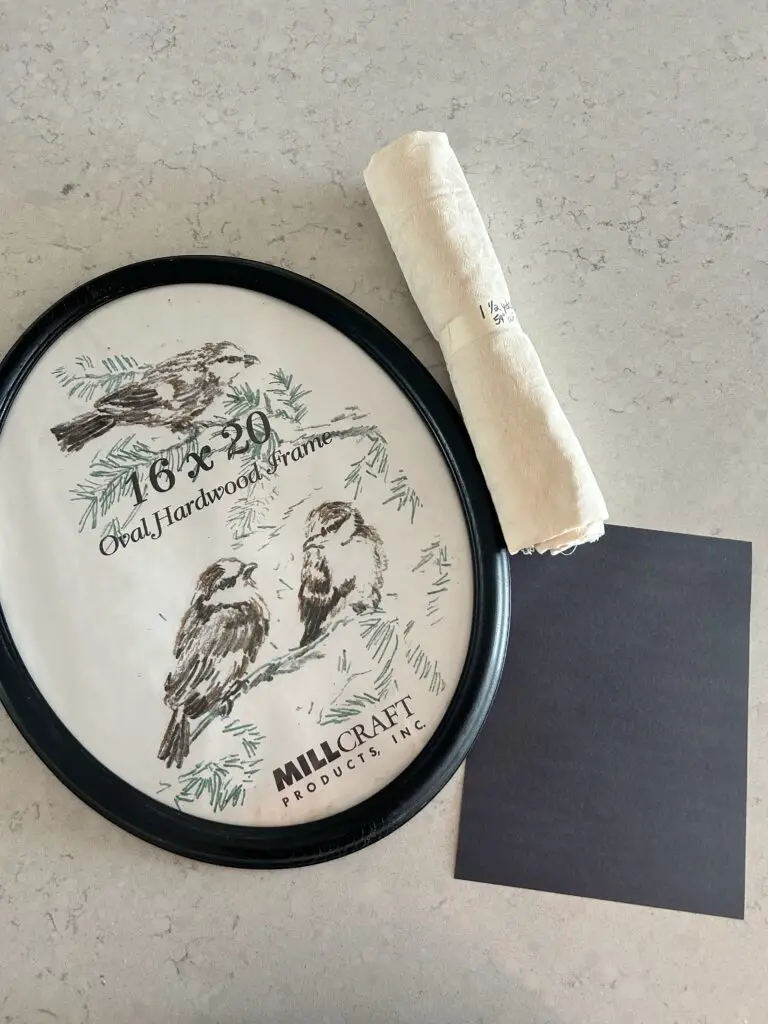 I traced out the fabric…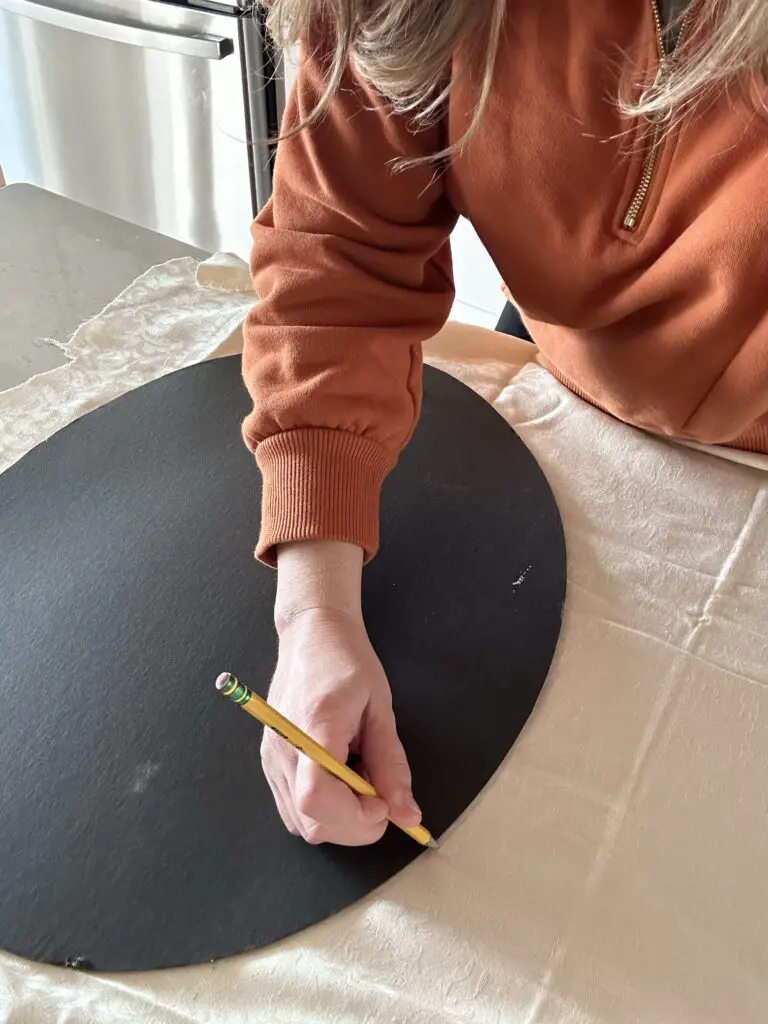 I cut the fabric and then ironed it out.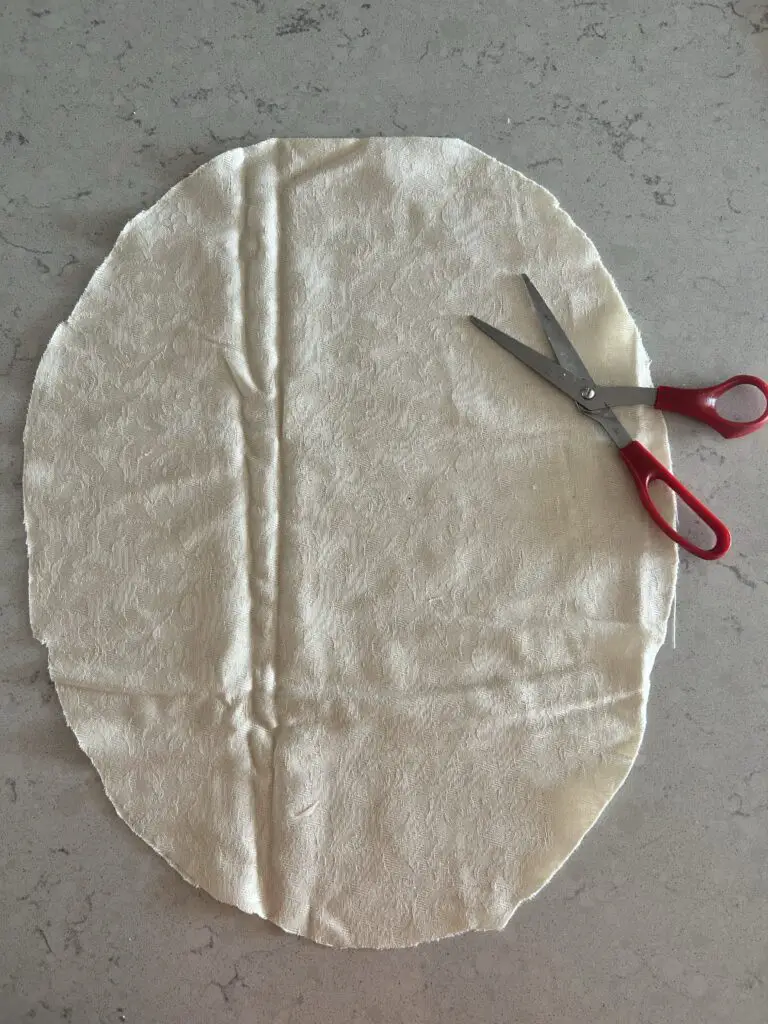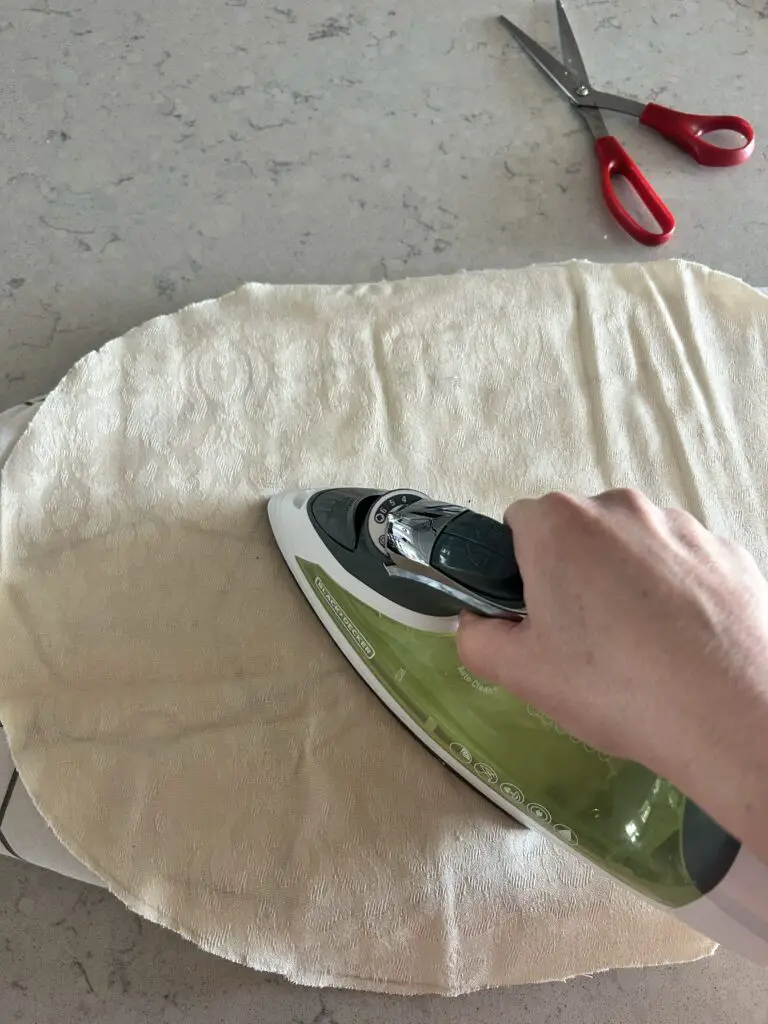 I then used a handy dandy white crayon to draw out my witch.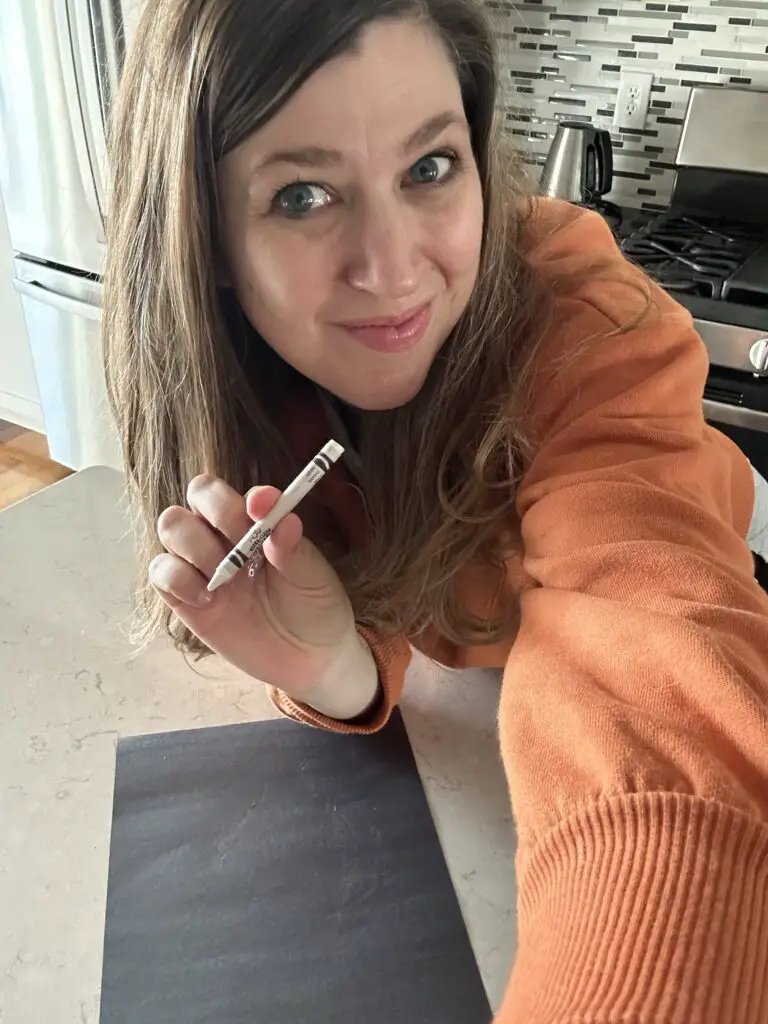 Now, let me tell you, an artist I am not. If anything, my drawing skills begin and end with stick figures!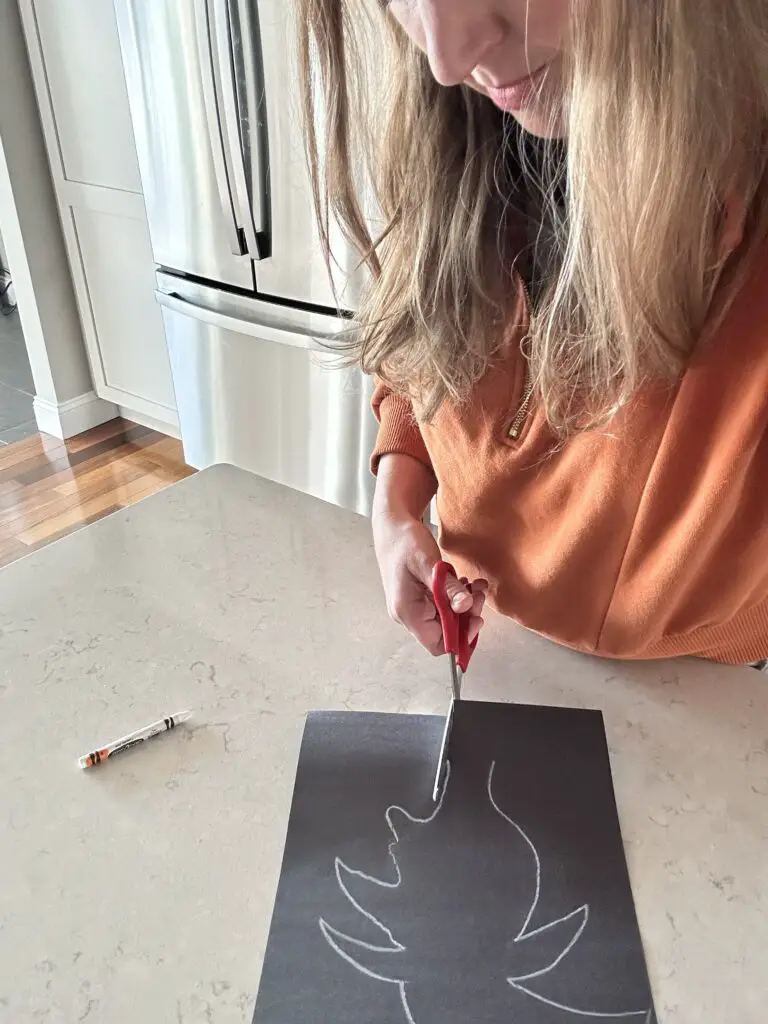 I tried my best though. I cut out and added tape to my new witch friend, Gertrude!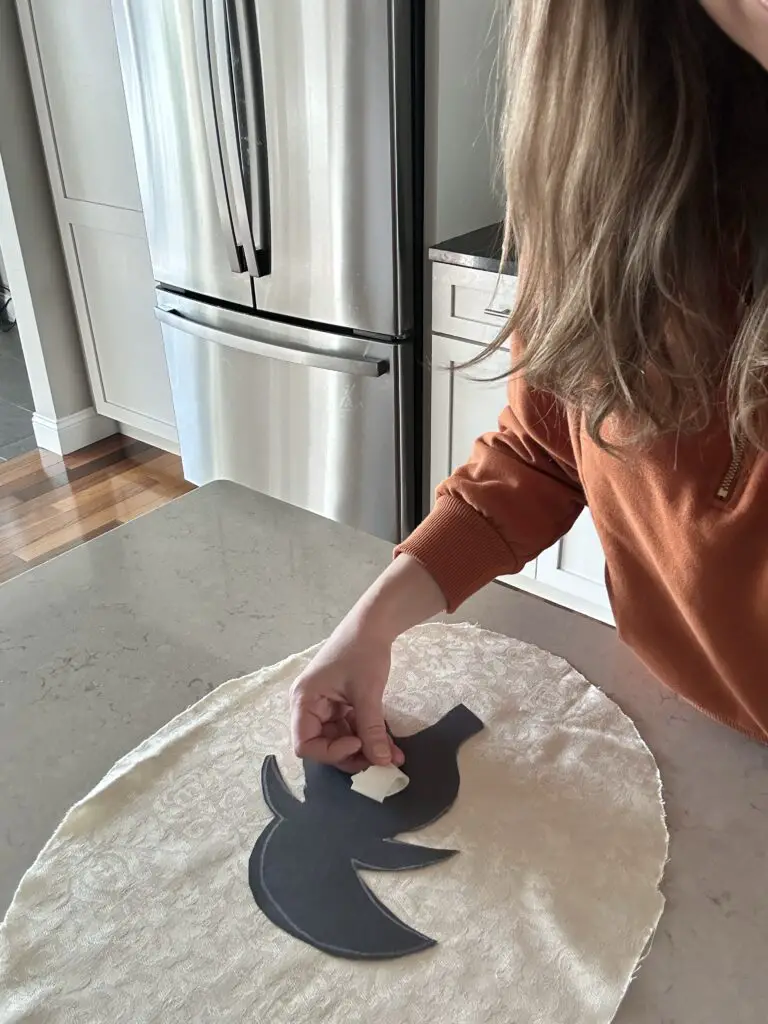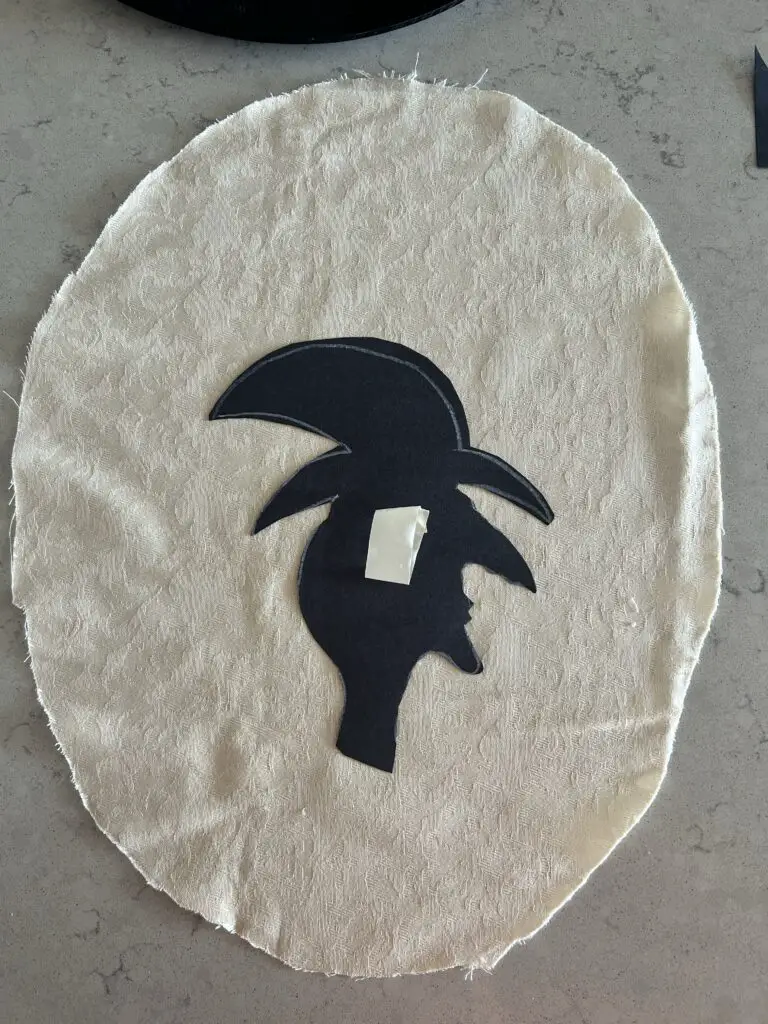 Here she is looking all whimsical! Jane has since told me she looks like a dolphin! Lol! After much consideration, I've decided to keep her as is – as my mom told me, she's my witch, my creation – which could mean she also thinks Gertrude looks like a dolphin, but that's what moms are for – to be proud of our artwork no matter the age! 😉 LOL!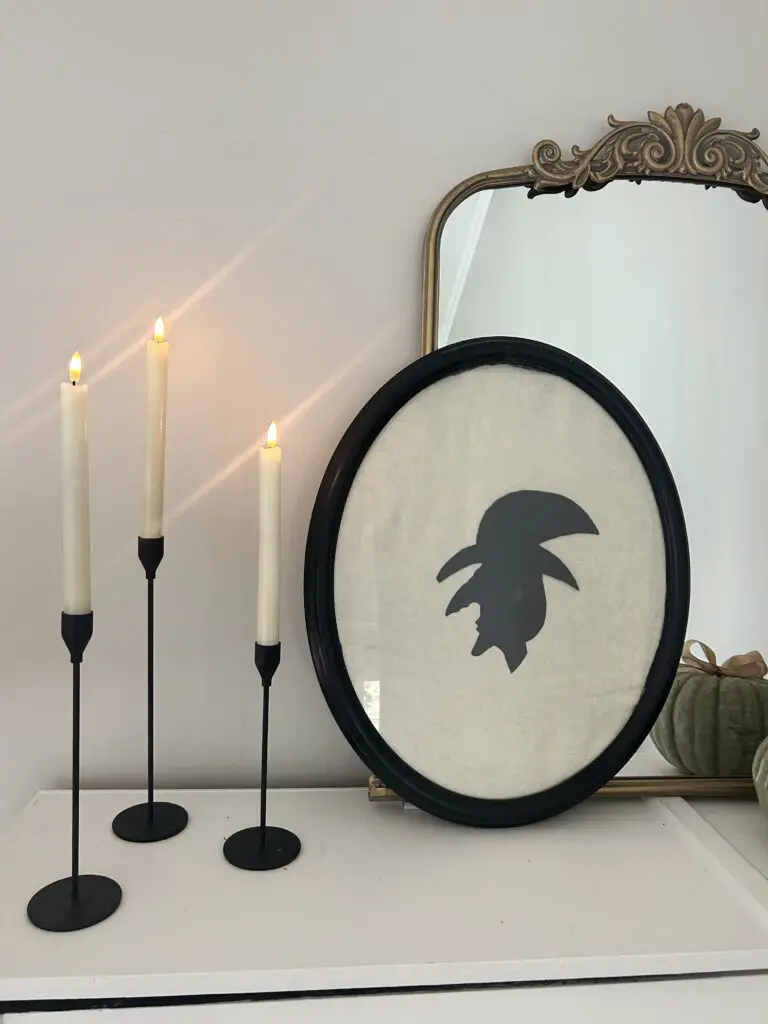 All joking aside, this was an incredibly fun craft to make and if anything, it can be used as a jumping point to making your own witch and if yours happens to look like a dolphin, too, welp, welcome to the Witch Dolphin Club, my friends! Bahaha!
Leave a comment and give me your thoughts on Gertrude! 😉
Thanks so much for stopping by!
Marie 🙂
I'm linking up with Hello Monday // Two Chicks and a Mom // Reinvented Delaware // Inspire Me Monday // Inspire Me Monday // Wednesday Link Party // Inspire Me Monday // Anything Goes // Wonderful Wednesday Link Up // The House on Silverado // Life as a Leo Wife // Encouraging Hearts and Home Blog Hop // The House on Silverado // Jenerally Informed // Karins Kottage // A Pinch of Joy // Creative Crafts Linky Party // Tuesday Turn About // Momfessionals
This post contains affiliate links for which I may be paid a commission.
Post navigation
NEXTDIY Framed Witch Silhouette
Similar Posts
One Comment
Logged in as admin. Edit your profile. Log out? Required fields are marked *
Comment *
meet the author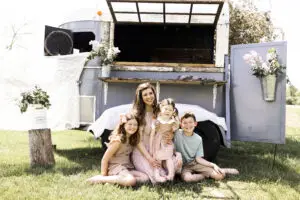 My name is Marie.  I'm married to Jon and together we have three kids.  I love coffee, the outdoors and rainy days just as much as the sunny ones.  Join me as I share our happy days as a family at our cozy little lake house.
categories
categories  Select Category  10 year old gift guide  2  2015  2016  2017  2017 Fall Home Tour  2018  2019  2021  2022  3  32 years old  35th Birthday  3rd Birthday  4 Year Old Preschool  5  8 Year Old Gift Guide  A Day in the Life  A Spooky Ceramic Haunted House Makeover  A Surprise Sprinkle  A Unicorn Poop Party  A Wedding Weekend  Adorable Gender Neutral Bunny Nursery  Affordable Fall Home Decor from Amazon  Ages 8 -12  agreeable gray  Amazon  Amazon Entertainment Unit  Amazon Halloween Finds  Amazon Prime Purchases  An Easy and Quick S'mores Caddy  Animal Kingdom  Annie Sloan  antique furniture  April 2019  April 2022  art  August 2019  baby boy  Back to School  Bacon Tomato Pasta Recipe  barn door  basement  Bathroom Makeover Plans  Be Our Guest  Beach Favorites  before and after  big boy bedroom  big girl bedroom  big girl bedrooms  big hero 6  big hero six  Birth  birthday  birthday party  Blogging Stats  Blogging Thoughts  board and batten  Board and Batten Tutorial  book case with doors  Boyne Highlands  Bringing home Jane  budget friendly makeover  Bunny Foot Artwork  Catching Up  cedar shims  Chair  chalk paint  cheap and easy makeover  checklists  Chef Mickey's  Christmas  Christmas 2015  Christmas 2018  Christmas 2019  Christmas 2020  Christmas 2021  Christmas 2022  Christmas Break  Christmas Home Tour  Christmas in July  Christmas Living Room and Kitchen Home Tour  Christmas Pajamas from Walmart  Christmas Recap  Christmas Recap 2017  cleaner  cleaning  cleaning appliances  Coastal Grandmother Living Room Mood Board  Confessional Thursday  cottage  cottage bedroom  countdown  crafts  Daddy Daughter Dance 2023  Date Night in Detroit  dawn dish soap  Day 4  Day 7  Days 1  December 2019  Decluttering  decor  desk ideas  desks in the kitchen  dining room  Disney  Disney 2016  Disney 2018  Disney 2022  Disney Countdown  Disney Day 5 and 6  Disney Essentials from Amazon  Disney Must Haves  Disney paper chain link  Disney Recap  Disney with Kids  Disney World  DisneyWorld  diy  DIY Apple Cider Stand  DIY Banner using PicMonkey  DIY Clipboard  DIY Faux Terra Cotta Pumpkin Craft  DIY Halloween Rice Krispie Frankenstein Treats  DIY Landscaping  DIY Spooky Halloween Soap Bottles  DIY Spooky Skeleton Candle Holder or Snack Tray  Dollar Store Christmas Bells Makeover  Dollar Store Crafts  Dollar Store Easter Bunny Basket  Dollar Tree 3 Minute Spring Wreath  Easter 2018  Easter 2022  Easter Basket Ideas for 8-10 Year Old Girls  Easter Basket Ideas for 8-12 year old girls  Easter Basket Ideas for Toddlers  Easter Recap 2017  Easy and Affordable Clipboard  easy and cheap spring wreath  Easy Stocking Tags  edamame salad  Edible Food Color Marker Easter Cookies  Elf on the Shelf Ideas  Eliza Farm Field Trip  Eliza Fourth Birthday  Eliza Preschool Graduation  Eliza's 5th Birthday  Eliza's 9th Birthday  Eliza's First Dance Recital – 2018  Eliza's First Day of 4 Year Old Preschool  Eliza's Floral Cottage Bedroom  Eliza's Last Day of Four Year Old Preschool  Elmer the Elf  entertainment center  entertainment unit  entry way  entryway  Epcot  facts  fake plant  fall  Fall Bucket List  fall decor  fall home tour  family  family photos  Family Photos 2022  family work stations  farm  farmhouse  farmhouse style  Fattoush Salad  faux plant  favorite printables  First day of school  First Day of School 2018  First Day of School Pictures  First Week of Summer Vacation  Five on Friday  floral cottage bedroom  floral walls  Florida 2022  Florida Days 1 and 2 Recap and Jane's 4th Birthday  Florida Days 3 and 4 Recap  Florida Days 5 and 6 Recap  Florida Days 7 and 8 Recap  Florida Days 9 and 10 Recap  Fondant Covered Donut Ghosts with Top Hats  Food  For Him – Gift Guide  four  fourth birthday  Fourth of July  Fourth of July 2022  Fourth of July Fashion Finds from Amazon  Framed Magnetic Chalkboard  Friday Favorite  Friday Favorites  Frozen Birthday Party  Frozen food ideas  Frozen food labels  Frozen headband yarn wigs  fun  gallery wall  galvanized bucket  Garland  Getaway  Gift Guide  gift guide for him  gift guide for preschooler  Gift guides for tween boys  gift ideas  gift ideas for girls age 8-11  Gift Ideas for Kids  Gift Ideas for Me  Gift Ideas for the Kids  gifts  Gingerbread House  girl bedroom  girl birthday party  Girl Chat  giving back  Glider Chair DIY Makeover  Goodwill Art Turned Spooky  Grand Floridian  Grandma and Grandpa  grapevine wreath  Great Books to Read with Your Kids this Summer  guest bathroom  guest bathroom makeover  guest bathroom reveal  Gumdrop Christmas Creations  Halloween  Halloween 2015  Halloween 2017  Halloween Charcuterie Board  Halloween Costumes  Halloween Crafts  Halloween Home Tour 2021  Halloween Treats for Kids  Halloween Treats Kids can Make  happy  Happy New Year 2017  Happy New Year 2018  healthy  Healthy Eating  Hello Monday  Hello Monday – Gull Meadow Farms  Hello Monday – Life Happenings  Hello Monday – On a Tuesday  Hello Monday – One on One Time with the Kids  Hello Monday – Our Halloween 2022 Recap  Hello Monday – Thanksgiving Break 2022  henry  Henry 7th Birthday  Henry Ice Cream Field Trip  Henry is 11  Henry Open House  Henry turns five  Henry's 10th Birthday  Henry's 6th Birthday  Henry's 7th Birthday  Henry's Bedroom Mood Board  Henry's First Day of First Grade  Henry's Last Day of First Grade  Hocus Pocus Charcuterie Board  Holiday Home Tour  Hollywood Studios  home  home decor  Home Impovement  Home Office  Home Office Renovation  home tour  Home Tour Tuesday – Henry's Bedroom – The Before  home update  homemade Frozen cape  Homemade Holiday Potpourri  house  household organization  how to clean a kitchen range hood  Ice Skating  ideas  ikea expedit  Ikea with Jane  Income Report April 2022  Income Report June 2022  inspiration  interior design  Jane  Jane is 3  Jane Kathryn  Jane Urgent Care  Jane's 4th Birthday Party  Jane's Birthday Letter  Jane's Birthday Weekend  January 2023  July 2019  June  KidloLand  kids  kitchen  kitchen makeover  kitchen office  kitchen range hood  Labor Day Weekend 2018  lake house  lake house decor  Lake Michigan  Lake Michigan Getaway  Lake Michigan Getaway 2017  lamb nursery  Landscaping  Landscaping Reveal  Last Minute Nursery Plans  let's paint  life  Life Lately  Life Lately August 2018  linky party  Little Surprise  Mackinaw Island  Mackinaw Island 2018 Part One  Mackinaw Island 2018 Part Two  magic eraser  Magic Kingdom  makeover  March  March 2022  March 2023  Master Bathroom Makeover  master bedroom idea  Matching Walmart Christmas Outfits  Maternity Pictures  Matilda Jane  May  May 2022 Income Report  Memorial Day  Michigan  Milk Carton  Mom's Recipe  momfessionals  Mommy and Me Photo Session  mood board  mother's day  movie night  My loves  My Mom's Chair  my top ten blogging confessions  Nautical Rope Knot Art  Neutral Christmas Finds from Amazon  neutral fall  New Year's Resolutions  Northern Michigan  November December 2021  Nubs the Cat  number one  Nursery  nuts.com  October 2021  organization  OTI – visit number 3  Our Fall Bucket List Review  Our Trip to the Farm  outdoor living  painted builder grade cabinets  painted playhouse  Pallet Coordinate Sign  paper chain link  Part One  Part Three  Part Two  Picture Display  Pink Coffee Filter Heart Wreath Craft  planked walls  play date  Potty Training  Power Bowl  pretty bedroom  pretty fall decor  Prime Purchases  Pudding and Peep Easter Treat in a Pot  Pumpkin Farm  pumpkins  PVC Pipe Car Wash  Quinoa Bowl  Rainbow Color and Shape Activity  Rainbow in a Cup  realistic fake plant  Recap  recipe  Recipes  Reupholster  Rice Krispie Turkey Snacks  Ride On Toys  Road Trip Snack Necklace  Rocking Chair Makeover  Rosemary Beach 2021  rubber band spray painted vase  rustic fall  Rustic Woodland Nursery Reveal  Rustica Hardware  S'more Carrier  S'more Essentials  S'mores Caddy Station  Sample Category  save  School  sea salt paint  Seaside  September 2018  September 2019  sheep nursery  shopping  Side Table Makeover  Ski Trip  sliding barn door  small bathroom makeover  small desk nook ideas  small office ideas  Snacks for Kids  South Haven  Spring Break with Kids  spring cleaning  spring wreath  St. Patrick's Day Oreo Cookie Treat  St. Patrick's Day Shamrock Float  stenciled number chairs  Storage  Storybook Dining at Artist Point  Summer 2018  summer activities with kids  Summer Fun  Summer Happenings  summer home tour  Summer Recap 2016  Summer Recipe  Summer Vacation  sunburst mirror  super bowl  Surprise Baby Expecting Pregnant  Swimsuits  table  Thanksgiving  Thanksgiving 2017  Thanksgiving with kids  The Easiest Patriotic Fruit Cup for Kids  The Kids' First Michigan Game  The Killers  The Monthly Meet Up  these are a few of my favorite things  Tips for juggling the holiday season  Toddler  toddler activity  Traveling with Kids  Traverse City  trees  Trips with Kids  Tuesday Talk  tutorial  tv console  Tween Boy Gift Ideas  Uncategorized  Unicorn Horn Chow  Universal  University of Michigan  UofM  Up North  Upper Peninsula Trip  Utensil Holder  Vacation  Valentine's Day  Valentine's Day 2017  Valentine's Day CandyGram Freebie  wallpaper  Water Park Vacation  waterside home tour  Wedding Weekend  Weekend Recap  Weekend Review  Weekend Update  Weekending  Weekly Recap  Welcome Wednesday  What's Up Wednesday  white  White Barn Door Entertainment Unit  Wilderness Lodge  Winter Weather Warmth Essentials  wood paneling  Woodland Animals  Woodland Nursery  Youth Day  Zoo Day 
© 2023 FAMILY AND THE LAKE HOUSE • MARKET THEME BY RESTORED 316
I'm linking up with Momfessionals.